Fantasy Premier League: How to get FPL points early in the season
John Wallin of FantasyYIRMA takes a look at how to get ahead early in FPL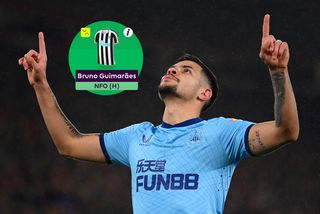 (Image credit: Future)
Fantasy Premier League is a strange game. FPL managers can make countless changes to their squad across the summer, spending endless hours of free time (and probably a fair bit of our workday, too) in preparation for mid-August.
After reading every Twitter thread discussing price releases, scouring stats sites for under-appreciated gems and parsing the early-season schedule more carefully than the teams themselves, you score 35 points in Game Week 1 and find yourself ranked in the mid-seven millions. Just like that you're looking up at a world's worth of rivals, all of whom have the upper hand while you've got a roster of Baxters and a strong desire to mash that Free Transfer button.
Many a manager has pulled up their bootstraps and buckled down, giving it a good run until the first international break, only to lose interest as the gap with the front runners grows. Instead of struggling uphill, it's helpful to set some goals before the season starts to help you get off to the best possible start in FPL. Does that sound like something you'd be interested in?
FPL: How to get Fantasy Premier League points early in the season
YOUR @FANTASYYIRMA EXPERT
Only 100,000 managers are going to be happy with their GW1 rank, and a fair few of those are the type who create a new profile every week just so they can make the best squad possible. Cheap thrills.
We're putting in time now for rewards in the spring and we can't lose focus just because a few folks are putting on the press early. A score of sixty points or better in each of the opening three weeks might not have you at the top of the table, but across the length of a season an average score of 68 points would net you 2600 points and a run at the overall title.
Last season's winner finished with 2,680 points. Aim small, miss small, win big.
2. Use your full squad and your full budget
A lot of managers like to keep a couple million in reserve to ensure early price rises don't limit their transfer options. To achieve this, they end up signing cheap bench players with high ownership, hoping to capitalise on a price rise without getting punished on the score sheet.
Savvy managers will avoid this trap and stack their full squad, not just their starting XI, with players who can produce FPL points. Particularly in a season with a busy international calendar: you want to insure against zeros in your lineup with no bench points to help.
Keeping a balanced roster where you spend your full budget will help you in the first three weeks and with your transfers following the first international break.
3. Follow the trends and the stats
The highest owned players in the FPL are the highest owned for a reason. Every successful manager will own a least a few of the same names as everyone else.
Last season, players like Brentford's Ivan Toney (£6.5, 31% selected) and Leeds Raphinha (£6.5, 23%) offered early upside without costing a lot, allowing you to save funds for big names and bigger points. But you also need to follow the stats to help find under-owned players with upside. We call these 'differentials' and owning a couple of them helps set your side apart – you're banking points from players other managers don't own.
Last season, plenty went with Neal Maupay and for good reason. The Brighton striker had 70 appearances (59 starts) in the last two seasons with 2020/21 seeing him 13th in the Premier League for expected goals (13xG); he massively under-performed, scoring only eight times. Sure enough, he repaid the faith with four goals in his first six games.
4. Captain Sensible
YOUR FPL EXPERTS
FantasyYIRMA started in 2012 focused primarily on news and previews for the Fantasy Premier League. Following consecutive fantasy coverage across eight years and more than 300 gameweeks, we are confident in saying we've wasted a large portion of our adult life on Fantasy Football.
Check out our podcast Bang Average on your listening platform of choice where Ryan, John and MikeP chat all things Fantasy Football related each week.
This one might be as obvious as, er, Captain Obvious, but finding the right player to hand the armband in the first three weeks of the season makes a massive difference. In the early days of a new year, established stars in established teams against the weaker sides are the only players you should be considering.
Last season, we suggested handing the armband to Mo Salah for Liverpool opening trip to Norwich (he scored one and assisted two) or Bruno Fernandes against Leeds, since Marcelo Bielsa's team had the worst expected goals allowed away from home in 2020/21 (Bruno got a hat-trick). You get no points for originality but the points were obvious. This season, Salah faces Fulham in his first fixture, while Bruno is at home to Brighton.
Don't just pick the players that you think are going to have good seasons, as tempting as that is. You're not picking a team to win you points in three months' time: analyse the fixtures, who might start the season slowly and take it from there.
You can play Fantasy Premier League online on the Premier League website (opens in new tab), or on the Premier League app, which is available on iOS (opens in new tab) and Android (opens in new tab). Still missing something? Here's everything you need to know about FPL, including FourFourTwo's guides on the game. Enjoy!
Thank you for reading 5 articles this month* Join now for unlimited access
Enjoy your first month for just £1 / $1 / €1
*Read 5 free articles per month without a subscription
Join now for unlimited access
Try first month for just £1 / $1 / €1
Quizzes, features and footballing fun
Get daily World Cup 2022 news, updates and other football frolics to your inbox
Quizzes, features and footballing fun
Get daily World Cup 2022 news, updates and other football frolics to your inbox
Thank you for signing up to Four Four Two. You will receive a verification email shortly.
There was a problem. Please refresh the page and try again.