BECKHAM: Everything we know about the new Netflix series
The former England captain is the subject of a new four-part documentary about his life and career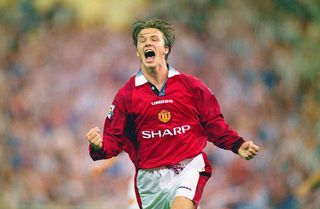 (Image credit: Shaun Botterill/Allsport/Getty Images)
He is a legendary figure in English football and one of the most famous people in the world.
And David Beckham is the subject of an upcoming docuseries covering his life and career.
The former Manchester United, Real Madrid and England star has joined forces with Netflix to produce a four-part film which will be released exclusively on the streaming platform.
What can we expect from BECKHAM? Here is everything you need to know.
Release date
When will BECKHAM be released?
BECKHAM is scheduled to premiere on Netflix on Wednesday 4 October. All four episodes, which each last for around 60 minutes, will be released at the same time.
The series was directed by Fisher Stevens and produced by John Battsek.
Stars and cameos
Who's going to be in BECKHAM?
According to Netflix, "[BECKHAM] features a mixture of never-before-seen personal archive footage from the last 40 years, candid current-day moments, and interviews with the family, friends, and footballing figures who have been part of his journey."
As well as Beckham himself, we will hear from key figures in his football career such as Gary Neville, Alex Ferguson and Rio Ferdinand.
Further insight is provided by Victoria Beckham, David's wife, as well as his parents, Sandra and Ted.
What the series covers
What will we learn from BECKHAM?
From growing up as an aspiring footballer and Manchester United fan in east London, to winning major trophies and competing on the biggest stages in the game, the series will dig deeper into Beckham's remarkable career.
With coverage of episodes like his involvement in United's treble-winning season and headline-grabbing moves to Real Madrid and LA Galaxy, viewers will get the inside track on Beckham's remarkable success on and off the pitch.
We also learn what makes the former England captain tick, as well as hearing his own honest assessment of key moments in his life.
Thank you for reading 5 articles this month* Join now for unlimited access
Enjoy your first month for just £1 / $1 / €1
*Read 5 free articles per month without a subscription
Join now for unlimited access
Try first month for just £1 / $1 / €1