The big interview: Faustino Asprilla – "I don't think we got together as a team enough at Newcastle – we lacked responsibility"
By Gregg Davies
Did he really miss a major final after fighting with a bus driver? Why did he mess up Gianfranco Zola's fishing rods? And did he unsettle Newcastle's title charge in 1996/97? Your questions answered in 2008...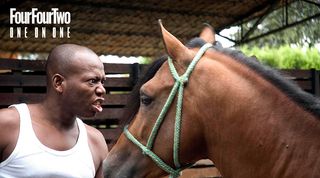 Who first nicknamed you 'The Octopus'?
Frank Pocock, Warwick
Some friends from a local club. They said that, like an octopus, everything I got in my hands I put in my mouth – I would eat the spoon if I could. It's got nothing to do with having rubbery legs!
Abroad, Colombia has a reputation for drugs, guerrilla warfare and corruption. What's it really like? Were you ever aware of any of these problems growing up?
John Stephen, via e-mail
My family's never been affected by drugs or guerrillas, but Colombia is suffering from some big problems. With the help of all Colombians, those who live here and those who live abroad, we have to change the image of the country and save it from all the corruption. But where I live it's quiet countryside – that's why I chose to come back when I retired.
Is it true you were injured for Parma's 1993 European Cup Winners' Cup Final because you got into a fight with a bus driver back in Colombia?
Jim Manley, Wrexham
Yes, that happened here, in Tulua. A bus driver smashed into my car, and then when I got out to get onto the bus, he shut the door on me. It was one of those security doors – so when I kicked it, my foot went through the glass but got cut as it came out. I was furious. If I'd got into the bus, I would have hit him, but he escaped. I'm a bit calmer nowadays – but in those days I used to get mad. And that's why I missed the final.

Gianfranco Zola said he took you fishing once but you broke all his rods and made a mess of his boat. Is this true?
Dean Wittherdale, Carlisle
[Laughs] We were at Zola's house in Sardinia with Gigi Apolloni, Georges Grun, and I think [Salvatore] Matrecano. I was given a fishing rod for when the boat is moving, but instead we were fishing with the boat stationary. So when I cast, the line got so tangled that I spent the whole day – literally the whole day – undoing knots. It was horrible. All the others fished, not me... But it was just an accident, I promise!

What did it feel like in 1993 when Colombia beat Argentina 5-0 in a World Cup qualifier – in Buenos Aires?
Daniel May, Norfolk
Beautiful. First, it wasn't easy. Secondly, it was the first time Colombia qualified for the World Cup without having to go to a play-off. Now, 14 years later, you realise that what happened was an enormous feat – and that it'll be difficult for any Colombian team to beat.
How did you feel when you heard of Andres Escobar's death outside a nightclub following the 1994 World Cup?
Peter Dowdall, Dartford
I felt very bad... I think we all did. I cried a lot – he was a really good friend. He was an excellent person, very funny, always joking. On the plane journey back from the USA to Colombia, he was saying to me: "Don't go out on the street, it's really dangerous. You like partying, but something could happen to you, they could kill you. Stay at home." So I said, "OK, I'll stay at home." And the person who went out was him. He didn't take the very advice that he'd given me.
Parma threatened legal action against Newcastle if the deal fell through in 1995. Why were they so desperate to sell you? Had the relationship deteriorated that much?
Murray Campbell, via e-mail
No, no. I had lots of offers when I was at Parma – to go to Inter, Borussia Dortmund, Real Madrid, Atletico Madrid. But Parma always said no. Apart from the love that the city had for me, and vice-versa, there was the love that the owner of Parmalat, Calisto Tanzi, had for Faustino Asprilla. The coaches might have said yes sometimes, but the president always said no. But Parma had signed a pre-contract with Fabio Capello, who was leaving Milan. And I was on the list of players that Capello didn't want. So Parma sold me because of Fabio Capello... and then he dumped them to go to Madrid! But I was happy – it was a great opportunity to go to Newcastle; to experience English football. Lots of people thought I'd fail, but a year-and-a-half later Parma paid virtually the same price for me.

What did you know about Newcastle before you joined? And what did you really make of the fans, the food and the women?
Kim Morgan, Croydon
I knew nothing. I'd only been to London before – and to Leeds because they tried to sign me. But the women were divine... haha! I had... well, I don't know how many girlfriends I had in Newcastle. At the beginning I didn't even understand what they said. I never liked English food – my stomach couldn't cope with all the seasoning. So I always ate in foreign restaurants – Spanish, Italian. The Newcastle fans were impressive; I have never had such a strong reception anywhere else. They deserve to be champions. What left me really sad – because I was brought in to win the Premiership – was that we ended up coming second. It was a very strange season.
SEE ALSO
According to Kevin Keegan, you'd only just met your team-mates and had a glass of wine with lunch before you got a great assist on your Newcastle debut. Were you surprised to be called off the bench under those circumstances? Did you ever have more than one glass of wine before a match?
Pete Moorely, via e-mail
It's true – I was in Parma, waiting for the papers so I could play in England. Keegan called me on Thursday to say he'd send a private jet so I could watch the game. Then on Friday I got the papers, but I was still just going to watch. On Saturday, they took me to lunch in the club hotel, and I ordered wine because in Italy that's what we had. I wasn't allowed to drink Coke in Italy – they'd fine me! So I drank wine, but I never liked it so I mixed it with water. Then Keegan said "get changed just in case", then "warm up", then "you're on!" I wasn't nervous but I wasn't even prepared! Luckily it all went very well. But it was just a one-off – I never drank before games. Well, only Coke...
A lot of people blamed your signing for unsettling Newcastle and costing them the league title. How did you feel about that?
Rob Elson, Hertfordshire
I arrived with about 15 league games to go. Normally players need time to adapt. I think I adapted quite quickly. But it was different to Italy. One thing was that I don't think we got together as a team enough. We lacked responsibility. I don't mean getting together in the bars – but in the hotels. In Parma, if we were playing at home on a Sunday, on the Saturday we'd all stay at a hotel. In Newcastle, you stayed at home and then went straight to the stadium. But I wasn't happy at home, I was restless – opening the fridge, going up the stairs... I'm not a big fan of get-togethers, but they do work.

Your hat-trick against Barcelona in the Champions League: how did it feel? Is that the best you've ever played? If not, when was?
David Coull, Aberdeen
It felt very nice, especially as it was the most important game Newcastle had played in Europe. But perhaps playing against Metz in the UEFA Cup was my best game, or maybe the last game in 1996/97 against Nottingham Forest when we won 5-0 to qualify for the Champions League.
In 2002, you were paraded on the pitch by then-Darlington chairman George Reynolds, but somehow you never played for the club. How did you come to know Reynolds? And why didn't you sign for Darlo in the end?
Adam Shene, York
Ah, Mr George Reynolds. He got in touch through a friend of my mine and invited me to play in the Third Division with Darlington, which seemed cool to me. But on the phone he gave me one contract and in person he gave me another. Everything changed – money, where I was going to live... lots of things. So we never agreed a contract.
Is it true that you shot your horse by mistake while on the sauce on your ranch in Colombia?
Phil Talbot, Solihull
Hey, I like guns – but I don't shoot my own horses! I've had a couple of problems though. Once, when I was playing in Chile, I turned up to training with a gun – the kind they use in the films. I told the players that if they didn't run I'd shoot them. A journalist was watching and said I was going to shoot everyone... Scandal! But the other players and the coach got the joke. And ages ago the police stopped my sister here in Tulua and found some guns which I'd brought from Italy in the car. They kicked up a bit of a fuss.

You appeared naked on the cover of a Colombian magazine and then did something similar a few years ago in Italy. Are you very confident or do you just like being naked?
Wayne Masters, Guilford
Well, I'm a man with nothing to be ashamed of! They offered me the chance to be the first man to appear naked in a Colombian magazine – it seemed interesting. Luckily, the edition of the magazine sold out. It all started ages ago when my shorts fell off during a game – that started a myth, and now the myth has been revealed... [chuckles] I didn't think my sisters would forgive me, but they have!

This feature originally appeared in the February 2008 issue of FourFourTwo. Subscribe!
Quizzes, features and footballing fun
Get the best features, fun and footballing frolics straight to your inbox every week.
Thank you for signing up to Four Four Two. You will receive a verification email shortly.
There was a problem. Please refresh the page and try again.