Why Birmingham City's obscene overspending threatens to derail the entire Championship season
The club broke Financial Fair Play rules, but to deduct points now could overhaul a delicately balanced league table. Waiting could leave the EFL open to a court case. Will the Blues just get away with it?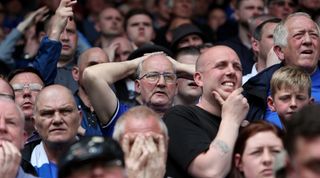 The first thing to say is that Birmingham City deliberately broke the rules. Spiralling tribalism dictates that any potential punishment is heralded by some supporters as evidence of mistreatment by authority. But there is no applicable conspiracy theory here and no campaign against Birmingham. They committed offences, and they did so brazenly.
Birmingham City's owners can hardly claim that they didn't see the edge of the financial cliff approaching. Under Financial Fair Play rules, Championship clubs are not permitted to exceed losses of £39 million over a three-year period and will face penalties if they do so. Those rules were implemented as a response to Football League clubs regularly entering administration and leaving creditors out of pocket. For 2017/18 alone, Birmingham posted losses of £37.5 million.
The five-month Redknapp era
In February, it was calculated that Birmingham had been spending £243 on player wages and transfer fees for every £100 the club made in revenue. The obvious figure of fun was Harry Redknapp, who had managed Birmingham for five months between April and September 2017, been sacked after losing five straight matches and signed a player on loan or permanent deal at a rate of more than one every 10 days.
Yet that has always been Redknapp's modus operandi, and he was hardly likely to change in the autumn of his career. The true blame lies not with him but those above him, who signed off on such wanton overspending without even attempting to apply the handbrake. This isn't a business model; it's a trainwreck.
Not happy
"Following a review, for the three-year period 2015/16 to 2017/18, by Birmingham City to the EFL in regard to the League's Profitability and Sustainability (P&S) rules, the EFL has determined the club has recorded losses in excess of the permitted amounts," the EFL's subsequent statement read. "The club will now be referred to a disciplinary commission, which can invoke a full range of sanctions should the breach be confirmed."
The EFL's anger stems not just from the rules being broken but the lack of measures taken to try to reduce losses. Birmingham didn't just cross the line; they sprinted past it. And the EFL noted their lack of willingness to slow down.
Had that been the sum total of Birmingham's misdemeanors, a points deduction might have been avoided. Queens Park Rangers, whose dispute with the EFL over FFP offences rumbled on for several years, eventually agreed to a £42 million settlement fine – a world record at the time. But Birmingham went above and beyond. Having been placed under a transfer embargo by the EFL, they signed Denmark Under-21 international Kristian Pedersen from Union Berlin for a fee of over £2 million on June 25.
Having initially expressed their "exceptional disappointment" at Birmingham breaking the terms of their embargo and then tried to block Pedersen's registration, the EFL reluctantly ceded to it in August because Pedersen had signed an employment contract with Birmingham. It's that two-finger salute from Birmingham to the rules that sticks in the EFL's throat most. And you can see their point.
Birmingham's pursuit of Pedersen must be punished to the fullest extent. Fail to do so, and the EFL will have set a precedent that its FFP regulations (already often ignored by those owners who consider a surge for promotion a risk worth taking) can be trampled upon at will. Had Birmingham gained promotion this season (a top-six place now looks out of their reach) they would have knowingly broken the rules, willfully gone well over the limit of financial losses and then brazenly ignored the initial regulatory measures put in place. Allow that to pass without significant points deduction and the Championship becomes the Wild West.
Why the wait?
Yet somehow – and you have to admire the incompetence at play here – Birmingham come out of this episode with some sympathy. Why has this case not been concluded yet? These were offences confirmed last summer and exacerbated before the start of the season. Seven months later, we are still waiting for sentencing. Birmingham's current manager, players and supporters bear no guilt for this mess but are left in limbo.
Delaying the decision of Birmingham's exact punishment threatens to destroy the sanctity of the Championship's competition. A 12-point deduction would leave Birmingham in 19th position on 38 points, two points and three places above the relegation zone. With eight games left in the regular season, struggling Championship clubs should know what they need to do to survive. The league table should be king.
The delay also increases the possibility that a points deduction could be deferred until next season, which only muddies the water further. The club that finishes 22nd in the Championship this season would understandably cry foul (and potentially launch a legal appeal) if they finished fewer points behind Birmingham this season than the points total imposed.
The longer the farce continues, the more you suspect that the EFL are hoping for Birmingham to steer clear of trouble so that a points deduction can be applied next season and fails to impact the Championship's relegation picture. If it comes this term and ultimately means nothing, all that does is lessen the strength of the punishment and demean the message sent to other potential perpetrators.
With six weeks left of the regular Championship season, Birmingham City are still in no man's land and the EFL are still silent. A potentially season-changing decision has been left until so late that a huge fallout is inevitable from either Birmingham or their peers. Just another fine mess they've got themselves into.
NOW READ…
Financial Fair Play vs fairy tales: the Football League's intractable fiscal conundrum
Old dog, old tricks: Why Tony Pulis is becoming ever-less suited to the Championship
10 big questions for the final 10 games of the Championship season
Subscribe to FourFourTwo! 6 issues for £19
Thank you for reading 5 articles this month* Join now for unlimited access
Enjoy your first month for just £1 / $1 / €1
*Read 5 free articles per month without a subscription
Join now for unlimited access
Try first month for just £1 / $1 / €1