Old dog, old tricks: Why Tony Pulis is becoming ever-less suited to the Championship
Sure, Boro are in the play-offs with less than a third of the season to go, writes Daniel Storey – but when the football is this uninspiring, success is the only option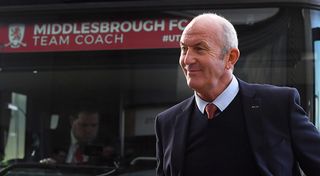 As ever with Tony Pulis, it entirely depends on your starting position.
He is football's equivalent of one of those dreary viral storms where people on Facebook spend their day discussing the colour of a dress to distract them from the death of decency and global warming. "What colour is the dress? I don't care Carol, we're killing our planet."
Let's start with the optimistic assessment. Middlesbrough are in the Championship play-off places with 13 matches of their regular league season remaining. That's despite making a profit on transfers in the summer following their wild spending – by Championship standards – under Garry Monk the previous summer. Boro lost Adama Traore, Ben Gibson and Patrick Bamford, and their league position hasn't slipped. They also have the best defensive record in the entire Football League.
But ask someone else to have a look, perhaps a supporter at the Riverside on a Saturday afternoon, and watch a different picture being painted. Middlesbrough have won seven of their 16 home league games this season, and three of their last 12. Pulis has admitted that he has no explanation for the poor home form. Supporters are restless. There are far more dissenting voices than satisfied customers.
Strong and unstable
That diversity of opinion is partly explained by the inconsistency of Middlesbrough's season.
Having started their league campaign with 13 points from a possible 15, Boro have not won or lost more than two league games in a row since (although that could change should they see off Wigan on Saturday). Between November 24 and last weekend, Middlesbrough failed to record consecutive league results of any kind: WDLDLWLWDWDWDLW. Their form reads like a voice coaching exercise.
But it's also because of who is sat in the dugout. Pulis is a manager who provokes extreme opinion; he might even revel in that status. The Welshman always feels as if he is a fighting an extra battle because of who he is and the type of football he represents.
If there is no right or wrong way to play football just as long as you're winning, then Pulis's rampant pragmatism – and his unapologetic pride in it – reduces his margin for error. He accrues less goodwill than a manager playing nippy, zippy attacking football.
Part of the plan?
Even by his usual standards, Middlesbrough's 2018/19 has featured Pulisball in its distilled form. They have scored fewer league goals than every Championship team as far down the table as Stoke in 17th.
Middlesbrough have netted 17 times in 16 home matches, fewer than every team other than Bolton (23rd) and Ipswich (24th). They rank 19th for possession, and in the bottom half for pass-completion rate. Only Bolton, Rotherham, Millwall and Birmingham complete fewer short passes per game.
Supporters' misgivings reflect their issues with the style of play, particularly at the Riverside, but also their league position. There is no standout team in this season's Championship. Norwich have the highest points-per-game total with 1.94, but that only equates to 89 points across a 46-game season.
It's been six years since the Championship leaders failed to reach 90 points. Middlesbrough's parachute payments will drop again next season, and it only gets harder to step back up.
Nobody actually does the calculation, but it's easy to make accurate enough assumptions. Were Boro in the top two, supporters' concerns would be allayed. But a second play-off failure in succession would probably be enough to push them over the edge. Domestic cup exits to Newport and Burton shift attention even further towards the league position.
End game
Therein lies the Pulis paradigm; a manager who emphatically sells himself on the destination rather than the journey. Don't worry about the direct football, the lack of goals and the aesthetically displeasing home performances, because the end will justify the means.
You don't get to shout that message at the top of your gruff voice and then act startled when the finishing line comes into view with you off the pace and the locals restless.
If this Middlesbrough project ends in failure and his departure, Pulis has a very real problem to solve. The clanging irony of his pragmatic/agricultural tactics is that they actually work better in the Premier League than the Championship. Stereotypical, yes, but a well-drilled defence and direct attacking style can unnerve cultured, ball-playing defenders, as Pulis proved at Stoke and Sean Dyche has done at Burnley.
The Championship is no land of the giants, but central defenders are more capable of dealing with crosses and long balls than quick, passing football. Neil Warnock made it work at Cardiff, but they a) had an underdog/surprise element and b) were highly efficient. Middlesbrough under Pulis are neither.
Old dog
SEE ALSO
10 teams that nearly won everything... but ended up with nothing (opens in new tab)
What's it like to... scout for a League One club? (opens in new tab)
There is an undoubted courage to Pulis's tactical dogmatism. He backs himself into a corner, but then backs himself to fight his way out of it. Changing his approach isn't just unlikely; it's impossible. This is him and this is what he does.
But now come the months of March, April and May, during which tactical dogmas are put under the strongest scrutiny. If Pulis can take Middlesbrough back to the Premier League, his success will be cherished by owner Steve Gibson. If they fail again, he probably won't survive it.
After Crystal Palace, West Brom and Middlesbrough, it must be noted that Pulis is sliding slowly from his Premier League peak into the places where his work stands out least.
Thank you for reading 5 articles this month* Join now for unlimited access
Enjoy your first month for just £1 / $1 / €1
*Read 5 free articles per month without a subscription
Join now for unlimited access
Try first month for just £1 / $1 / €1
Get the FourFourTwo Newsletter
The best features, fun and footballing quizzes, straight to your inbox every week.