10 big questions for the final 10 games of the Championship season
Who will make the last play-off place? Who can pull off a miracle? And just what were West Brom thinking sacking Darren Moore? Here's what's left to answer in the second tier this year…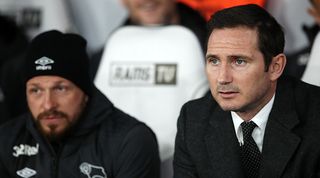 Might Brentford be this season's dark horses?
There's probably too much for Brentford to do. Six points and, probably more pertinently, six teams separate them from the play-off places: they may, therefore, be relying on too many things to break in their favour to sneak into the top six. And yet they've only lost two of the last 13 – winning eight – and in recent weeks have beaten Middlesbrough and Aston Villa.
They will need a monumental run of form, but there's still a chance they could just about do it. And if they do, considering they were a couple of points off the relegation zone in December, then Thomas Frank will challenge the top three for manager of the season.
Will Pulis's caution harm Middlesbrough?
Middlesbrough knew what they were getting when they appointed Tony Pulis. Only Millwall and the bottom three have scored fewer goals (despite Boro having a group of forwards worth north of £35 million), but nobody has conceded fewer, and that's not even close: they've let in 26; the next-best total is 34.
Pulis may well argue it's working, as they're likely to claim a top-six spot, but against Brentford at the weekend he removed centre-forward Britt Assombalonga in favour of left-back George Friend when they were 1-0 up. They lost 2-1. Will Pulis's caution in big games – and a few of those stand between them and a return to the Premier League – ultimately end up costing Boro?
RECOMMENDED Old dog, old tricks: Why Tony Pulis is becoming ever-less suited to the Championship (opens in new tab)
Will Grealish be the most important player in the run-in?
Jack Grealish has enjoyed an eventful couple of weeks since returning to fitness. In his first match after coming back from the shin injury that kept him out since December, he scored a goal-of-the-season contender in Aston Villa's rout of Derby. And then, in the Birmingham derby, he scored the winner after being assaulted by a chump who won't see the inside of a football stadium again for at least 10 years.
Villa look like they're on the charge, and it's no coincidence that they look re-energised since Grealish's return. There's every chance he will leave in the summer, whichever division they're in, but if he can inspire Villa to promotion then he'll leave with most fans' blessings.
Will Sheffield United stay the course?
It feels like we've spent the whole season waiting for Sheffield United to run out of steam. It was around this time last year that Chris Wilder suggested he had taken that collection of players as far as he could, but a few astute additions in the summer and in January have freshened up this Blades team. Now, months after logic suggested they should start falling down the table, they remain one of the three teams scrapping for the two automatic promotion spots.
The Yorkshiremen look pretty relentless at the moment: they've only lost one in the last 14, and of the teams challenging for those two direct paths to the Premier League, they strike you as the most likely to scrap when not at their best. Will that be enough?
When will Leeds get their Roofe back?
Marcelo Bielsa bristled a couple of weeks ago when asked if there was a danger of his Leeds team burning out. That might not happen, but they have suffered a number of injury problems over the campaign. Most notable of the current absentees is their top scorer Kemar Roofe, who has been out since the middle of February with a knee ligament issue.
Patrick Bamford has stepped up with four goals in four games since, but as the Championship season tumbles towards its frantic conclusion, every team near the top will need help wherever they can get it. If Roofe returns, so will a reliable source of goals – and that could give Leeds the edge.
Can Bolton pull off a miracle?
Given the circumstances, few can seriously blame Phil Parkinson too much for Bolton's position in the bottom three. It seems like barely a month goes by when players and staff aren't paid late, as their financial problems continue and a prospective takeover rumbles on. Frankly, the sooner Ken Anderson departs, the better for everyone involved.
It has looked like relegation was virtually certain, but in the last week or so things have shifted very slightly. Bolton's win over Millwall this weekend gave an indication that they are still alive and fighting, but it's arguably their opponents who may give them more hope of survival. Millwall are in freefall, having lost their last four, and they're now just a point off the relegation places; just above them, Wigan are without a win in six.
Bolton visit the Latics next weekend. If they win that, a remarkable escape could actually be on.
Will Norwich strike right mental balance?
After Norwich's win over Swansea on Friday, manager Daniel Farke hinted that his players might have been a little over-confident... complacent, even. It would be understandable: a side that finished 14th last season is on pace for 92 points this term, having relentlessly ploughed through the division. They're now favourites to win the title and will have every right to be pretty confident. Still, the Canaries must still deal with the psychological pressures of closing out this promotion race.
This is a relatively young team – only Alex Tettey and Timm Klose are aged over 30 among the regular outfielders – but it's still one with reasonable experience. The trick in these last 10 games will be to use that to balance things out mentally: to realise the importance of their remaining fixtures, but not crumble under the pressure. If they get that right, they'll win an extraordinary promotion.
Will Derby regret punt on Lampard?
Derby have been arguably the most fascinating club in the Football League – maybe the whole country – for some time. Every season they seem to find new and interesting ways to avoid promotion, and their recent run in which they lost three straight games and couldn't beat Ipswich set tickers going once again.
Their last couple of results have been stabilising, at least, and they're probably favourites to cling onto that last play-off slot. But these are the weeks in which a Championship manager proves themselves, amid the chaos and panic, and Derby have a manager who has never done this before. Frank Lampard's strengths (attacking football with a vibrant young team) and weaknesses (a sense that his side are too easy to nullify) have been displayed over 36 games, but it's in these last 10 that Derby will really find out if they were right to gamble on a rookie boss.
Who'll win frantic fight for sixth place?
The top three is set in stone. West Brom, despite what sacking their manager might suggest, are pretty safe in the top six. Middlesbrough have a four-point cushion and a game in hand. As for the final play-off place… well, it's anyone's guess. The incumbents are Derby, but really anyone else in the top half will fancy their chances of putting a decent run together.
Of the immediate chasing pack, Aston Villa are probably the most likely to overhaul Lampard's men: Bristol City look like they're slipping away, Nottingham Forest are too inconsistent, Preston have to face four of the top five in the next few weeks, while Birmingham and Hull have won three of the last 10 games between them. Villa are the best equipped to make a late run, and that derby win at the weekend could galvanise them.
Will West Brom's gamble work?
SEEN ALSO
SORRY SWANS How Swansea became middling also-rans from model club (opens in new tab)
TIRED AND TESTED What happened to Aston Villa's big top-flight return? (opens in new tab)
The West Brom hierarchy apparently had concerns over Darren Moore's management from before Christmas, and their recent form has seen hopes of automatic promotion disappear. Even so, to sack a manager who had to clean up Alan Pardew's mess, come closer than anyone expected to Premier League survival and then be fourth in the Championship with 10 games remaining is brutal.
The Championship, and the absolutely frantic desire to get out of it, does odd things to people. West Brom's board saw this season as their best chance of promotion – but is this the best way to do it?
Since the division became the Championship in 2004, only four of the 42 teams promoted have changed managers in mid-season, and none of those successful changes came any later than the second week of January. This is a colossal throw of the dice by the Baggies.
NOW READ… Revealed! EVERY Championship club's most exciting youth prospect (opens in new tab)
New features you'd love on FourFourTwo.com (opens in new tab)
Thank you for reading 5 articles this month* Join now for unlimited access
Enjoy your first month for just £1 / $1 / €1
*Read 5 free articles per month without a subscription
Join now for unlimited access
Try first month for just £1 / $1 / €1