How Frank Lampard became the latest manager to suffer Derby's poisoned promotion chalice – and what comes now
Lamps knew the expectations when he took on the Rams' job last summer – but after recent poor form, Derby have dropped out of the Championship play-offs. Can they keep the faith in their rookie manager?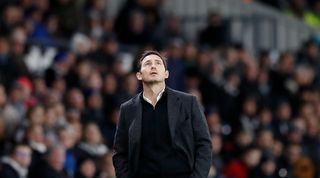 Frank Lampard probably knew the score. At his unveiling as Derby County's new manager, he was asked about the expectations put upon him in his first senior role. As one of 20 applicants assessed by Derby, the new manager was left under no illusions.
"It sold itself to me as a club and the players were very close to promotion last year," Lampard said. "There are expectations and I understand that. I played under expectations as a player. I know what's required and the vision of the club and I will try my best to bring it to the table."
Before Lampard, Rowett chose to leave for Stoke, but also failed to get Derby up. Steve McClaren was sacked for finishing 10th and missing out on promotion. Paul Clement was sacked with Derby fifth in the table and wobbling. Before him, McClaren again was sacked for finishing eighth. The message is pretty clear: this club wants promotion.
No disaster
Nor too can Lampard claim that he hasn't been backed in the transfer market. Derby spent approximately £16m on six new first-team players last summer, and Ashley Cole and Efe Ambrose have both joined on free transfer deals with handsome wages. Add in loan deals for three Premier League players – Mason Mount, Harry Wilson and Fikayo Tomori – and this is one of the strongest and most expensively assembled squads in the Championship.
This has not been a disastrous season; far from it. Derby were beaten 4-1 by Leeds United in their first home league game but then went three months without losing at the iPro. Victory over Sheffield United in October took them into the top seven, and Derby hadn't dropped lower than that until this weekend. They still have a game in hand at home to Rotherham United to break back into the play-off positions.
And yet there is a familiar sense of impending doom that has engulfed plenty in Derby. Their club has gained a reputation over the last half decade for capitulating towards the end of promising campaigns and thus allowing goodwill to dissipate. If Lampard was the man to change that trend, it's happening again.
Pre-Spygate slide
MORE CHAMPIONSHIP
FALLING SHORT? This is how it feels to be Leeds United right now
TIRED AND TESTED What happened to Aston Villa's big top-flight return?
It would be a nice story to believe that Marcelo Bielsa, Leeds and Spygate upset Derby's rhythm and got under the skin of their manager, but it's basically a myth. Derby took eight points from their four games immediately after the defeat at Elland Road.
Instead, it was a game against rivals that Nottingham Forest in December that sparked a decline. Derby headed into the first East Midlands derby of the season having won six of their previous nine matches, but created very little and drew the game 0-0. Since that game, Lampard's team have taken 19 points from 16 league games. That's barely mid-table form.
Derby have a clear issue with inconsistency. They haven't won consecutive league games over the course of the post-Forest lull, and the goals have dried up too. Having scored four goals in their last seven matches, only Middlesbrough and Bristol City have scored fewer times in the Championship's top 14. Those two have conceded 13 and six goals fewer than Derby respectively.
Perhaps most worrying is Lampard's tinkering with the team and shape to great effect. He changed to a 3-5-2 formation for the 1-0 home defeat to struggling Millwall, picked Andy King and Bradley Johnson as a central midfield pairing for the draw against Ipswich and then selected a remarkably cavalier starting XI at Villa Park and lost 4-0. In between those three matches, they were defeated by Forest.
NEXT Lamps goes to war with "doom merchants" inside the club
Success for the doom merchants?
Lampard is showing signs that he's feeling the heat. After Derby addressed that four-game streak with a 2-1 home win over Wigan, the manager accused different departments within the club of "wallowing in doom and gloom".
"There are some negative people around, very close around the club, that shouldn't be like that," Lampard said. "How quickly some people are doom merchants saying we are finished. I'm not going to name names."
Derby promptly failed to win their next two games, both at home.
Lampard is right that negativity is hardly likely to help. Derby are in the middle of an extended break (FA Cup weekend followed by international fortnight), which will allow him to take stock and steel Derby's players for their final push. If automatic promotion is now a virtual impossibility, momentum will be crucial heading into the play-offs.
But you wonder too whether Lampard might represent Derby's best chance of change. Having signed 12 players and seen 12 more leave as the club attempts an overhaul of their ageing, stale squad, is now not the time to steer clear of sacking another manager after a failed promotion bid, rather than only opting for further upheaval? If a cynic might ask why a novice such as Lampard deserves such faith, the honest answer is that Derby have tried most other things and it hasn't worked.
Lampard will not be thinking beyond this season; he cannot afford to. One successful play-off campaign and his reputation will leap forward. Fail to finish in the top six and he will be castigated by many (including plenty of Derby supporters) as an expensive experiment gone sour. If those sound like unbearably fine margins on which to define a tenure, welcome to the hellish world of the Championship's promotion bunfight.
NOW TRY…
A FOOTBALL FAN LIFEMillwall: It's a father and son thing
SORRY SWANSHow Swansea City became middling also-rans from model club
WORLD'S BEST LEAGUEThe changing face of the Championship: how England's second tier shifted its style
Thank you for reading 5 articles this month* Join now for unlimited access
Enjoy your first month for just £1 / $1 / €1
*Read 5 free articles per month without a subscription
Join now for unlimited access
Try first month for just £1 / $1 / €1