Bury, the inside story: Neil Danns explains what life was really like at a dying football club
As the High Court delays liquidation for Bury today, we get the full inside story from Gigg Lane on the Shakers' sad demise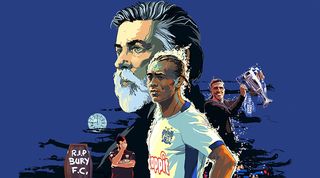 This article first appeared in the November 2019 issue of FourFourTwo magazine. Buy it here or subscribe for just £9.50 every quarter
When Ken Anderson arrived at Bolton Wanderers in 2016, I knew early on that something wasn't right. When Steve Dale arrived at Bury, I didn't.
It's been three years since I decided to join Bury. I'd played over 100 games for Bolton but my contract was running out and Anderson had just taken over. He had a meeting with the players, and I wasn't convinced. There didn't seem to be a plan, nor an idea of where the club would go next.
They offered me a new deal, but I chose to leave. As things later turned out, my initial judgement about Anderson was right. Unfortunately, I can't say the same about Dale. He said all the right things when he bought Bury, and I thought he was a good person who'd take the club forward. He didn't. I was wrong.
Bury showed me real ambition when I first signed for the club back in 2016. Stewart Day was the owner then. The club were in League One, but they wanted to be in the Championship and were making every effort to get there. They were signing players such as myself and James Vaughan, and a lot of good players were already there. They also had a great training ground for that level – we trained at Manchester City's old training base in Carrington. 
I was 33 then, and it was very close to home – my little lad plays in the youth system at Liverpool. The move made perfect sense for me. It felt like I was joining a normal, ambitious club. 
Day was a decent guy. He seemed like an owner who was doing the right things and signing the right sort of players. As a player, that's all you want to see. You're not going to say, 'Can I see the bank books?' 
We started that first season really well: we were right at the top of League One for the first month or two. Then we had loads of injuries and it started going wrong. 
I was sidelined for a while with a broken foot. When I came back, I went on loan to Blackpool in League Two in January. That wasn't what I'd planned, but I helped Blackpool to get promoted through the play-offs. It ended up being a good season. 
I went back to Bury fit and ready to go, but Lee Clark had taken over as manager and I think they were looking to cut the wage bill. They banished me from the team – I was told not to go in and train. It was tough. I'm not a bad egg, and I wanted to be there to help the team. 
If they'd explained things man-to-man, I could have understood it. I've been in the game for a long time: I've also played for Blackburn, Hartlepool, Colchester, Birmingham, Crystal Palace, Leicester, Bristol City and Huddersfield. But Bury didn't talk to me man-to-man. They tried to force me out and told me to stop coming in for training. 
They never said it was for financial reasons – to get me off the wage bill – but, looking back now, I think that was the reason. They said they didn't think I was good enough, but I knew from training that I was probably one of the better players in the side. 
Then they called me into their office and tried to get me to sign for teams below the Conference. John Eustace, the then-Kidderminster manager, gave me a ring and asked if I'd be interested in going there to play some games. I just said to him, 'Look, if I'm going to be honest, I think I'm better than that level at the moment.' I wasn't going to be forced to play at a level that I knew I was better than. Bury were trying to convince me that I wasn't. I'm a realist, but I thought, 'No – I'll show you'. I wanted to prove a point. 
Subscribe to the FourFourTwo Podcast on iTunes and Spotify
Eventually, some way into the season, the club called me and asked if I'd come back in, because the team were struggling in League One by then. I did well when I came back, but not long after that, Lee Clark was sacked. Ryan Lowe became manager until the end of the season and I ended up being a regular in the side again. I got five goals from midfield and received the Player of the Year award. 
Ryan made me captain, too. I was so proud. We couldn't prevent the club from being relegated to League Two, but I'd come back into the team and proved any doubters wrong. 
That season had been the first time I'd got a sense that something might be wrong financially at the club. There were a few missed salary payments. We always got them in the end, but it put up the warning flags. We wondered, 'How long is this going to carry on for?'
I had some offers to go elsewhere at the end of 2017/18, but I had a meeting with Ryan Lowe and the chairman. I said, 'Look, if Ryan is going to be the permanent manager, I'll sign.' He'd shown loyalty to me, so I wanted to pay him back. We were optimistic that we could get promoted straight back into League One. It took us a bit of time to get going at the start of the season, but then Nicky Maynard came in and started scoring goals. He was the missing link. 
From around September, though, payments weren't coming in on time again. Previously, my role as captain was just to speak to the rest of the players about football. But from the early part of last season, my role also became talking to the squad about financial things. I didn't have to do it all – the vice-captain, Nicky Adams, was unbelievable, and we had a lot of experienced players such as goalkeeper Joe Murphy. We all helped each other. 
We gave the players a speech. We said, 'Look, we can't affect what happens off the pitch; the only thing we can do is affect what's on the pitch. We aren't involved in any of that bank stuff and we never will be, but we've got a chance to make history and get promoted this season.' We'd started to win games and wanted to keep it going, as hard as that was when we weren't getting paid on time. 
Eventually, the financial situation got to a point where Stewart Day simply couldn't handle it any more, and he sold the club to Steve Dale. We didn't know at that stage that Dale had paid only £1 for the club. 
He seemed like a genuine guy. He said that he wanted to add to the things that the club did in the community. He wanted to put courses on for kids, and different things like that. As footballers, we could only take him on face value. We got our first month's wages and thought, 'OK, we'll be fine now'. We thought that we could fully concentrate on the football side of things. 
Not long after that, the payments stopped and it started to become a real problem. In League One and League Two, some of the players live month-to-month. They've got bills to pay. I've had a long career, so I'd already planned for the future, but your savings only last so long. You don't put your savings in place for that scenario – you put them in place for the rest of your life. Like anyone in any profession, you plan for certain things in the future. If you've got kids, you plan for holidays. If you don't get paid for months, that's the holiday money gone. 
Our relationship with Stewart Day never really deteriorated. Several payments were missed, but he always got them over in the end. We thought, 'Fair enough, it must be a tough time at the minute, but at least we're getting our money'. However, our relationship with Steve Dale was very different. It completely broke down. 
At first, I gave him the benefit of the doubt. He'd just taken over the club and I thought he was probably sorting things out. We were reading about the winding-up orders against the club, but we thought, 'That's not our job'. None of the players had any sort of experience of how a winding-up order worked. We left it to the people in charge and hoped for the best. But when we still weren't getting paid, we started to think, 'There's a problem here'. 
After months without pay, we asked for a meeting. The players were in a room with him and words were exchanged – heated words. He promised there and then that he would pay us that month. We made him sign a piece of paper, with a club letterhead, saying our wages for that month would be in the bank in six days. He agreed and signed it. After that, he went off and we never got paid. 
That was the point when the mood of all the players really changed. We were disgusted. Some players were close to losing their homes – they're close friends, and to see them in that situation was ridiculous. 
People became more vocal about the situation from that point on. We could see it happening at other clubs because it was in the media. We were in the top three in League Two, but no one knew about our situation. It was time people knew. We couldn't be under that sort of pressure and not let people know what was happening. To everyone outside the club, everything looked rosy. In reality, it was far from that. 
Throughout it all, Ryan Lowe was fantastic. He could see the effect it was having on the squad. He was always there to talk to and he tried to pressure the chairman. He did the best he possibly could. 
Under the circumstances, the job he did as manager was absolutely unbelievable. Just trying to get promoted is difficult enough, let alone trying without being paid. It felt as if we were battling our own club as well as 23 others, and the battle with our own club was probably the hardest because we didn't have a clue what was going on. 
It's very difficult not to let a situation like that distract you. We had to make the best of it and maintain motivation. We were determined to finish the job. It became about personal pride. 
When we actually were promoted, though, it felt surreal. We never got to really enjoy it in the way promotion should be enjoyed. It was the fifth promotion of my career and the atmosphere was completely different to any of the others, for obvious reasons. We had a great set of lads and played great football, but the other stuff tainted it. 
The squad had a few beers together after we sealed promotion with a draw at Tranmere, but we'd always planned to go away together once the season was over. That couldn't happen any more, because people didn't have the money to go. 
On the field, last season was one of the best I've had in football. In the middle of it, I was flying off to play for Guyana during international breaks. In March, we qualified for the Gold Cup – the first major finals Guyana had ever reached. 
That meant I spent my summer in the USA. We played against the hosts, who had Christian Pulisic and a brilliant midfield. In the second group game against Panama, I scored Guyana's first ever tournament goal – and the second. Then, against Trinidad and Tobago, I scored again to earn a draw. It was an unbelievable experience, representing a nation at the Gold Cup, and the feedback from Guyana was amazing. 
After that, I came back to England thinking, 'I'm so excited for this season'. I was looking forward to what I hoped was going to be a good season, with Bury back in League One. 
But still we were waiting for the outcome on our wages. Ryan Lowe left to manage Plymouth, and a few of the other players followed him. Every single player from last season's starting XI left. I chose to stay, because of what I'd been through with Bury and also because of the logistics for me with my family. I had discussions about Plymouth, but Ryan knew my situation and logistically it wasn't right. I didn't want to move around the country. I had a couple of offers from India as well, but deep down I always wanted to stay at Bury. I had a rapport with the fans and the people at the club. I'm loyal, so that was why I hung around and went back to Bury for pre-season training. 
Paul Wilkinson was named the new manager, and Dave Jones was there as well. There were only three or four players left under contract – the rest at training were trialists. We had about 16 or 17 players, but the standard wasn't the greatest. In the circumstances, it was tough to attract players of the quality needed. 
The club were trying to agree a deal to clear all their debts. We were hopeful that once that had happened, we could start attracting players again. When that CVA deal [Company Voluntary Arrangement] was agreed in July, we thought, 'OK, we're good to go now'. But we weren't. Things dragged on and on. 
Then we found out that the EFL weren't going to allow us to play our first game of the season, against MK Dons. We sort of understood the decision at that point, because we didn't have enough players signed. We felt it was probably for the best, as we were still quietly confident that the situation would be resolved. But then the second game was suspended. Then the third. We started to wonder what was going on. I started to think, 'No, there are real problems here now'. There was only so far it could go, with no games being played. 
On the opening day of the season, I went to watch Tranmere play Rochdale because it's local to me. That was surreal. It was supposed to be the first day of my 20th season as a professional. Every year, for the last 20 years, I'd been building up to that day, the most exciting day of the season – the day when everyone's hopes are high. Walking into the ground and seeing the optimism of the Tranmere fans, it really hit me. I'd have given anything to be playing that day. 
Back at Bury, things just got worse. I hadn't spoken to Steve Dale since that meeting when he said he'd pay us within six days, but our midfielder, Stephen Dawson, confronted him live on talkSPORT. I was happy about that. It put Dale in a corner. He had to show some cards he didn't want to show and make some bold statements. He said Bury would be fine. False promises: we had so many after he arrived at the club. Actions speak louder than words, and his actions spoke volumes. 
The EFL began to talk about expelling the club from the league, but then we heard the news about the potential takeover. The EFL gave the club an extra few days, until 5pm on August 27. I was just praying for the takeover to go through. I saw the photos of volunteers getting the stadium ready, hopeful that we'd be able to finally play our first match of the season against Doncaster on August 31. I went to the gym and did a lot of running to make sure I was ready for the game. 
But, as players, we still didn't know what was going on. We were all refreshing Twitter like everyone else, waiting for news. When we heard that the takeover had fallen through, with only an hour to go until the deadline, it was devastating. Then we heard there was another bidder. 
By the evening, I was sat at home on my computer, waiting for any updates. I'd still been expecting to see something saying everything was sorted. But then I got a notification on an app, confirming the news. Bury: expelled from the EFL. Wow. I couldn't believe it. Literally, I couldn't believe it. It was the final nail in the coffin. It was reality. It was over. I was unemployed – another footballer without a club. 
I was devastated for the fans. I went to Gigg Lane the next day and spoke to supporters. People wanted to get things off their chest. They were asking if we'd known any of this was going to happen. All I could say was no, we were like them – we'd hoped it would all be fine. 
I felt for the staff, too. So many people have been made redundant, and so many people had gone without wages. You build relationships with these people, and when you see them during times like those, it's hard. We saw staff crying. When the owner sees things like that and still nothing happens, it makes you question your faith in humanity. 
The PFA helped us massively throughout. They gave us advice and tried to help. I've got nothing but praise for them. We weren't paid for six months but there were consecutive months when they gave us 50 per cent of our wages, to help us tick over and pay the important bills. However, it was still only 50 per cent of what we'd planned for. 
The EFL should have done more. We hoped they'd reverse the club's expulsion when it seemed there was a genuine bidder. Kicking Bury out of the league was too drastic. It felt like we were fighting a crazy battle, not just against our owner but against the EFL. There are only so many battles you can go through before it all becomes too much. 
The EFL must take part of the blame. Lower-league clubs have to be protected more than this. They should have been monitoring the club, giving Steve Dale deadlines way before they did, and that should have been a deadline to sell the club. They were more concerned about us fulfilling our fixtures instead of trying to find a solution early on. The EFL never spoke to the players, and they should have. The only communication was between them and the club; players were left in the dark. They could have warned us that things didn't look good, and that maybe we should start making other arrangements. After Bury's expulsion, I had to offer my services to clubs – I could have put plans in place much earlier. The whole situation has been stressful. I'm 36, but these few months are the last thing I'd want to end my career on. 
I'm thankful that my old club Bolton have survived. They're another great club with a tremendous history, but their financial crisis probably did overshadow what happened at Bury. Both clubs were in a similar situation, but the spotlight was on them. Bolton were allowed to play their matches; we were in the background, having games postponed. We were both given deadlines on the same day – we were expelled; Bolton were given an extra fortnight. It did leave a bit of a bitter taste. Although I was happy that Bolton got two more weeks, you wonder, 'Why weren't we given that as well?'. But it got to the point where it wasn't about Bury or the fans any more – it was Steve Dale vs the EFL. 
As for Dale, I'm just disappointed in him. At the beginning, I wanted to give him time. I thought he was the person to take the club forward, but it didn't take long to see that wasn't the case. With everything that has happened, I feel nothing but disgust towards him. 
I still have great memories of my time at the club, though. Because of the situation we were in, I consider the promotion from League Two to be one of my biggest career achievements. 
I'll always have a place in my heart for Bury Football Club.
InterviewChris FlanaganIllustrationGavin McBain
This article first appeared in the November issue of FourFourTwo. You can buy it here to get it delivered to your door and subscribe to the magazine to pay just £9.50 every three months
NOW READ…
TALENTSPOTTER Who are the Golden Boy winners since 2003 – and what happened to them?
QUIZ Can you name the last 50 players to make their England debut?
GUIDE Premier League live stream best VPN: how to watch every game from anywhere in the world
New features you'll love on FourFourTwo.com
Quizzes, features and footballing fun
Get the best features, fun and footballing frolics straight to your inbox every week.
Thank you for signing up to Four Four Two. You will receive a verification email shortly.
There was a problem. Please refresh the page and try again.