The Chuckle Brothers: Sing When You're Winning
"Why doesn't David Beckham buy Rotherham and build a team up? The kids would love to meet me and Barry"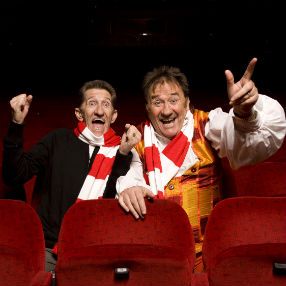 Sir Alex Ferguson knows a thing or two about gifted footballing siblings. Our greatest modern gaffer guided the Neville brothers through Old Trafford's ranks, of course, and more recently the da Silvas, but is rather less renowned for his involvement with the on-field exploits of Paul and Barry Chuckle.
"There was one charity game I put a goal on Alex Ferguson's head," reveals Barry, the smaller one who looks like a Spitting Image puppet of Ian Rush. "It was for Rotherham, our centenary. There was Ronnie Moore playing, all the old Rotherham players, and Alex came over for it. I put it right on his head, a cross, lovely. But he never even thanked me."
Younger brother Paul, who shared attacking duties with Sir Alex that day, offers a defence for the snub. "That game was a week before they won the FA Cup, " suggests the chunkier, chirpier Chuckle. "That first one [in 1990], where if he didn't win he was going to be sacked." But Barry remains unmoved. "He never offered us any free tickets. And he knew who we were."
Lovely image though it is, the master of mind-games was probably keenly aware of the potential dent a hug from Barry Chuckle might cause to his carefully-cultivated aura, if caught on camera. Others in the game have been more welcoming, however, and after over 40 years in showbusiness the iconic children's entertainers are now honorary presidents of their beloved Rotherham United, having regularly namedropped the club and helped boost the Millers' coffers.
"There are a lot of kids all round the country who've sent money to buy shirts," admits Paul. "We're figureheads," announces Barry, and his brother tentatively agrees. "Other teams that come to the ground, the directors do like to say hello."
The Rotherham-born siblings – real surname Elliot – are anything but gloryhunters, although their early days at Millmoor coincided with the Millers' closest sniff of a major trophy: the inaugural League Cup final. Second division United could easily have taken the prize from the mighty Aston Villa back in 1961, but were too noble by half.
"We beat them 2-0 at Millmoor but when it came to the second leg Villa said they didn't have time to play it," recalls Paul. "So the league said 'you can claim the Cup as yours' but our chairman at the time, the stupid... he said 'Oh no, we want to win it fair and square.'"
Villa won it fair and square early the next season, 3-2 on aggregate. "It's a family club and that's how we are," sighs Paul. "We're proud Yorkshiremen."
Twenty years later and having won TV talent show New Faces the Chuckles were still waiting to make it big, as is often the way with TV talent show winners. Meanwhile Rotherham were entrenched near the bottom of the old second division, but would soon give hope to every struggling outfit, be it showbiz or soccer. Former England captain Emlyn Hughes arrived as boss in 1981 and took The Millers from third-bottom to third-top in the space of a month.
"There'd been a lot of postponements so we played nine games in the 28 days of February and won every single one," recalls Paul, of the record-breaking side that, sadly, burned brightly but briefly. "Emlyn, evidently he was one of these guys who took all his players out for a drink, and really had a good time. But it also meant that the players were a bit too friendly with the manager, so there were things like Ronnie Moore turning round and smacking him one day in the dressing room."
That's 'friendly' in the South Yorkshire sense, then, but Moore would return, managing the Millers to the upper reaches of the Championship in the early Noughties. There the Chuckles were treated to another dubious glimpse of footballing glamour, when the recently relegated West Ham refused to use the Millmoor dressing rooms. "That really put me off Premier League players," admits Paul. "Cocky buggers," murmurs Barry.
"Geroff!" Moore is mobbed by cigar-brandishing Rotherham fans
A relentless touring schedule has limited the Chuckles' attendance since then, but Millers fans could be forgiven for wondering if their dopey onscreen characters were secretly running the place. Rotherham are currently playing at Sheffield's Don Valley stadium due to a rent dispute with Millmoor's owner, and are rooted in League Two's lower reaches due to a 17-point penalty imposed for re-entering administration. In fact the honorary presidents are equally as perturbed.
"It's as though they want to get the old clubs out," says Paul, of that deduction. "Same as Luton, who've also been around forever. Maybe it's about getting rid of these teams who've got no money, and aren't building a nice stadium."
The show must go on, though, and they're impressed with current manager Mark Robins, who's built a "good team playing good football," according to Barry. Meanwhile his brother has a Chucklevision-like scheme to secure the Millers' future. The figureheads' mighty auras might prove useful once again.
"Why doesn't David Beckham come and buy Rotherham and build a team up?" muses Paul. "It'd be a nice hobby for him. Posh'd be alright: there's Meadowhall Shopping Centre just up the road. And the kids would love to meet me and Barry. That'll swing it."
Interview: Si Hawkins. Portrait: Richard Cannon. From the May 2009 issue of FourFourTwo.
Thank you for reading 5 articles this month* Join now for unlimited access
Enjoy your first month for just £1 / $1 / €1
*Read 5 free articles per month without a subscription
Join now for unlimited access
Try first month for just £1 / $1 / €1
Get FourFourTwo Newsletter
The best features, fun and footballing quizzes, straight to your inbox every week.