Clinton N'Jie: from Ligue 1 speedster to Spurs
Andrew Gibney gives the lowdown on the exciting Lyon attacker set to tear up White Hart Lane...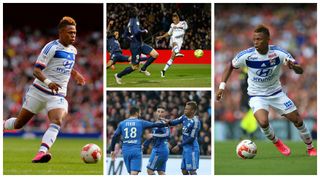 The 60-second story
Since the turn of the millennium, Olympique Lyonnais have built a well-earned reputation for developing exciting future stars at their Tola Vologe HQ and academy, the latest of which is attacking prodigy turned Tottenham Hotspur starlet Clinton N'Jie.
The 21-year-old Cameroonian forward, who joined the club in 2010 after being recommended by the brother of former OL defender Jean-Jacques Nono, had already hinted at his potency in 2013/14 when he notched four goals in a paltry 71 minutes' worth of sub appearances. But it was last season when he really caught the eye of European scouts, scoring and assisting seven apiece in 30 league appearances – just 15 as a starter – as Lyon chased megabucks Paris Saint-Germain for the Ligue 1 crown.
And despite falling short of their Parisian rivals, Les Gones' combination of N'Jie's pace, the trickery of Nabil Fekir and the 27 goals of marksman Alexandre Lacazette made them France's most thrilling team to watch.
Fact File
Date of birth: August 15, 1993
Place of birth: Buea, Cameroon
Height: 5ft 9in
Position: Forward
Current club: Lyon (60 apps, 12 goals)
International: Cameroon (11 caps, 6 goals)
Despite his relative inexperience, N'Jie already looks a key part of Cameroon's future, too. Coach Volker Finke might have only used him for 23 minutes at the recent Africa Cup of Nations in Equatorial Guinea, but his six goals in 11 internationals suggest there might indeed be life after Samuel Eto'o for the Indomitable Lions.
Why you need to know him
Impressive numbers aside, N'Jie was always likely to attract admirers because he fits the mould of the modern, all-purpose attacker. With the much sought-after Lacazette often stealing the headlines in Lyon's attack, N'Jie's versatility and movement has often given his more heralded team-mate the space in which to poach and plunder.
Lyon president Jean-Michel Aulas has a reputation for extracting maximum value when offloading the club's talents, but on Wednesday French newspaper L'Equipe reported that Spurs had agreed a fee of €14 million. With OL returning to the Champions League this season, not to mention the opening of their new Stade des Lumieres in January, they are unwilling to let anyone leave for less than their perceived value.
Still, Lyon have tended to balance the books by selling at least one asset every summer, and with Lacazette having recently signed a new contract until 2019, N'Jie is the club's next most lucrative star. Aulas looks to have all but tied up a deal for his desired fee, and should Spurs get their man they could end up with a player with the potential to match and perhaps even surpass the French striker. After all, Lacazette is two years older than N'Jie and has only become a true goal machine in the last two seasons...
[UPDATE: On Saturday 15 August – N'jie's 22nd birthday – Tottenham announced he had agreed a five-year contract subject to clearance and work permit (opens in new tab).]
Strengths
It's hard to look past N'Jie's sheer blistering pace, but he is far from being a limited, Djibril Cisse-esque sprint-and-hammer-it striker. Even while playing as a winger, N'Jie looks to play off the shoulder of the last defender, but he isn't restricted to playing on just one side, using his movement across the frontline to give opposition defences a headache. Linking up with Lacazette and Fekir, N'Jie knows instinctively how to sniff out space, and once through on goal he has the ability to lift his head and find better-placed team-mates.
Assists against Lille and Bastia last season showcased an excellent sense of timing, picking passes at unexpected but opportune moments. Like a drummer playing off-beat, it's that split second before or after you anticipate contact in which N'Jie leaves defenders wondering what on earth just happened.
Weaknesses
N'Jie might possess the sense to pick his head up and look for options, but as is often the case with young forwards, he still lacks the consistency to pick the right pass at the right time. He can be frustrating to watch, knowing that when he does choose the right option, it's a joy to watch, but just as often attacks can break down through one of his poor decisions.
Whenever Lyon played 4-3-1-2, N'Jie was usually positioned off the main forward, limiting his on-pitch time whenever Fekir partnered Lacazette (hence the sub appearances). This role took away N'Jie's obligation to protect either full-back, which is a luxury he wouldn't be afforded in the Premier League. As well as serving as a deputy to Harry Kane, we can assume N'Jie would get game time deployed in either of the wide midfield positions, which would be a much bigger test of his willingness to work for the team. Similarly, if played on the left, his over-reliance on his right foot could limit N'Jie's attacking effectiveness.
On the plus side, and unlike when he arrived in France as an 18-year-old, there will be no language issues should N'Jie wind up in N17, as his hometown of Buea is in one of Cameroon's English-speaking provinces.
They said…
Like any salesman worth his salt, Aulas knows how to talk up the value of one of his assets. "Clinton is a great player, so young. The Future Eto'o," the OL president announced on Twitter (opens in new tab). No pressure, then. But it's easy to see the similarities, even if it remains a heavy weight to carry. Not that he seems phased at all. "It's always a pleasure to score goals and make assists because that's what defines my game," N'Jie said last season. "[It's been] a true breakthrough season for me and I'm really delighted how it's turned out."
Did you know?
N'Jie took a mere 44 minutes to score a goal on his competitive international debut. Starting in a 2-0 Africa Cup of Nations qualifier win over DR Congo in Lubumbashi, the forward used his pace to break through the left side of the opposing defence and poke the ball under onrushing keeper Robert Kidiaba. And N'Jie wasn't finished there – four days later he scored a double as they beat Ivory Coast 4-1 in Yaoundé (opens in new tab). Like we said, he doesn't seem all that phased by the pressure.
Talentspotter ratings
Shooting 7
Heading 6
Passing 7
Tackling 5
Pace 9
Dribbling 8
Creativity 7
Work-rate 7
What happens next?
Wherever N'Jie is come the end of the transfer window, it's vital that he gets regular first-team football this season. And with Lyon's signing of Claudio Beauvue from Guingamp, there's no guarantee that OL would provide any more opportunities than he'd find at Spurs. If Pochettino can find a system that gives N'Jie freedom in the final third, linking him with Christian Eriksen and Harry Kane, the Spurs attack should have the threat in behind the other two can lack. With only one full season under his belt, N'Jie is undoubtedly still raw, but with greyhound pace, fearlessness and the ability to improve those around him, that rawness could yet be harnessed into a deadly all-round attacker.
Get the inside track on football's hottest prospects on FFT.com
Thank you for reading 5 articles this month* Join now for unlimited access
Enjoy your first month for just £1 / $1 / €1
*Read 5 free articles per month without a subscription
Join now for unlimited access
Try first month for just £1 / $1 / €1