Cristiano Ronaldo
By Gregg Davies
"Everyone does what he has to do for his country and I did what I had to do."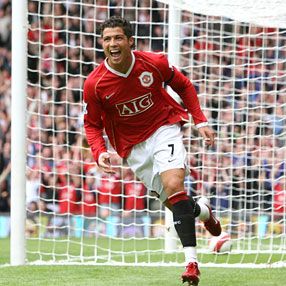 For England fans, it was the defining image of another World Cup failure. Not Wayne Rooney's boot connecting with Ricardo Carvalho's testicles, but the moment that immediately followed Rooney's red card: His Manchester United teammate Cristiano Ronaldo, turning to the Portugal bench, smile playing across his lips and winking.
Over the coming days, the image was splashed across the newspapers – tabloid and broadsheet – as England fans lashed out at their latest scapegoat. No matter that their team had underperformed throughout, that they had scraped past Paraguay, Trinidad and Tobago, and Ecuador. For Urs Meier in 2004, read Cristiano Ronaldo in 2006.
On the pitch, Ronaldo is remarkably unaffected by those events, yet the savagery of the attacks on him by certain sections of the English press have left their mark.
He has, he says, become increasingly wary of what he says, steering clear of the tabloid press in particular whenever possible. In fact, he's only agreed to break his silence and speak to FourFourTwo because he believes he will be shown in a fairer light by a "prestigious magazine". Fair, yes, but firm too – and we won't dodge the controversial issues. The question is: will he?

On a blustery winter's day, Ronaldo certainly seems keen to make a good impression. Arriving at a hotel close to Manchester Airport for our interview, he looks every inch the superstar footballer: expensive-looking watch, diamond-encrusted ring, smart-casual clothes (jeans, shirt, jacket) and typically well-coiffured hair.
Throw in the boyband looks and the surprisingly imposing physique and you can see why he's a favourite with the ladies.
Though there's little sign of the pantomime villain portrayed in the tabloids, Ronaldo is certainly no shrinking violet. He speaks softly with a Madeiran twang, but the mischievous grin and twinkle in the eye are near-constants and when you put him in front of a camera, he really comes to life. "Can you wink?" asks the photographer. "Of course I can wink!" he replies and with that toothy smile, duly obliges.
After all the vilification from the English press and public (and even Steven Gerrard), it says a lot about Ronaldo's personality that he can still laugh about the now infamous incident. Nevertheless, the question has to be asked: did he, or did he not, try to get Rooney sent off? And was the the wink an acknowledgement that he'd achieved his goal?
"Everyone does what he has to do for his country and I did what I had to do," he replies. "Every player plays for his national team with great love and I was giving great love for Portugal. You don't expect a thing like that to be used as an excuse for their defeat."
In the aftermath, newspaper reports claimed Rooney was furious, ready to throttle his club team-mate as soon as he set eyes (and hands) on him. Yet insiders say Rooney greeted his adversary with a wink. How is their relationship now? "It's very good," insists Ronaldo. "We were on opposite sides at the World Cup. There's no problem. There are no personal differences. It's all in the past. It's not an issue, it's gone and life goes on."
Then there were Gerrard's comments: "How could he do that to a team-mate [Rooney]? It's unbelievable. If one of my team-mates did the same, I'd never speak to them again." Has Ronaldo received any special treatment or provocation from players looking to exact retribution on behalf of the nation? "No, I've not heard anything from players – I've rarely had problems of any kind with opponents."
In between the quarter-final against England and his frosty reception on returning to these shores, Ronaldo suffered World Cup heartbreak of his own, with Portugal going down to France in the semi-finals, false rape allegations levelled against him and the death of his father, Dinis.
In the summer of 2006, Ronaldo was close to walking away from English football. "I should get out of Manchester," he was quoted as saying. "The circumstances are not right. Nobody stood up for me. For some time I haven't had any support from my chief executive [David Gill] or my coach [Sir Alex Ferguson]. They should have come out in my defence but no one did. My desire is to play in Spain. Will it be Real or Barcelona? It will be one of them."
Back in the present, he tries to offer a considered explanation: "It was after the World Cup, I was hot-headed. We say things we don't mean to say," he says. "But it's in the past. I'm at United, I'm happy and I want to continue."
He denies even speaking to Barcelona and Real Madrid – "I've got a contract with United. If they speak to anyone it's with my agent, not me. I told my agent I'm happy here and want to continue" – but does admit he's a fan of Spanish football.
"It's a kind of football that attracts me, but at the moment I don't want to leave here. I've been here for a while and every year I try to get better and better. I've had to adapt to the culture, the football, the life and I think I've adapted well. It's more or less what I expected to happen. I'm enjoying my career here."
Yet questions remain about the likelihood of the boy from sunny Madeira remaining in rainy Manchester. It's certainly the football, rather than the weather, or the food, that has helped him settle. "Of course life here is very different from in Portugal, but I was very well received by the players and it wasn't a problem," says Ronaldo.
"I'm all good terms with all the United team. There are three or four I get on best with, such as [Gabriel] Heinze and [Patrice] Evra and I get on quite will with [Rio] Ferdinand. They're my friends in football, and away from football I've got my family, my cousins. I've got few friends, but the ones I've got are real friends.
"The United fans have also given me a lot," he continues. "They've supported me whether we've played home or away, through good times and bad, and they still support me. It's been a big help."
"I've coped with the pressure by working," he says simply. "There are times when there really is a lot of pressure but I always try to feel good, be on form and concentrate on the game. It's important to have belief in yourself and your ability, which I have.
"Football is something both mental and physical. There are days when you're not good mentally and things don't go so well, but it's fundamental that you should be good physically on those days and vice-versa."
Sounds simple.
But really, how many players would have been confident enough to grin broadly as they step up to take a potentially decisive penalty in a World Cup quarter-final shootout? "I tried to concentrate completely and do a good job," says Ronaldo of his apparent total confidence. "I really wanted to score the goal and that was my only objective."

On current form, is he the best player in the world?
Manchester United team-mate Paul Scholes, himself enjoying a outstanding campaign, certainly thinks so: "The amount of goals and the amount of assists he's had has been frightening. I haven't seen anybody take players on, score goals and make goals like he has in this first half of the season, so he rightfully deserves that tag."
Sir Alex agrees: "He's the one player I'd love to pay money to go and see play. I'm sure Ronaldo is already in the 'best in the world' bracket. He's only 21 and he will get even better. Cristiano has not just got quality, he has desire and a desire not to give in."
So having previously stated his ambition to be the best player in the world, does he believe he has reached the summit at the ripe old age of 21? "No. What I want is to be one of the best, but not the best. They're things that happen naturally. I'm having a good phase and I hope to continue with my good form and maintain a high level in my career. I've improved every year and I want to be better still."
What sets Ronaldo apart from almost every other player on the planet is his footwork, his trickery, his showmanship – all carried out at high speed. With Diego Maradona as his role-model, it was these God-given attributes, honed on the streets of Funchal, which persuaded Sir Alex Ferguson to part with £12 million of Manchester United's money in July to prise the 18-year-old from Sporting Lisbon.
Upon the recommendation of his Portuguese assistant, Carlos Quieroz, Ferguson had been watching Ronaldo for some time and the clincher came when the then-spindly winger ran United ragged in a pre-season friendly.
Even arch-pragmatist and perfectionist Roy Keane insisted United sign this teenage box of tricks. "I had a good relationship with Keane and I was very pleased that a great player with a big name in football told the manager to sign me."
But does the new, improved, more productive Ronaldo signal a scaling down of the trickery? He laughs. "It depends on the game, on the situation, it depends on a lot of things. I want to always be useful to the team and give the most I can. That's what I'm doing this season, it's working and I want it to continue that way."
Ironically, it is United's ability to finally cope without Keane – and to a lesser extent Jaap Stam, David Beckham and Ruud van Nistelrooy –that has enabled to them to mount a serious title challenge for the first time since they lifted the Premiership trophy in 2003.
This changing of the guard involving Nemanja Vidic and Michael Carrick, along with the form of Rooney, the resurgence of Scholes and, of course, the consistent brilliance of Ronaldo, has left Chelsea trailing in United's wake. And unlike Chelsea, they've rarely scraped past teams, instead beating them convincingly.
Ronaldo, as you would expect, is taking nothing for granted.
"We've got a good lead and the chances of winning the league this season are great, but nothing is guaranteed yet. Chelsea are a great team and we're only halfway through the season. But we're on the right path. We're playing good football, we've been the most consistent team and if things continue that way, we can win the championship. My dream of winning the league is very much alive."
The Premiership trophy would complete the full set of domestic silverware for Ronaldo at Old Trafford. Then what? The Champions League and a couple of player of the year awards? "I want to win all the trophies possible!" he smiles. "It could almost be the perfect year."
After it threatened to be his annus horribilis, that would surely be enough to produce that mischievous grin again – if not another wink.
Quizzes, features and footballing fun
Get the best features, fun and footballing frolics straight to your inbox every week.