The curse of being "England's next goalkeeper"
You're the next big thing, the safest gloves in England... then you get picked for the Three Lions, and your career swan-dives. Declan Warrington investigates the victims - and wonders what might be going wrong...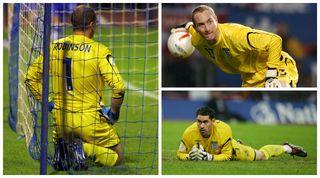 That Scott Carson is likely to start next season with Wigan as a League One player, when at 29 he should be entering his peak years, says much about the decline of an individual once considered England's future first-choice goalkeeper. Just as revealing is that he may not even be starting for the Latics were they not losing Ali Al Habsi.
It had all started so well for a player who showed genuine promise at Leeds. Carson was so highly rated that at 19, in January 2005, he had the choice of a transfer to that season's Premier League champions Chelsea or Champions League winners Liverpool.
Within 18 months, having joined Liverpool and played in Europe's leading competition, the young Cumbrian was included in England's squad for the 2006 World Cup. He didn't play but he gained valuable experience, as he also did the following season on loan at Charlton where despite relegation his reputation grew.
In 2007/2008, amid reports of a potential permanent transfer to Arsenal, Carson was loaned to Martin O'Neill's young Aston Villa where his progress steadily continued until the autumn. His England debut came in a November friendly against Austria, and with incumbent Paul Robinson out of form, it looked like "England's next goalkeeper" had finally assumed the mantle.
Then the collapse began.
Five days after the Austria friendly, he was selected by Steve McClaren for the crucial Euro 2008 qualifier against Croatia at a rain-lashed Wembley. Carson gifted Niko Kranjcar an eighth-minute goal and was beaten twice more as England were beaten 3-2 in a game they couldn't afford to lose. He remained a Villa regular until the season's end but O'Neill then signed Brad Friedel, at 37 almost double Carson's age.
A subsequent permanent transfer to West Brom provided stability before his career took another disappointing turn in 2011 when Roy Hodgson sought an upgrade, in Ben Foster, and sold Carson to Bursaspor in Turkey – where he remained for two years until joining Wigan. Turning 30 in September, Carson is beyond justifying his early billing or recovering from being thrust under the wet Wembley floodlights in November 2007.
Even more damningly, his is a familiar tale.
'Cut-throat' Manchester United
Ben Foster may have been Carson's replacement at West Brom, but he too has suffered from unfulfilled expectations. Signed by Manchester United in 2005, he spent two educational seasons on loan at Watford, the latter including an England cap despite the Hornets' relegation from the Premier League, and was expected to be Sir Alex Ferguson's long-term replacement for Edwin van der Sar.
However, his path was blocked by a cruciate injury and the rival claims of Tomasz Kuszczak. Occasional appearances and cup cameos – including a crucial penalty save in the 2009 League Cup final – couldn't cement his place and in summer 2010 he left Old Trafford, complaining of a "cut-throat" environment in which two dropped points were "the end of the world".
He joined Birmingham, who had a goalkeeping vacancy following the return to Manchester City of impressive loanee Joe Hart, but the season again ended in relegation and he replaced Carson at West Brom. That summer, he withdrew from England duty, "retiring" at the age of 28.
In truth, unlike Carson, Foster was perhaps sufficiently talented and rounded to be an international goalkeeper but he hadn't managed to claim England's No.1 spot as Fabio Capello sought a replacement for David James. As Foster's career stalled, Hart became Capello's first choice almost by default. Despite a first cap in summer 2008, Hart had rarely been among the names touted as the long-term successor to David Seaman – the last man to be England's undisputed No.1 at successive tournaments, up to 2002.
Hart's not Wright
In every way in which Hart is valued today – and his leadership is as valuable as it is underrated – similar qualities were once expected of Richard Wright, his deputy's deputy at Manchester City. When managing England, Terry Venables even invited the teenage Wright to train with the senior England squad on a non-call-up basis in an attempt to nurture his supposed talent.
After a full Premier League season with Ipswich, in 2001 Wright joined Seaman at Arsenal. He was expected to replace the Yorkshireman for club and country but, similarly to Carson and Foster, he lost momentum and never recovered. An injury to Seaman presented Wright with the chance to replace him for club and country but he achieved neither and after only a year left for Everton.
Chris Kirkland, at Coventry and Liverpool, and Leeds' Paul Robinson emerged as Wright's long-term rivals, and his career continued to decline: he ended up winning just two caps, his last call-up being in 2003. He lost his place at Everton to Nigel Martyn and was injured falling out of his loft; as if that wasn't darkly comical enough, before what should have been a rare start he tripped over a sign warning against the dangers of training.
At 37, Wright is City's third choice and receiving a rewarding salary, partly as a coach but also quite possibly because his nationality helps the club fulfil the Premier League's demands for home-grown players.
Injuries strike
Some players choose the wrong club, but Chris Kirkland was hampered by frequent injuries. The blood clot on Paul Robinson's lung stands was an unusual affliction, but ultimately conditioning was not his problem. England had hoped that Kirkland and Robinson could be goalkeeping rivals akin to Shilton and Clemence, but both were too fragile: Kirkland physically, Robinson mentally.
Having replaced the erratic David James – another Englishman whose early promise remained unfulfilled, largely due to a rash temperament and lack of concentration – after Euro 2004, Robinson was a reasonably reliable, if unremarkable, presence for a couple of years. Undisputed first-choice at Germany 2006, and still only 27, he seemed to have the position locked down.
Then came his own nightmare against Croatia. In October 2006, with Steve McClaren's England already losing and struggling in Zagreb, his misjudgement meant Gary Neville's back-pass embarrassingly rolled in. Questioned and chastened, Robinson lost his England place to Carson and was sold by Tottenham – where his curious replacement was Heurelho Gomes.
A stronger character may have recovered – Van der Sar, for example, was ruthlessly criticised for mistakes at Juventus – but Robinson, unwanted by Capello, retired from international football and, as Blackburn drifted into the Championship, lost his club place too.
England's future
Perhaps Hart is the long-term solution precisely because he wasn't regularly described as England's future. There are parallels here with Seaman. Like the Yorkshireman, Hart was involved in multiple squads before his eventual promotion to first-choice (Seaman was first called up in 1988 but only became undisputed first-choice in the mid-90s). And like Seaman, when that happened, he almost instantly seemed the solution.
Between the two, in James, Wright, Robinson, Kirkland, Carson and Foster, six men inherited the ill-fated title of England's next goalkeeper but through a lack of talent, character, or fortune, never truly earned it, partly because one man's decline caused another's.
It is little wonder that, overseas, English goalkeepers are laughed at.
Thank you for reading 5 articles this month* Join now for unlimited access
Enjoy your first month for just £1 / $1 / €1
*Read 5 free articles per month without a subscription
Join now for unlimited access
Try first month for just £1 / $1 / €1
Get the best features, fun and footballing quizzes, straight to your inbox every week.
Get the best features, fun and footballing quizzes, straight to your inbox every week.
Thank you for signing up to Four Four Two. You will receive a verification email shortly.
There was a problem. Please refresh the page and try again.