David May: What Happened Next?
"I'd greet Jordi Cruyff with 'Dos San Miguels you dago b*****d'..."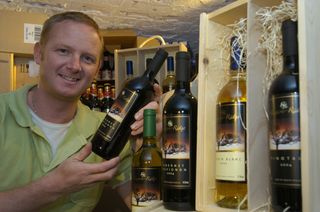 "I was a bit of a joker in the United dressing room. When I wasn't greeting Jordi Cruyff with 'Dos San Miguels you dago b*****d', I'd urinate down team mates' legs in the shower, cut the laces out of Nicky Butt's new trainers or put Deep Heat in the kitman's shorts. And some saw my biggest joke as getting in most of the photos when United won the European Cup.
I always thought that if I got near the trophy then I'd be in the pictures. I saw the trophy on a chair and thought: 'I'm having that.' So I picked it up and the rest is history. Although I didn't play in the final, I was proud of my contribution to the treble.
I'd been at United for five years when we won the European Cup after joining from Blackburn Rovers in 1994. I have happy memories of Blackburn – we went from the wrong end of Division Two to second in the Premiership – but they are soured by my final months there.
They accused me of being greedy in contract negotiations. I was in a regular in the first team where Alan Shearer was paid £9,000 a week. Me? I was on £500 basic and asked for £4,000.
Jack Walker tried to persuade me to stay when he heard United were interested. And David Batty rang me up shouting 'Scum! Scum! Scum!' down the phone, but I'd made my mind – you only get one chance to go to Old Trafford.
I made 118 appearances for United over the next eight seasons, although I was continually hit by injuries in my last years at the club and moved to Burnley in 2003. After retiring in 2004, I formed a partnership to import South African wine with a friend and it's gone well ever since. I was lucky to have made some money from football to invest in the business, whereas I played with lads at Blackburn and Burnley who now work in factories. New clients can be surprised that I'm now involved in wine, but I've yet to meet an irate Leeds or Liverpool fan who doesn't want to do business.
We've just launched a new range called Mayson Ridge – the 'May' coming from my name. My business partner is a South African restaurateur and he speaks Afrikaans. We have a Chenin Blanc, Sauvignon Blanc, Chardonnay, Cabernet Sauvignon and a Pinotage, which is a cocktail of red fruit flavours on both the nose and the palate.
I've not cut my links with United. I work for MUTV and attend matches, usually in the hospitality lounges. I still jump for every header that Vidic or Rio goes for. It's hard when you stop playing and nobody prepares you how to deal with it, but I get behind the lads. I was singing the Paul Scholes song at Cardiff a few years ago when a Geordie got a bit irate and tried to have a go. I was in the Newcastle end…
Some might be surprised that I say that because I supported City when I was younger, probably to be awkward because all my family were United fans, but I had trials with City when I was 14 and hated it. It was like a cattle market. These days my allegiances lie with United.
My highlight was winning the double at Middlesbrough in 1996. Everyone was singing and drinking on the bus back to Manchester and I was thinking, 'This is the life. Winning the FA Cup a week later over Liverpool wasn't bad either…'
I probably played my best football at United that season. I had a consistency that comes with playing every week, which I didn't have in my later years at Old Trafford.
I look back at my time at Old Trafford and appreciate it more now. I still can't believe that five or six lads came through the same youth team. Most of them were United fans from Manchester who went on to play for England. I doubt that will ever happen again.
Aside from Scholesy, whose children go to the same school as mine, I don't see too many of my former team-mates. People think that you keep in touch, but they are work colleagues aren't they? I understand why people say it, but it's a job to us. People have asked me if I'm Alan Shearer's mate, but I've not spoken to him since the day I left Blackburn – apart from when we beat them."
Interview: Andy Mitten. From the July 2007 issue of FourFourTwo.
Thank you for reading 5 articles this month* Join now for unlimited access
Enjoy your first month for just £1 / $1 / €1
*Read 5 free articles per month without a subscription
Join now for unlimited access
Try first month for just £1 / $1 / €1