Dele Alli: I'm not at Spurs to go out on loan this season
By Tom Farmery published
After helping MK Dons win promotion to the Championship, the 19-year-old talks to Tom Farmery about slotting in at Spurs next season, rejecting Liverpool and why using a microwave is best for scrambled eggs...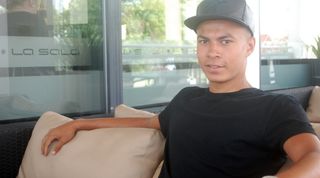 At 19, Dele Alli could be forgiven for appearing a little laid back. But complacent he is not, as a pre-season that started in early June demonstrates.
FourFourTwo meets the youngster at Spanish restaurant La Sala in Woodford, where he usually comes to relax with friends, but this summer he's in no mood to drift away for a few hours.
Alli is well aware of what will be expected of him when England's top flight kicks off again on August 8. His £5 million transfer from MK Dons to Tottenham Hotspur (opens in new tab) was sealed on the last day of this year's January transfer window, before he was loaned back to Stadium:MK for the rest of the season. The teenager had been with the Buckinghamshire club since he was 11, and wanted to leave by helping his friend and former manager Karl Robinson achieve promotion from League One.
Ignoring Anfield
Robinson's influence and relationship with the young midfielder is big, and was a significant factor in his move to White Hart Lane. Alli and his agent decided that Mauricio Pochettino would be the right man to continue the player's development after watching closely how the likes of Harry Kane, Ryan Mason and Nabil Bentaleb have all progressed from youth team football to the first team and thrived.
"When we were looking at moving I think it was really important that we found a manager who was similar to the gaffer [Karl]," Alli says. "Someone who has a lot of trust in young players and isn't scared to put them on. I can see that in the manager [at Spurs], so it's a great move for me. Obviously I still speak to the gaffer and we are still really close. He's just told me to go there and be myself. He's also told me that everyone will go in at the same level in pre-season, that I've got a chance, and I'm really grateful for that. He's given me the chance to impress and I'm just going to try to take it as best I can. I'll be focusing on what I need to improve on and hopefully when the time comes I'll be ready."
Alli's decision to join Spurs was made only months after Liverpool had a £3.5 million bid accepted by MK Dons. Yet the 19-year-old, a lifelong supporter of the Reds, wasn't convinced it was sensible to leave Milton Keynes despite Brendan Rodgers' history of nurturing young talent. "At the time I didn't feel it was the right move personally, and I wanted to stay at MK a bit longer to get some more first-team experience," Alli admits. "I knew if I got more experience by the end of the season that I'd be ready to move."
Loan watch
It was worth the wait. The youngster's performance in the 4-0 League Cup second-round win over Manchester United (opens in new tab) was enough to attract the interest of several high-profile clubs including Bayern Munich (opens in new tab), who sent scouts to watch him, and further served to convince Pochettino of his talents.
Alli has spoken to his new manager a few times this summer. He has been told by Pochettino that he will be utilised in a way that will show off his talents and allow him to establish himself as one of England's best young midfielders.
However, given that the two central midfield positions are occupied by Mason and Bentaleb with Christian Eriksen usually ahead in midfield, it's been questioned whether Alli will be loaned out or become comfortable sitting on the substitutes' bench.
But the midfielder, a close friend of Chelsea (opens in new tab)'s Patrick Bamford who has been loaned out three times in as many years, is sharp to quell the suggestion.
"I'm not going to lie, it's going to be hard and it's going to be a challenge, but it's one I believe I'm ready to take," he declares. "As far as I'm concerned I'm at Tottenham (opens in new tab) to play and I'm going to work hard to make sure that happens.
"We've got a great team here with some great players who I'm really looking forward to working with. I'm just going to train as hard as I can, work as hard as I can and wherever I'm needed that's where I'll play.
"I'm really excited to be working with Pochettino. I've met all the players and I'm looking forward to working with them – hopefully playing in the Premier League. It's every boy's dream and I'm really looking forward to the challenge."
Attention, England
Before FFT's sit-down, Alli had been congratulating his friend and Wolverhampton Wanderers striker Benik Afobe for a late call-up to Gareth Southgate's England Under-21 squad following Saido Berahino's withdrawal through injury.
Alli himself has made four appearances for the under-19s and considers it his dream to one day play for England's senior team – something John Fashanu will be somewhat disappointed with after suggesting he'd like the midfielder to commit his international future to Nigeria, who he is eligible for on his paternal side.
"I haven't heard too much about it," he says, smirking. "I'm focusing on trying to be an England player – every kid's dream is to play for their country and I haven't thought about anywhere else other than England." Alli's age is put into perspective when he reveals that Steven Gerrard, among other central midfielders like Frank Lampard, was the player who inspired him most growing up. He was only four when he first watched the former Liverpool captain.
Gerrard, in contrast, was 19 when he was trusted by Gerard Houllier to become a regular starter for Liverpool, and a day over 20 when he made his England debut against Ukraine. Alli leaves teendom behind next April just two months before Roy Hodgson's side head to Paris for Euro 2016. Clearly, he wants to be there just as Gerrard was when Kevin Keegan led the Three Lions to Euro 2000 in Belgium and Holland.
Fifteen years on from England's dismal showing in that tournament – they crashed out in the group stages above bottom-placed Germany in Group A – Gerrard, at 35, has become one of the best players England has ever produced. And while Alli is wise enough to realise the danger of revealing too much about his future objectives, he does admit his style of play is very much modelled on that of the ex-Liverpool skipper: retaining possession, advancing from deep, dictating play, starting attacks and often finishing them too.
"Steven Gerrard was a massive idol to me when I was younger," says Alli, whose 16 goals and nine assists last season ensured he scooped the Football League's Young Player of the Year award.
"It would be unbelievable to have the sort of success he's had, and even to be compared to him is a huge honour to me. I think I've got his desire and hunger, and I don't like to lose.
"I'm not going to get too carried away about what's going to happen in the future but if I achieve great things I'd be really happy and honoured."
Domestic endeavours
One thing that signing for Spurs has forced him to do is live on his own for the first time in his life. Although he is making great strides on the football pitch, it's fair to say his accomplishments in housekeeping and home economics are limited.
So far he is yet to use his washing machine, instead opting for a weekly trip back home to get his laundry washed and ironed. And while his nutritionist might not be too bothered by his staple diet of scrambled eggs and smoked salmon, cooking enthusiasts won't be too impressed by the fact he knocks the dish up in his microwave.
"It tastes fine," he chuckles. "It's been interesting so far. Obviously we'll soon have meal plans and be told what we can and can't eat. We'll also be getting meals at the training ground and stuff to take home."
Not that he cares anyway. After all, when you're focusing so much on your first season as a Premier League footballer, you can forgive the youngster for not wanting to prepare for life after football as a Michelin starred chef just yet.
Thank you for reading 5 articles this month* Join now for unlimited access
Enjoy your first month for just £1 / $1 / €1
*Read 5 free articles per month without a subscription
Join now for unlimited access
Try first month for just £1 / $1 / €1