Deulofeu's Barcelona rejection a harsh reminder of La Masia's slippery slope
The former Everton man was shipped off to Sevilla after failing to impress Luis Enrique, writes Lee Roden, and already it looks like an uphill task for the 20-year-old to claw his way back...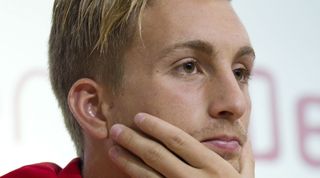 With a surname deriving from the old Catalan for 'made by God', you could say Gerard Deulofeu has always been destined to do something exceptional.
When the forward was leapfrogging age groups in the Barcelona academy for fun, or scoring hat-tricks in the second division in his teens, that certainly looked to be the case.
Yet things these days aren't quite going to plan for the 20-year-old, who was recently sent on a surprise second loan spell after failing to impress Luis Enrique in pre-season.
For the first time in his 11 years at the club, Deulofeu now faces falling down rather than up the Barcelona pecking order, and his situation highlights the harsh reality that most players who come through La Masia have to deal with sooner or later.
The leap from the Mini Estadi to the Camp Nou is huge, and making that transition can often be decided by the finest of margins. With the Blaugrana constantly striving to achieve the very best, even the brightest of their homegrown players may fail to make the grade.
The fallen
Deulofeu's situation is nothing new. Barcelona's history is littered with outstanding academy players who dropped at the final hurdle. Bojan Krkic, record goalscorer in multiple youth categories, is perhaps the most obvious example.
A few years prior, Giovani dos Santos, a similar talent, suffered after a poor choice of dressing-room influences and was subsequently cut loose. In the 1990s there was Iván de la Peña, who many supporters still cite as one of the finest midfielders the club has produced, yet he also failed to tie down a regular spot thanks to difficult relationships with coaches.
The eternal challenge for Barça is marrying an incredibly demanding brand of football with regular trophy wins, and the pace at the club can be unforgiving as a result. Only the most talented players are capable of adapting, yet talent is the bare minimum required to play at the Camp Nou, and eventually focused hard work has to kick in.
For the academy players good enough to reach Barça B level, making your first-team debut is the simple part; holding down a place in the squad is the real challenge. A single trophyless season is deemed as a disaster for Barça, so the club can't afford to wait around for players to catch up, home-grown or otherwise.
When it comes to attacking positions in particular, Barcelona will happily spend significantly to fill key roles if their academy options aren't up to scratch.
While it is true that the club's most successful teams over the last three decades have featured academy players, it is equally true that they contained influential imports, particularly in attack.
David Villa, Samuel Eto'o, Thierry Henry, Ronaldinho, Hristo Stoichkov and Michael Laudrup all played a part in European Cup wins for the Catalans, and all came from elsewhere. Recent high-profile moves for Luis Suarez and Neymar are just a continuation of that.
Munir's moment
Deulofeu's task of competing with Neymar and Suarez, then, was nothing other academy graduates hadn't faced before. The key to young players prospering is absorbing and then applying instructions from the manager as well as or better than the signings.
The forward must have done something to suggest he wasn't capable of that, and the fact Enrique felt the need to publicly criticise his poor defensive attitude hints at where the problem lies.
The coach later said he decided to send Deulofeu back out on loan because he "knew him well" and that "playing regularly would be better for him". If the Asturian had seen enough over the course of a month to know he wouldn't play regularly, it should be cause for concern.
The opportunities subsequently handed to other youngsters like Munir El Haddadi and Sandro Ramirez prove that Enrique runs a meritocracy. Deulofeu may be the finest academy product in a decade, but he had to earn his chance in training and on the pitch like everyone else. Perhaps the 20-year-old, who signed his first deal with Nike when he was 12, couldn't quite accept that.
The endless chain of talent rolling off the production line at Sant Joan Despi ensures that if a youth player doesn't seize his brief opportunity with the first team, another more focused graduate will. Consider Munir, who last year was still officially a Juvenil A (U19) player, yet now features with the first team.
When Suarez is finally free to play, the 19-year-old will likely be sent back to Barça B, but before then he will have had a golden chance to leave a positive impression on Enrique in every training session. That's a luxury Deulofeu doesn't have.
SEE ALSO Everything you need to know about Munir
Finding the way
It shouldn't have been that way. When Deulofeu returned from his 'Erasmus' year at Everton, he was expected to have matured enough to compete for a first-team spot. The scrutiny on him this time around will be much greater, and showing a significant improvement over the course of the next nine months is the only way he will change Enrique's opinion.
That won't be easy, as Sevilla are no finishing school for Barcelona academy players, and Unai Emery has his own concerns. Deulofeu has been made to wait patiently for his chance to impress. An unused substitute in three of Sevilla's first four league games, he was finally handed a starting position in the Europa League against Feyenoord and claimed two assists.
The forward built on that last weekend, starting his first league game for los Nervionenses in a 4-1 win over Deportivo and assisting three of the Andalucians' four goals. Enrique will have seen the tapes, but will want to see more. Details are important, remember.
And there are key details that urge caution. Against Deportivo, on the rare occasions that he tracked back, Deulofeu looked notably tired, spending the next few minutes slouching and catching his breath. That suggests his physical conditioning – something Enrique is particularly fixated with – isn't up to scratch.
He will need to improve that aspect of his game to show his manager that he is the finished article, ready to step in and do just as good a job as Neymar, Suarez, or anyone else next year. Enrique will have seen much more of those players first hand by then, so Deulofeu faces an uphill struggle.
He does at least have a small piece of fortune that could still work in his favour, however, and timing can ultimately also be important in making the step up to Barcelona's first team. The club's transfer ban means that if any forwards leave next summer, the only way to replace them will be from within.
Deulofeu can make a case to be one such 'signing' by profiting from his loan spell in the way Rafinha Alcantara managed with his time away last year. Work hard enough to become a starter, and play a big role for a club that has traditionally enjoyed the talents of technical wide players, and Enrique will surely give him one last chance.
The biggest concern for Barcelona is that Deulofeu's problems now are the same ones he's had for a number of years. Standout natural ability was enough to carry him to the top in the academy, but with the first team, players need to not only maximise their strengths, but minimise their weaknesses.
The Girona native could yet take the next step, but is showing signs of following the familiar path of glorious failure trodden by Bojan and his ilk. This unexpected diversion for a player seemingly destined for first-team glory will serve as a warning to all of La Masia's other hopefuls. Arriving at the Camp Nou is only half the battle – the hard work starts once you get there.
Thank you for reading 5 articles this month* Join now for unlimited access
Enjoy your first month for just £1 / $1 / €1
*Read 5 free articles per month without a subscription
Join now for unlimited access
Try first month for just £1 / $1 / €1
Get FourFourTwo Newsletter
The best features, fun and footballing quizzes, straight to your inbox every week.