Diogo Jota reveals the secret behind his end of season Liverpool scoring spree
In an interview with FourFourTwo, the Portuguese forward explains how he got his shooting boots back on - literally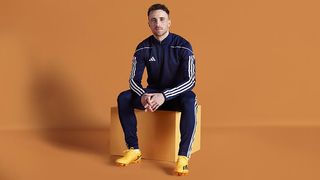 (Image credit: Adidas)
Diogo Jota netted seven goals in his final nine games of the club season for Liverpool - and he believes that a change of boots had a significant impact.
Jota previously hadn't found the net in 11 games since returning from a lengthy injury lay-off, but broke that sequence in his first game after donning adidas' new orange X Speedportal footwear, part of their recently released Heatspawn Pack.
The Portuguese forward immediately bagged two goals against Leeds United, following it up with braces against Nottingham Forest and Southampton before the end of the campaign, as well as a winner against Tottenham Hotspur.
"I never scored with the previous boots and it's a psychological thing if you're a striker – 'maybe it's the boots I need to change'," he told FourFourTwo, in an exclusive interview. "Then you score and everything feels fine. They're just tools, but when you look at them, they give you different feelings."
Jota, though, doesn't allow superstition to have free rein. "I try not to, because it gives you a lot of work to have everything always the same," he explained. "Then, if one of those things doesn't happen for whatever reason, you're already 1-0 down.
"But if the boots feel nice and you're scoring... I remember Karim Benzema wearing the same ones – it's hard to argue when you're scoring."
The adidas X Speedportal boots are part of the Heatspawn Pack, which also includes the Predator and Copa boots, available to buy now at adidas.co.uk/heatspawn_pack
Read the full interview with Diogo Jota in the new issue of FourFourTwo, in shops from Thursday, June 22.
Thank you for reading 5 articles this month* Join now for unlimited access
Enjoy your first month for just £1 / $1 / €1
*Read 5 free articles per month without a subscription
Join now for unlimited access
Try first month for just £1 / $1 / €1