El Hadji Diouf interview: Liverpool "bottled" the league last season
Former Liverpool attacker El Hadji Diouf has stuck the boot into his old club again, telling FourFourTwo of his amazement at the Reds' near-miss in 2018/19.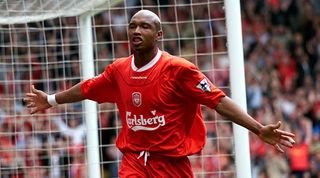 Liverpool finished one point behind champions Manchester City with the third-highest tally in Premier League history, having only lost one match – to Pep Guardiola's side.
Diouf believes his old team should have wrapped up the title while they had the chance.
Speaking in the November 2019 issue of FourFourTwo, out in shops Friday, the Senegalese said: "I don't see them doing as well as they did last season. They had the chance to win the league title; they had it in their hands and then let it slip.
"They were seven points ahead around Christmas – how Manchester City got it in the end beats my mind. As they say in England, I think they bottled it.
"If you have only one defeat in a whole season, surely you can't say that you didn't win the league – so it's hard for me to imagine them having such a similar season and coming out as champions.
"Manchester City will be the team to beat once again."
Diouf was a notorious flop at Anfield after signing from Lens for £10m before the 2002 World Cup, and then emerging as one of the standout players in Japan and Korea.
He played 79 times in his two seasons at the club, scoring six goals in 2002/03 as Liverpool won the League Cup against Birmingham, but endured a miserable 2003/04 and was renowned more for his ill-discipline than attacking prowess.
The 38-year-old still harbours resentment from his time on Merseyside – and claims much bigger suitors wanted him in the first place.
"I've never hidden the fact that Liverpool didn't treat me right and that they cherished some players better than me, even though I'd arrived with a better profile," he told FFT. "Sometimes, reporters will never get what goes on in the club and in the dressing room.
"Don't get me wrong: the club is run very well now, based on what I hear from Sadio Mané, but I feel I was seen as an outsider back then.
"The upsetting thing is that Real Madrid and Barcelona had offered me more money, but I really wanted to go to Liverpool – and it ended up being one of my worst experiences."
Read the full interview with El Hadj Diouf in the November 2019 issue of FourFourTwo magazine, out in shops and available digitally from Friday (September 27). There's an exclusive interview with Jurgen Klopp via comedian John Bishop, we head to Buenos Aires for another madcap Boca-River Superclasico, shine a light on the murky world of money laundering, catch up with forgotten man Adel Taarabt, go inside Wolverhampton Wanderers and much, much more. It's a belter.
Subscribe today! 5 issues for just £5...
Thank you for reading 5 articles this month* Join now for unlimited access
Enjoy your first month for just £1 / $1 / €1
*Read 5 free articles per month without a subscription
Join now for unlimited access
Try first month for just £1 / $1 / €1