Elphick: 'Why is Eddie Howe so liked? He's just so good...'
Bournemouth's backline are something of an unknown quantity for Premier League fans going into the new season. Sam Rowe chats to Cherries skipper Tommy Elphick about the challenge ahead...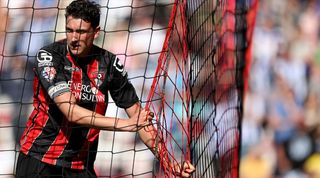 At what point last season did you think promotion might become a reality?
We spent so long at the top, and when you get into the last five or six weeks you're thinking 'we've had such a great season and you want to see it through'. It's hard in the Championship because there are some huge teams in the league and everybody is capable of beating everybody on their day. There are times when you probably haven't won games you would have expected to, and people were writing us off, and then you win three or four on the bounce and all of a sudden you're a few points clear and you really start to believe.
TOMMY ELPHICK
Brighton 2005-12 (182 apps, 9 goals)
Bognor Regis, loan 2005-06 (17 apps, 1 goal)
Bournemouth 2012- (78 apps, 4 goals)
You stepped down a league when you joined from Brighton, with some branding it a step backwards. Must feel pretty good now?
It's a great feeling. It's always a huge risk when you leave a club to go to another one - you never know how it's going to work out. At the time I'd been injured for 16 months, and for me it was about re-establishing myself. I was leaving a fantastic club where I'd been raised and schooled really well, so the first thing I was looking for from the club I was going to was a sense of direction. This club was the perfect fit for me to make that step and hopefully come back. It couldn't have worked out any better.
Eddie Howe's list of admirers grows larger by the day. What's he like to play for?
He's so up to date. Everything's fresh, every training session you come out to do is different, it's all thought out and planned to the next game. He wasn't here when I signed, but I remember his first day back – you'd talk to some of the lads and they'd be giving you the heads up that this guy's pretty special. There was just a sense of excitement around the stadium and when he walked in there was an aura about him. He commanded respect and when he talked, people listened.
New signing Sylvain Distin is the same age as the manager – what is it about Eddie that commands such respect from his players?
I think it's because he's so good. If he wasn't he wouldn't have achieved what he has in such a short space of time. Since I've been here he's worked with players like David James and Ian Harte, who are older than him. Hartey's a player who's been around the game at the highest level, and when you hear someone like him saying he's one of the best he's ever worked with, it's a pretty huge statement.
With Bournemouth making a habit of overachieving, what's the ultimate goal for this season?
It's probably boring hearing it, but first and foremost we have to make sure we're in the Premier League next season. That's where we've all been dreaming of getting to, and it would be foolish to set your sights higher than that. You have to learn as quickly as possible how to become a Premier League football club. Things are changing so quickly, and as a player you want to remain on this journey.
Read our behind-the-scenes feature from the first days of Bournemouth's pre-season in the September 2015 issue of FourFourTwo, available in print, on iPad and also iPhone from Saturday August 1. It's season preview time! FFT is on hand to give you the skinny on 128 teams across England and Scotland in our big, shiny and perfectly formed 100-page pre-season supplement. Plus there's a One-on-One with Gary Neville; interviews with Vincent Kompany, Aaron Ramsey, Daley Blind and Harry Kane; Planet Football's Euro-league previews; the usual Upfront silliness and stacks of expert advice in Performance. Subscribe!
Quizzes, features and footballing fun
Get the best features, fun and footballing frolics straight to your inbox every week.
Thank you for signing up to Four Four Two. You will receive a verification email shortly.
There was a problem. Please refresh the page and try again.