Eusebio: One-on-One
"A lot of goalkeepers congratulated me when I scored goals against them"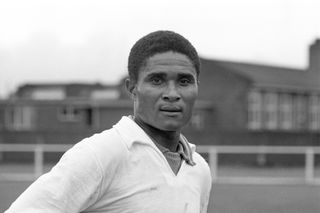 "I could have bought half this city," muses Eusebio, as he casts a regal eye across Lisbon from the panoramic vantage point of the Regency Chiado Hotel, and settles down to answer FourFourTwo readers' questions.
For over a decade 'the Black Panther' had not just Lisbon but the world at his feet, yet was so good he wasn't allowed to leave Portugal. After dazzling at the 1966 World Cup, where he finished as the tournament's top scorer, Inter were prepared to break the bank to lure him from Benfica to Italy for what was then a king's ransom of $3 million. That prompted Portugal's dictator Salazar to issue a decree forbidding him from going abroad.
No wonder. In the 1960s, the Mozambique-born striker single-handedly put Portuguese football on the map, and his phenomenal goalscoring feats for the national team (41 goals in 64 matches), and his beloved Benfica (727 goals in 715 games) secured him a place among the game's all-time greats.
Now 66, Eusebio remains the undisputed elder statesman of Portuguese football and is one of just a handful of former players who can truly lay claim to international iconic status.
When he made a recovery from a serious health scare last year, an entire nation heaved a collective sigh of relief, as did a host of fellow luminaries around the world. "I had Cruyff, Beckenbauer, Pele and Bobby Charlton ringing to ask me how I was," he recalls.
Here to relaunch the classic Puma King boot, he spends an animated 90 minutes in conversation with FFT, looking back over his career, debunking myths, recalling how he silenced Di Stefano & Co. in 1962, evaluating Ronaldo's chances of succeeding him as Portugal's number one footballer, discussing his close friendship with Jose Mourinho... and explaining why he would have been even more prolific if he'd been playing today.
You grew up in Mozambique, a Portuguese colony. Did you feel African or Portuguese? I ask because some people consider you the greatest African player of all time, others the greatest Portuguese...
Steve Temple, Woking
I don't make much distinction between the two. This is a political question. I'm not a politician.
I was born in Africa in a country that was one of the Portuguese colonies at the time – Mozambique, Angola, Sao Tome, Guinea. It's just as well that these countries are now all independent.
When Mozambique became independent the president gave me and my family four passports. I've lived most of my life in Portugal but you never forget where you were born. I go to Mozambique every year – in fact, I'm off there tomorrow. I've got family there. I've got no problem and have never had problems with this issue.
Mozambique was where I was born and it's a place I will continue to love until the day I die... but Portugal is where my daughters were born and where I learned and grew as a man and as a professional footballer.
I've read that you could've been a basketball player and were the U19 Portuguese 100m, 200m and 400m sprint champion. Is that true and does that mean you came to Portugal and competed in athletics as well as football? How fast were you over 100m?
Paul Harris, Birmingham
When I got to Portugal I signed a contract to play football and had to train and prepare carefully just to play football. In Africa, there wasn't any professional football, so it was usual for everybody to play whatever they wanted. But when I came to Portugal that all stopped. In Africa, you had time for basketball and athletics, but in Portugal that wasn't the case.
Football is very demanding even in terms of all the travelling that's involved. It was just football for me. As for being fast, that's true, but I wouldn't know my exact time over 100m.
The nucleus of the Benfica team were of African descent. What is it about Africa that helped nurture young footballers?
Greg Collins, Cardiff
I don't think there was any secret. Benfica never used players from other countries – not even Brazilians, who spoke the same language but were considered foreigners. Everybody was from Portugal or from the Portuguese African colonies. It's not like that today, unfortunately.
You played for Sporting's feeder club, Sporting Lourenco Marques, but signed for Benfica. Is it true that officials from their club kidnapped you on your arrival to Portugal, forcing you to stay in a fishing village and train alone on a beach?
William Earle, Derby
These are all lies, pure and simple! Some people aren't honest, but me and my family are. My mother signed a contract with Benfica for 250 contos [around 1250 euros] and she insisted on a clause which read: "If my son does not adapt, the money is deposited in the bank in Mozambique and not one penny will be taken from it." I had return tickets when I arrived.
This contract was signed there – in Mozambique – with the money deposited there. Three months later this story came to the surface, which had been invented by a bandit from Sporting, saying that I'd been kidnapped. But how can I like somebody who kidnaps me? I'm not crazy. I wouldn't have gone along with them, would I? I ask these people to provide proof of me signing anything with Sporting. Today I am 66 years old and this story still saddens me.
You were nicknamed the Black Panther and the Black Pearl. Who gave you the names, when did you first hear them and how did you feel about them?
Mohammed Khan, Bradford
'The Black Panther' nickname came from English journalists, and it stuck. They say it was because I was fast and had a feline-like agility. Both nicknames are complimentary so I feel fine about them!
A year after you joined Benfica, you faced the great Real Madrid side in the 1962 European Cup Final. How did you feel playing against such legends?
Callum Tillbury, Ilkley
I was comfortable. I had a strong mentality. The more I played against the best, the more inspired I became, and I had an enormous will to show what I could do when I was on the same pitch as great players such as Alfredo Di Stefano and [Ferenc] Puskas. I wasn't at all nervous. What I wanted to do was play and, if possible, win.
You scored Benfica's last two goals to finish off Madrid 5-3. How pivotal were those three minutes to your career? Did it change your life outside football?
Thomas Haynes, Thornhill
No, I can't say it changed my life. My career as a football player developed rapidly; every year, I progressed, becoming better and better until I eventually became one of the best players in the world and the top scorer at the World Cup. I just wanted to play football and show my talent.
And I can't forget my older team-mates who always gave me advice. I was always around them because it was with them that I learned how to be a man and learned how to respect your adversary and to earn respect on the pitch.
In a bizarre European Cup tie in the late '60s, your star-studded Benfica side only eliminated Irish part-timers Glentoran, of Belfast, on the away goals rule, after a 1-1 draw in Belfast and a scoreless draw in the Stadium of Light. I was there – what do you remember about the games?
Tony Fearon, County Down
I remember it well. We drew 1-1 there in Glentoran and 0-0 at the Estadio da Luz and went through to the next round. I remember Glentoran were not a well-known team, Benfica had already been European champions and over there [in Belfast] they were on the defensive for the whole game. We thought that here in Lisbon they'd attack us more but they didn't attack at all and the game ended goalless, and we went into the next round.
During the 1968 European Cup Final you had a chance to win the game when you went one-on-one with Man United keeper Alex Stepney, and you hit the ball right at the keeper then applauded him. Why? Were you trying to make it look like a great save rather than a rubbish shot?
Kim Lee, Kent
I clapped Alex Stepney because it was a great save. On and off the pitch I'm somebody who has always been a believer in fair play. He made a great save, so I applauded him. There was nothing more to it than that.
What was the key to Benfica's success during your time there? The Brazilian-style tactics of Bela Guttman? The nucleus of African players? Or simply all your goals?
Ian Jacobs, Camberley
The secret was in the squad. Bela Guttman was the coach at first, but then we also had Otto Gloria and later Fernando Riera. As I say, the secret was in the group of players. The same goes for the national team. Portugal enjoyed a spectacular World Cup in 1966 thanks to the fact that eight of us were from Benfica – there was just one from Sporting and one or two from Porto.
The team didn't change much in 10 years. Can you imagine playing with the same team for 10 years? Today, unfortunately, this doesn't happen any more. After playing together for 10 years we didn't even need a coach! If I picked up the ball, other players knew what I was going to do, or when Simoes got the ball we all knew what he was going to do, and where we had to run to collect the pass and score a goal. It was easy!
Did you ever consider leaving Benfica while at your peak or were you prevented by the Portuguese dictator Salazar?
Colin Maine, Longborough
It's true. Unfortunately, I stayed; although looking back on my career I can't say I am sad about it. At the time I was disappointed because I would've earned a lot more. I even got as far as signing a contract with Inter Milan when the 1966 World Cup finished. I signed the contract through my wife, who was in Italy, and at the time it was for $3 million. It was a lot of money. In one month in Italy, I would have been able to earn the same as I made in three years at Benfica. I'd have been able to buy half of Lisbon!
As for the regime and Salazar, he loved his country. He never robbed anybody. He never siphoned off money to Switzerland or anything like that. When he died he didn't have much money. For him, money wasn't an issue. I explained to him that I had the chance to earn a lot of money but he said, "No, you're part of the patrimony of Portugal – you can't leave."
I consider myself a citizen of the world but they didn't see it that way. What's amusing is that when I travel abroad with the presidents of Portugal, as I have done on occasion, nobody knows who they are in the street but everybody knows who I am. Benfica were the big winners because they always had Eusebio playing for them.
You played against some of the game's greatest players – Pele, Best, Di Stefano, Puskas, Charlton. Who was the best?
Sam McGuffle, Newbury
And you could add others to that list. But I'm not going to sit on the fence. In my opinion, one player was the most complete: Alfredo Di Stefano. They are all great players, but Di Stefano had it all.
During your match against Brazil, you had a go at your own team-mate for a particularly ferocious challenge on Pele. What did you say to him?
Bert Berman, Kidderminster
I didn't get angry with my team-mate. Pele was an adversary but also a friend. But he was playing for Brazil and wanted to win, and I was playing for Portugal and I wanted to win. Pele was in no condition to play that game: he was already injured. He shouldn't have played. Why did he start, knowing he wasn't fit to play? It was just to frighten us.
The tackle was not even on his injured ankle. I didn't say anything to Morais. I just showed my support to my friend Pele – nothing more. Pele also made the most of it with a bit of theatrics. But he wasn't really in any condition to play. And it was one of our best victories.
I've heard conspiracy theories that Portugal only lost to England because of a last-minute change of venue and some partisan referring. Can you enlighten me?
Dominic Hart, Thurrock
No, the venue was changed but I don't buy into these theories. We were supposed to play at Goodison Park, and we were expecting to play there but at the last minute the venue was switched to Wembley and we had to travel from our hotel in Manchester to London. I'd say that in this respect the English had been smart. It benefited them, Portugal accepted the decision and, well, that was it, we had to play at Wembley.
Is it true that after the World Cup Semi-Final in 1966, the England team were taken to a cinema on Leicester Square, and you waited outside the cinema to give Bobby Charlton a bottle of wine as a congratulatory present?
Mandeep Singh, Leamington Spa
It must be some rumour. Bobby Charlton is a great friend of mine but as for waiting for him and giving him a bottle of wine – no, that's not true.
I've got great friends in England: Bobby Charlton, Denis Law, George Best – who has unfortunately passed away – Alex Stepney... the whole team from that era. Manchester United is my team in England, and we remained friends. It's one of the things that gratifies me most. In the world of football I've got many great friends. When I had my health problem I received calls from Cruyff, Beckenbauer, Pele, and Bobby Charlton. People from all over the world rang me up to ask how I was. It was very touching – a lovely gesture.
Your experiences of Wembley weren't exactly positive: you were knocked out there by England and then with Benfica lost two European Cup finals. Were you happy the old stadium was demolished?
Jim Cooper, Berkshire
I'm not sad about my experiences at Wembley. I played there, I scored goals – I'm just disappointed I didn't win the matches. But I'm glad I played there because for me it will always be one of the best stadiums in the world. Today we're in the 21st century: the stadium was old, and it was changed to help the new generation and give them better conditions to play in, although the old stadium also had good conditions.
What was your best ever goal?
Raymond Fenton, Swansea
It was in the match between Benfica and La Chaux de Fonds [European Cup Second Round 1964-65; Benfica won 5-0]. I scored goals against bigger teams but this was my best. It was a work of art – a moment of inspiration. I played a one-two with Simoes, and found myself up against the two centre-backs. I feigned to shoot and the first defender put his hands up to protect his face but I knocked the ball in the air, then I feigned to shoot again and the second defender did the same, but I knocked the ball in the air again. Then, before the ball had touched the ground, I struck it on the volley. When the goalkeeper tried to stop the shot, the ball was already in the net.
Everyone celebrated and when I looked to my side the goalkeeper was there to congratulate me! But I have to say a lot of other goalkeepers congratulated me when I scored goals against them.
Is it true that Jose Mourinho used to call you for advice? Would you have liked to play under the Special One?
Ian Durkin, Reading
Mourinho is a friend. I've known him for a long time, even before he was a coach and we talk, both about our profession and our family life. He's a great coach, and has the ability to coach any team in the world. But time doesn't travel backwards, and I'm too old to to be coached by him!
In 2003, you were named Portugal's best ever player by the Portuguese football federation. Does Cristiano Ronaldo have the potential to take your crown?
Theo Johns, Battersea
Yes. And the way he's going at the moment he can become not only the best footballer in Portugal, but also the best in the world; maybe not the best of all time, but I think within a short space of time Ronaldo will be recognised as the best footballer in the world. He was second last time [in the Ballon d'Or, behind Kaka] – which shouldn't be sniffed at. But he's got every chance of winning the trophy very soon.
Given the greater protection afforded to flair players in modern football, would you be even better if playing today or was it easier to score back then?
Andy Symanowski, via e-mail
All the conditions are better today. The ball is lighter, the boots are better, the preparation is more advanced. I was fast, I was good at dribbling, I was intelligent on the pitch... yes, I think I would have scored many more goals today.
You were very friendly with Jimmy Johnstone of Celtic. You saw him again in 2006 when Celtic faced Benfica, shortly before his death. Was that an emotional reunion? How did he rate with the other top players you played against?
Adrian Wright, via e-mail
Without doubt a great, great player. A great winger for Celtic and for Scotland. When Benfica played Celtic I met up with Jimmy Johnstone and his wife. He was already ill, so he didn't come to Lisbon. It was good to be able to give him a last embrace, because he was without doubt not only one of the best players in Scotland but also in the world.
In Scotland, I have to say I'm more fond of Glasgow Rangers – not Celtic – and there was also a great winger played for them, and who is still alive today: Willie Henderson. I met up with him recently when Benfica played Celtic again.
What was the most memorable moment of your career?
Tom Manders, via e-mail
It's difficult choosing just one moment. Getting to the final of the European Cup just after arriving at Benfica and scoring two goals in the final against Real Madrid and Alfredo Di Stefano to win the trophy has to be up there. When he offered me his shirt at the end of the match I was flabbergasted – it was a huge honour. Then there were other great moments such as being the top scorer at the 1966 World Cup in England and being voted the best player in the world.
But I think the 1962 European Cup Final against Real is the most special moment, because I was just 19, and had only recently arrived from Africa and to have that happen at the start of my career was fantastic for me.
Interview: Tom Kundert/Libero Language Lab. From the July 2008 edition of FourFourTwo.
Thank you for reading 5 articles this month* Join now for unlimited access
Enjoy your first month for just £1 / $1 / €1
*Read 5 free articles per month without a subscription
Join now for unlimited access
Try first month for just £1 / $1 / €1
Get FourFourTwo Newsletter
The best features, fun and footballing quizzes, straight to your inbox every week.