FA pretending that other people applied for England job
The FA has insisted that Gareth Southgate was just one of "many, many candidates" who applied for the England manager's job, Back of the Net report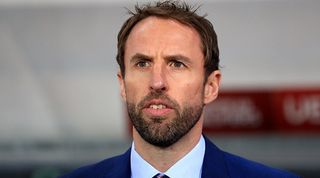 England caretaker boss Gareth Southgate is poised to be offered the role full-time, after an "exhaustive" FA recruitment process which involved taking out full-page advertisements in national newspapers, approaching high-profile candidates via Twitter and hiring a headhunter to make a longlist, later revised to a shortlist, of potential bosses.
FA chairman Martin Glenn has insisted that Southgate's appointment was "not a done deal", and that the FA considered a huge range of high-profile coaches, many of whom fans would have heard of.
"Let's see, there was Glenn Hoddle, which goes without saying, and Alan Curbishley, obviously," said Glenn. "And Gareth... I mean, Garth, er, North… portal? And some very high-profile foreign managers who absolutely do exist.
"Tim Sherwood said he'd do it, but he'd spelled England as 'Swindon' and HR departments care about that sort of thing.
"There was someone who said they could channel the departed soul of Alf Ramsey. And US Soccer kept faxing us pictures of Jurgen Klinsmann without being asked.
"Anyway, there were plenty of applications, and it came down to a straight fight between Gareth, the real one, and 're-open nominations'. And I reckon there's a decent chance we've made the right decision."
Unexpected success
Southgate declared himself "basically quite pleased" to be appointed, citing the fact that he was already doing it so he might as well carry on.
"I never expected to manage England, for a number of entirely obvious reasons which I set out in my CV under the category of 'previous experience'," Southgate told FFT.
"Sometimes an opportunity comes along that you think you might as well take, even if you aren't really sure it makes sense career-wise."
Unsuccessful applicant Garth Northportal said: "The advertisement said 'Candidates should ideally be nothing like Gareth Southgate'. I guess I wasn't quite what they were looking for."
Please note: This satirical news story is not real. Obviously.
Funny stuff • New features you'd like every day on FourFourTwo.com
Thank you for reading 5 articles this month* Join now for unlimited access
Enjoy your first month for just £1 / $1 / €1
*Read 5 free articles per month without a subscription
Join now for unlimited access
Try first month for just £1 / $1 / €1
Get FourFourTwo Newsletter
The best features, fun and footballing quizzes, straight to your inbox every week.