Fabrice Muamba: Talentspotter
"We lost to Brentford on penalties and I missed one. Arsene Wenger didn't let me take another penalty again – even in training!"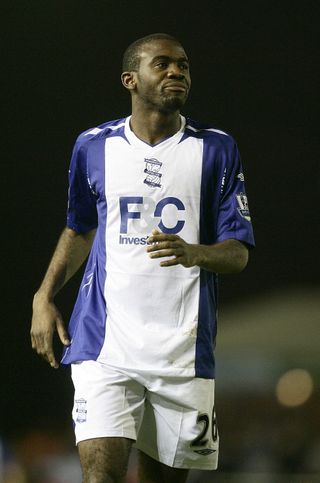 Nickname
Most people call me Fab, some call me Fabba.
Club supported as a boy
Growing up in the Congo I supported Arsenal. It was around the time they had Vieira, Petit, Bergkamp and Henry playing for them and they were awesome. Most people in the Congo were Manchester United fans so I bucked the trend and always made sure I was in front of a television whenever Arsenal played.  
Strengths
I would say my energy and ability to close people down are my best assets. I'm not a bad tackler either and, come to think of it, I'm pretty strong all round defensively.                 
Weaknesses
My long passing needs some work and so does my composure in front of goal. I'm always working to improve my game.   
I play a bit like
Most people compare me to Patrick Vieira, and they'll get no complaints from me about that. It was a privilege to meet him when I first arrived at Arsenal and it was a sad day for the club when he left.                   
Highlights
Making my first team debut for Arsenal in the third round of the League Cup against Sunderland was an absolutely incredible feeling. Arsene Wenger put out an incredibly young side but we repaid his faith and won 3-0 at the Stadium of Light. I loved my time with Arsenal but coming to Birmingham wasn't a difficult decision. I'm always looking to test myself and continually improve my game. Besides, I had to do what was best for me at this time in my career.    
Lowlights
When I was at Arsenal we had a great youth team but we lost to Brentford in the FA Youth Cup on penalties and yours truly missed one from the spot. What's more, Arsene Wenger was right behind the goal when I fluffed it. I came into training the next day and the lads were caning me. Arsene Wenger didn't let me take another penalty again – even in training!  
Toughest opponent
Michael Essien is probably the toughest player I've played against. He's just a great all-round midfielder – very powerful and his heading ability is just unreal. You can't help but learn when you're up against players like that every week.  
Best player played with
I've played with a few, including Thierry Henry, but I would have to say that Dennis Bergkamp is out there on his own. He was unbelievable in training.  
Biggest influence
My mum and dad. They have always believed in me and are always there to keep me focused and raise my spirits. My whole family is very supportive. From a football perspective Steve Bould was great at Arsenal and Neil Banfield, the club's reserve team coach, was brilliant with the young players too.  
Biggest practical joker
There's always banter flying around the dressing room but Maik Taylor is the funny guy. Richard Kingson is a good laugh too – must be something about goalkeepers.       
Latest car
I'm driving a Range Rover at the moment.             
Flicks
The last film I saw was Hitmen –  a very good movie. If you like action films you'll love this. Sound like Jonathan Ross, don't I?
Chicks
Tyra Banks, any day of the week.
What's on your iPod
These days I'm listening to Jay-Z's new album.
Preferred holiday destination
I've never been to the Dominican Republic but it looks absolutely amazing. Hopefully I'll be over there this summer.         
If you hadn't been a footballer
I didn't really take football too seriously until the age of 16 and always did well at school. If things hadn't worked out I think I would probably have ended up being an accountant.  
In five years' time...
I want to be playing Champions League football for a top club in England or Europe and knocking on the England door.
From the February 2008 issue of FourFourTwo. 
Quizzes, features and footballing fun
Get the best features, fun and footballing frolics straight to your inbox every week.
Thank you for signing up to Four Four Two. You will receive a verification email shortly.
There was a problem. Please refresh the page and try again.