FC Sion: Meet Liverpool's cup king opponents with an owner who hired himself... twice
Swiss football expert Matthew Walthert offers everything Reds need to know about Thursday night's Europa League visitors...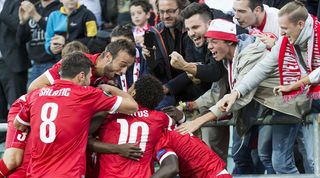 Who are they?
FC Sion are making their first appearance in a major European tournament since 2011. Despite finishing seventh in the league last year, they qualified directly for the Europa League group stage by beating six-time defending league champions Basel to the Swiss Cup.
Stade Tourbillon, named after one of the twin castles perched on two rocky hills overlooking the town, seats about 14,000 – nearly half the population of Sion. The city is the capital of Valais, a French-speaking canton in south-eastern Switzerland. Surrounded by the Alps, Sion has bid (and lost) three times for the Winter Olympics: in 1984 to Denver, 2002 to Salt Lake City and 2006 to Turin.
Aside from their 2014 victory, Sion have won the Swiss Cup 12 other times – it's kind of their specialty. Only Grasshoppers (19) have won it more often and, incredibly, Sion have never lost in a cup final. They are a perfect 13 for 13, despite their relative lack of success in the domestic league (two titles in 105 years).
Four of those cup triumphs have come since Christian Constantin, a former goalkeeper for Lugano under Ottmar Hitzfeld, bought the floundering club in 2003. Constantin's reign has been... er, turbulent, if we're being polite. The club has churned through more than 30 managers since he took over, including two occasions where Constantin himself stepped in – perhaps because there was no one left in Valais he hadn't fired. And still, here they are, heading to Anfield. Sion defeated Rubin Kazan 2-1 in their first match to take an early lead in Group B, but that could disappear quickly against the heavily favoured Reds.
Strengths
Sion prefer to attack – perhaps not surprising, given manager Didier Tholot's experience as a striker with Reims, Bordeaux and Basel – although they will have to be more conservative against Liverpool. Tholot recognises this, telling FFT: "We must be solid defensively; we know Liverpool puts a lot of pressure on their opponent, especially early in the game. It's up to us to exploit every opportunity to disrupt them."
While Senegal international Moussa Konate is Sion's best pure goalscorer, the attack really clicks when Portuguese winger Carlitos (previously of Basel and Benfica, among others) is on his game, distributing the ball and occasionally finding the net. He has three goals in the Swiss league so far this season and Sion will need a strong performance from him.
Weaknesses
There are no glaring weaknesses, but the backline can be vulnerable despite the experience of former Tottenham left-back Reto Ziegler and Hungary international Vilmos Vanczak.
Sion have conceded just 13 goals in league play this year (only three teams have allowed fewer), but against the three top sides – Basel, Grasshoppers and Young Boys – they have been outscored 8-1.
Tholot also says he wants his team to be more consistent, "to better manage the times to attack and the times to sit back during a match". This will be especially important in the midfield, where captain Xavier Kouassi and Veroljub Salatic will be counted on to unsettle the Merseysiders' attack.
The game plan
Tholot, now in his third managerial stint with the club (we weren't kidding about all those sackings), has favoured a 4-3-2-1 formation for most of the season, with Konate at the sharp end. He is usually supported by Carlitos and Ghanaian Ebenezer Assifuah, who scored six goals at the 2013 Under-20 World Cup and helped Ghana secure a third-place finish, but has yet to be summoned for his country's senior side.
As noted, Sion will probably sit back more than usual. In that case, look out for 35-year-old Andris Vanins, first-choice keeper for the Latvian national team, to be called on to make several big saves.
Key player
Sion's hopes of stealing a point at Anfield rest firmly on Konate's boots. In addition to scoring both goals in the Rubin victory, Konate has netted five of the team's 13 strikes so far this season in the Swiss league, assisting three more. Readers might remember him from the London Olympics, where he netted five times for Senegal including the equalising goal against Great Britain at Old Trafford. The 22-year-old Konate's form for Sion is attracting plenty of interest, but he reportedly turned down several Premier League sides after the Olympics, opting to join Russian club FC Krasnodar.
Konate is a hard worker, although not extraordinarily fast. He does have a hard, accurate shot, as he demonstrated with his first goal against Kazan, and the strength to win contested balls. "I have things I can help teach him," says Tholot, "including how he moves on the pitch, as he sometimes forgets to attack at the right moment. We are working on the timing of his movements, to create space."
Famous for...
Infamous might be more accurate in this case. Sion defeated Celtic 3-1 in the 2011/12 Europa League play-off round following yet another cup win. However, Celtic protested, as Sion used players they registered while under a transfer ban for improperly attempting to sign Egypt international keeper Essam El-Hadary in 2008. Celtic won the appeal and Sion were dumped out of the tournament, but the legal battles continued.
"The bottom line is that we are in the right," Constantin said at the time. "There's no doubt." FIFA didn't agree and, after more appeals, the organisation threatened to ban Swiss national and club teams from all international competitions unless Sion were punished. That forced the Swiss federation's hand and Sion were docked 36 league points, leaving them in danger of relegation (they survived in a play-off).
Club legend
Not a player from the past but rather Constantin, who has a divisive legacy: first, he is the outspoken, egotistical, meddling owner who has gone through more managers than David Beckham has tattoos, but he is also the saviour of Sion, who rescued the team from bankruptcy and led it to all those cup victories.
Either way, he is an entertaining, sometimes annoying character who speaks his mind with confidence. After losing to Vaduz he said: "The players should be ashamed of being paid. They are all living in a false reality. I don't know who deserves to wear the shirt of FC Sion in the mythical stadium," referring to Anfield.
Quizzes, features and footballing fun
Get the best features, fun and footballing frolics straight to your inbox every week.
Thank you for signing up to Four Four Two. You will receive a verification email shortly.
There was a problem. Please refresh the page and try again.