Fear and loathing in Manchester: How City and United fans are gearing up for the derby
Ian Ladyman casts his eye over the tensions in Manchester between City and United fans ahead of this weekend's derby...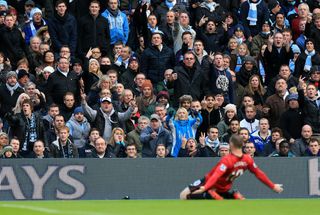 At midday on Sunday, a coach will roll away from the Royal Oak pub in Manchester's Didsbury Village and turn its nose east towards the Etihad Stadium.
As the bus eases its way through the suburbs of Burnage, Levenshulme and Longsight towards its incongruously glamorous destination, there will be a pint and a sandwich for those on board. This is the matchday ritual of the Didsbury Blues.
There was a time when they travelled only in hope on derby day. Sometimes they hoped only to avoid a hammering. Now it's different. Now there is supposed to be an air of superiority. It can be hard, though.
"It's not normal and we're not used to it," said prominent Didsbury Blue Dave Horwich. "For years we sat on that bus and didn't know what was going to happen. We hoped for an upset, something to grab on to until the next game. But we always begrudgingly knew how good they were, how capable United were of hurting us.
"So, yeah, it's different now. We are the champions. We have the better players, the better team. It's brilliant. Who knows what will happen now? We're just enjoying this moment in time, no more than that. All I would say is that it's safe to say that for the foreseeable future at least, we have established ourselves as a major force".
Time hurtles by quickly and we're used to the new City already, not just in Manchester but in England. Only in Europe, perhaps, have the nouveau riche of M11 been slow to find their feet. It's not that long ago since it was different, though. Very different.
A once one-sided rivalry
Just about everyone in Manchester remembers where they were when City beat United 5-1 at Maine Road in September 1989, the day that prompted Sir Alex Ferguson to go home and "take to my bed".
What is often overlooked, though, is that it would be 13 years until City were to beat United again. During that time, United won 14 major trophies while City slid down to English football's third tier.
It is this background, this context, that makes the current Manchester rivalry so layered. City fans sing "We're not really here" in reference to the whirlwind nature of a journey upwards fuelled by Arab petro-dollars, while United desperately attempt to take comfort from the weight of their own glorious history.
"We are the bigger club," said Steve Rodgers, a fellow Royal Oak regular.
"City have spent a hell of a lot of money to try and draw level with us and overtake us. They're the champions at the moment but can they stay there? Can they do what we did? It may not be as easy as they think. It's not as if we are just going to go away is it?"
These days, City and United sit side by side rather uncomfortably. It was Ferguson who so brilliantly and instinctively coined the 'noisy neighbours' phrase that now sits so neatly in north-west football parlance it could have been there for years.
City have thrown stones at United's windows, rattled on their door knob before blowing their whole house down. What's more, they have left their old training ground – the one that sat right next to United's in Carrington – and moved to a big new house – the Etihad Campus – across town opposite their own stadium. It cost £200 million.
Noisy neighbours
For the most part the two clubs do their best to ignore each other. Publicly they talk of how wonderful it is that Manchester is now the very centre of English football but the truth is that either would love it – to quote former City manager Kevin Keegan – if the other were to be relegated for ever.
City have long since felt patronised by their neighbours. Ferguson used to do it on purpose and it worked: "Liverpool are still our greatest rivals," he said in his final season at Old Trafford.
When his successor David Moyes said before last season's Old Trafford derby that City were at the level United "aspired to", meanwhile, he may as well have left his resignation note on the press conference table as he walked out.
United, on the other hand, can't stand City's claim to be Manchester's 'real club'. At Old Trafford, they choke on their muesli at tales of City's work in the community.
"It's as if they invented all that themselves," said one Old Trafford source. "We've been doing all that for years. We just don't shout and scream about it."
Recently, the bickering found its way into the media, given an unexpected outlet via the British record transfer of Argentinian winger Angel Di Maria from Real Madrid to United.
Aware of suggestions from United that Di Maria had chosen them ahead of City, the Premier League champions stressed categorically that they had not been interested. Soon after, meanwhile, stories mysteriously emerged that the player had been offered to coach Manuel Pellegrini and football director Txiki Begiristain and had been given only a polite 'no thanks' in return.
It was as childish as it was delicious and even this week there has been some gentle disagreement between blue and red.
Having agreed, unusually, to a joint PR initiative to promote Sunday's game, the two clubs couldn't agree on a venue. United wanted it to take place at a centre in Partington, a community in Trafford Borough, while City were keen on Hyde on the east side of town.
On this occasion, City held sway. It's their home game, after all. On the field this Sunday, however, they may find things a little harder.
'Welcome to Manchester'
Certainly the form of the respective teams will be the centre of some debate between now and kick-off.
Only a couple of weeks ago United supporters were regarding their visit to 'Wastelands' with some anxiety. With new manager Louis van Gaal struggling to get things right at Old Trafford and City looking as powerful as ever, many United fans would have taken a draw immediately had it been offered.
Now, though, there has been a twist unexpected enough to make it extremely difficult to call the contest.
City manager Pellegrini admitted to a smile when Robin van Persie struck to earn United a point at home to Chelsea last weekend. A point gained for his neighbours was not as important as the two tossed away at the death by his title rivals from Stamford Bridge.
In the wake of Wednesday's 2-0 home League Cup defeat to a below-strength Newcastle, however, he may wish to revise that view. United will head across town on Sunday with slightly more confidence while City – without a win in three games – all of a sudden look slightly vulnerable and will be without the mercurial David Silva.
Currently, we can't rely on the two coaches to spice things up verbally ahead of Sunday. It is not their way. The days of Ferguson clashing with Mark Hughes and then Roberto Mancini really were wonderful and we miss them already.
Other things have changed, too. When Wayne Rooney scored early at the Etihad a couple of seasons ago, for example, he celebrated in front of the home end, only to look up to find camera phones staring back at him.
Deep down, though, the feelings are the same. Nothing in his two and a half decades at Old Trafford irked Ferguson like the 'Welcome to Manchester' poster City plastered across town soon after swiping Carlos Tevez from under United's noses back in 2009.
When Michael Owen scored late to earn United a 4-3 win in one of the most dramatic derbies of all time a couple of months later, his simmering resentment boiled over in the players' tunnel. Ferguson could simply not contain his rage, screaming in the face of the City PR executive he blamed – wrongly, as it turned out – for the stunt.
To this day the lady concerned is still not convinced she has got all the spittle out of her hair.
The derby. Where would Manchester be without it?
Quizzes, features and footballing fun
Get the best features, fun and footballing frolics straight to your inbox every week.
Thank you for signing up to Four Four Two. You will receive a verification email shortly.
There was a problem. Please refresh the page and try again.