FIFA 19 to include Champions League, new commentators – full details, direct from the development team
By Ben Wilson published
EA Canada's Aaron McHardy talks us through the game's biggest addition, including a new mic-wielding duo. Hello, Lee Dixon…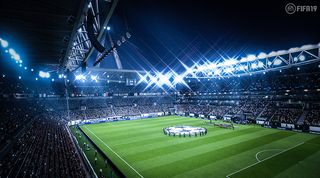 FIFA's gaming series is famed for boasting more real teams and kits then you could ever use in a single year, with one notable exception: the Champions League.
Exclusive to rival Pro Evolution Soccer since 2008, this year publisher EA Sports has finally snapped up the rights to football's biggest club tournament – and executive producer Aaron McHardy can barely contain his excitement as he discusses FIFA 19 plans with FourFourTwo.
"This has been one of our fanbase's most requested features for over a decade, and for us it's so much more than a licence," he beams. You sense that this isn't just a developer shilling his next game – it's a football fan revelling in a new addition to his day job.
"It's the biggest league in the world," says McHardy. "Konami has done a good job with the licence over the last 10 years. Our approach now is about trying to bring the Champions League to life across the entire game: we don't want it to be a slew of new teams and a coat of paint. We want it to be an integral part of everything you're doing when playing FIFA 19."
Vancouver native McHardy was a promising footballer who had trials with Sturm Graz once upon a time, before a torn ACL wrecked both his knee and hopes of making it as a pro. Instead, he's spent the last 12 years applying his real-life experiences to the FIFA series at developer EA Canada – from where he tells FourFourTwo about the studio's Champions League plans…
"We're extremely excited for the Champions League to be joining FIFA 19." And It's not just the Champions League that the licence gives us: we're also bringing the Europa League and Super Cup to the game in a variety of different ways. This gives a more authentic football experience to our players, which is something that we strive to do every year.
"We're introducing a brand new, authentic tournament mode." It puts you right in the middle of that Champions League experience. It's a standalone mode, so you'll be able to pursue Champions League glory from the group stage right through to the final. But if you're like me – an Arsenal fan, unfortunately – you can play a custom version of the tournament using any of the European clubs in the game.
"We've got a new commentary team, Derek Rae and Lee Dixon." They'll feature across all our UEFA experiences – it's going to feel markedly different from a regular FIFA match. We want our players to feel like they're truly front and centre in the Champions League experience. We're bringing unique atmospheres that look and feel like the real thing: overlay packages, match balls, Champions League badges on kits, the archway you walk through, the branding around the stadium. Authenticity is extremely important when bringing these iconic tournaments to life.
"We're not going to dive into the complexities of the qualifying rounds." Though some of that stuff is already baked into the way that Career Mode operates: the logic to qualifying based on different tournaments around the world is already there. I'm not actually supposed to tell you that yet! But yes, it will be more streamlined in the standalone mode: the group stage through to the final.
"Alex Hunter is returning in the third and final instalment of The Journey." This year it's called The Journey: Champions. When we set out [ahead of FIFA 17] it was always planned to be a three-year trilogy, and this is the final year in that trilogy. Nothing is off the table further down the line, but this is the culmination of that plan. The Champions League is going to be a key theme throughout the story.
"I can't comment on which new teams will be added." It's the same for player head scans and stadiums – there will be new ones, but I can't say which until later in the year. What I will tell you is that we're trying to fill the game with the most authentic teams and players, and in that sense this year is no different to any other year. The onus is really on us given that we're adding the Champions League. Any licensed content that is added will also be available in Ultimate Team.
"Cristiano Ronaldo is returning as our lead ambassador." Which is quite fitting, given that he just finished winning the Champions League for the third time in a row. But new to the team is Neymar. He'll be joining Cristiano on our Champions and Ultimate Edition packs for FIFA 19 after a great year at PSG: player of the year in Ligue 1, and helping them win the quadruple. We're really excited to have both on the team with us. They embody the theme of 'becoming a champion'.
FIFA 19 is released worldwide for PS4, Xbox One, Nintendo Switch and PC on September 28
Thank you for reading 5 articles this month* Join now for unlimited access
Enjoy your first month for just £1 / $1 / €1
*Read 5 free articles per month without a subscription
Join now for unlimited access
Try first month for just £1 / $1 / €1
Quizzes, features and footballing fun
Get the best features, fun and footballing frolics straight to your inbox every week.
Thank you for signing up to Four Four Two. You will receive a verification email shortly.
There was a problem. Please refresh the page and try again.