Franco Baresi: One-on-One
"An Italian in charge of the English national side? England calling an Italian? Nobody ever expected that..."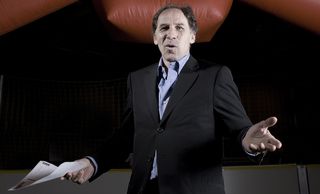 Italy and AC Milan legend Franco Baresi answers FourFourTwo readers' questions back in November 2009.
If you're looking for a head boy for the school of defending, Franco Baresi is probably your man. Wiry, rock hard, and blessed with a disconcerting likeness to top Fender bender Mark Knopfler, Baresi was not as brutal as Gentile, nor as elegant as Scirea or Maldini, but he was the greatest antidote to the art of goalscoring the Italian game has ever produced. At least, until Luca Toni came along.
As anyone watching the game in the '80s and '90s will recall, Baresi was inexorable. Arm permanently held aloft like some footballing Nick Griffin, he'd roam Milan and Italy's backline, arriving at the right spot bang on time to defuse any threat. As he puts it, he was "fast in the head". No-one read the game like Franco, and no-one organised a backline like him either; whether assigning coverage or marshalling his troops forward to spring the offside trap so beloved of Arrigo Sacchi's Milan. The grizzly libero never seemed to put a foot wrong.
Baresi was a one-club player, and in the 12 years since he hung up his boots he's remained true to that; first as a youth coach at Milan and now as one of their ambassadors. It's that role that brought Franco to Birmingham's NEC, pitching up at the Grass Roots Football Live exhibition to unveil Milan's planned British-based soccer camp for kids.
Before he could do that, however, the man who's marked the likes of Maradona, Baggio and Zola had to tackle FFT readers' questions...
As 5ft 10 you were relatively small for a central defender; did this make you work harder on your game?
Matthew Ferguson, via e-mail
I think my strong point was never my physique. I was a pretty fast player, but above all I was fast up here, in the head [taps head]. That's what helped me a lot. [FFT: Is that something that can be taught? Baresi looks at FFT like a doctor imparting some extremely bad news] Sadly not, it's a natural thing. Of course you can improve it, you can grow with experience, but it's one of those natural gifts.
Who gave you your nickname "Piscinin"? What does it mean exactly and did it ever bother you?
Colin Bates, Norwich
[Laughs] No! I got it when I was about 17 or 18, because I was the smallest in the group. It means "piccolo" [small] in Milanese. The masseur gave it to me, a man who saw me grow, and get my first big break in the team.
Who were you heroes growing up?
Patrick Driscoll, Dublin
Well, I was always a Milanista. And it was my great fortune to always play for Milan. At the start I liked [Gianni] Rivera, who I came to know and admire from up close. I even got the chance to play with him, which was a stroke of luck; he was at the end of his career, and I was at the beginning. Then I also liked players like [Pierino] Prati, [Roberto] Boninsegna, and [Gigi] Riva all great champions. [FFT: But these are all forwards or midfield players!] Oh. Well, defenders... I liked people like Rudi Krol, that kind of elegant, considered defender who liked to play football as well as defend.
You were rejected by Inter as a teenager, while your brother was taken on. How did this make you feel. Did it make you even more determined to succeed?
Simon Taylor, Cardiff
No, what happened was that my brother was already with Inter; he's older than me. I wanted to follow him so I had a trial first with Inter, and they said, "Well, come back next year." But my coach took me to Milan, and there I was accepted, although it took a couple of trials. They were worried about my size, that I wouldn't grow much, or toughen up. I was only 14 at the time.
Has the rivalry between Milan and Inter ever caused any problems or animosity between you and your brother?
Roberto Basso, Italy
Oh no. No, absolutely not! [Laughs] No, between us there was lots of friendship and a mutual esteem. No problems.
How did the early passing of your parents mould you as a character? Did Milan become a substitute family for you?
Steve Jordan, Liverpool
Well, we had to roll up our sleeves, and grow up quickly. My brother and I both wanted to make something of ourselves through this sport that we were so passionate about. We had some luck and some help, but above all our character helped us a lot in this. And yes, Milan became like a second family to me, I used to spend all my free time with them.
As someone who was a "one-club man", does it disappoint you the apparent lack of loyalty shown by players these days?
Jordan Anderson, Florida
No, these are different times. These days there are far more pressures and interests in football, far more opportunities to change, so it's unlikely we'll see another Maldini who sticks around for 20 years. You can't compare those days with now.
I heard that when you were in Milan's youth team you used to hide to avoid bumping into senior players like Albertosi, Rivera and Morini. Why was that? Did they ever beat you up or steal your lunch money?
Joe Bell, via e-mail
[Laughs] No! I was shy though. At the start, when I was just 14, and I saw all the big Milan stars, they seemed like they were from another planet. But I didn't hide. I did try and avoid crossing their paths, just because they seemed untouchable, unapproachable. [FFT: Later, when you were a senior player, did you see youngsters taking the same line with you?] Well yes, a few years back there may have been some nervous youngsters, but not now, these days they're not shy at all. Kids now are much more switched on and mature than we used to be.
You became Milan captain at 22. What was the hardest part about being such a young skipper? Did any older players give you any problems and how did you deal with it?
Adam Elliott, via e-mail
I didn't have problems. It was unusual to become captain so early, but it was an unusual situation; Milan in 1982 got sent down to Serie B, so they made me captain straight away. They wanted to rebuild the side, and base it around me.
You refused to play at Mexico 86 in protest at not playing a part four years earlier, when Italy won the competition. Was that the sole reason? Looking back, do you feel you were being unreasonable?
Duncan Blundell, Plymouth
No, [the then Italian manager Enzo] Bearzot didn't call me up. There was a technical question, we had different points of view. Back then he wanted to use me as a midfielder, and I didn't feel at ease with that after so long playing at the back, so he picked someone else. [FFT: Do you regret it now?] Well, even if I'd gone, I wouldn't have played. My choice would have been to be either the reserve for Scirea or a midfielder. I always respected Bearzot, though; he was one of the greats, and I'm grateful to him because it was he who gave me my start internationally.
Many consider the Milan defence of yourself, Paolo Maldini, Alessandro Costacurta and Mauro Tassotti to be one of the best backlines in history. Where do you feel it ranks compared to other great defences – for example, the Arsenal back four in the 1990s?
Brent King, Hampshire
[Baresi has to have the Arsenal reference explained to him. Afterwards, he says with a knowing twinkle in his eye] Oh! Well, they were better than that Milan line of ours! We were more like a bunch of Brazilians! [FFT: So who would you pick as the best backline then?] A different group: Juve's line-up of the early '80s. [Antonio] Cabrini, [Claudio] Gentile, [Gaetano] Scirea. They had a completely different style and all won the World Cup with Italy in 1982.
In the 1994 European Cup Final, where Milan demolished Barcelona, you were suspended and missed the match. How depressed were you before that game? Do you think it is a rule that needs to be changed in the modern game?
Fabio di Pasquale, Florence
Well I was very sad, but I wasn't about to kill myself! [Laughs] Personally I think this rule should be scrapped, because making a player miss the final because of a yellow in the semi is terrible. Look at Pavel Nedved; he's generally a sporting player but he still got suspended. I can understand it for a straight red card, but a yellow shouldn't rule you out of the final. [FFT: What did you make of that Athens final though, as a spectator?] It was one of Milan's best games ever. [FFT: And before the game there was all that trash talk from Johan Cruyff.] Ha! They thought, that since they were the glamorous champions of Spain, they would have no problem. They were the favourites, and this business of suspensions made us even more the underdogs. But in the end football rewards those who stay focused and don't underestimate the opponent. Plus of course, we came up with an amazing performance, right through the team.
It was a miracle that you even played in the 1994 World Cup Final, just four weeks after a knee op. How did you feel taking a penalty after 120 minutes in the heat?
Emma Wilkinson, Gateshead
I was a bit tired. But when my turn came I thought I was going to score. At a moment like that, the goal becomes teeny weeny [motions with thumb and forefinger]. And the goalkeeper becomes huge. Taffarel was the keeper, and at first, I thought of aiming to his left. Then, at the last second, I changed my mind, and when you change, you usually get it wrong. [FFT: Was it tough to pick yourself up?] No. I mean, it was a huge disappointment because for me it was my last chance, and to lose the World Cup on a penalty. If there's going to be a winner, then someone has to lose, but all the same it hurt. It must have been destiny; I guess Brazil deserved it more than us.
Your only hat-trick was in 1989 when you scored three penalties against Messina in a Coppa Italia game. Did you consider yourself a bit of a spot-kick expert before the World Cup in 1994?
Manuel Lopez, Valencia
Well, at that time I was a penalty taker, and things worked out well for me in that game, because taking three penalties in one match is no easy matter. [FFT: But the one you took in '94?] [Baresi laughs] Yes, the one that was actually worth something, unfortunately! Maybe if I'd scored one less of those against Messina, or even none of them, I'd have scored the one at the World Cup. That's football. Still, I have to say, I was only the first penalty taker in the '94 final. Two other players made mistakes after me; [Danielle] Massaro... [FFT: So you're saying he got off lightly?] Absolutely; no-one remembers him! It was all square I think, because Pagliuca had saved one of theirs, so it was all level. Then Massaro missed. Then maybe they did too, I don't remember. And then last, Baggio.
Are you surprised Fabio Capello has done so well as England coach? When you worked under him at Milan, did you ever think he would be suited to English football or the international game?
Claire Stevens, via e-mail
No! An Italian in charge of the English national side; England calling an Italian? Nobody ever expected that. As for Capello, I always knew that he'd do well, but I didn't expect him to succeed so quickly. To win all his games, that's a magnificent piece of management, both on a mental level and in terms of organisation.
Who was the toughest opponent you ever played against?
Harry Davison, Blackpool
I've faced so many. In Italy in the early '80s Juve had Platini, and Rossi. Napoli had Maradona and Careca, Inter had Altobelli; all players of great talent. If I have to pick one, it'd be Maradona; when he was on form, there was almost no way of stopping him.
You must have had some titanic battles with Diego Maradona when he was in his pomp with Napoli; any particular memories stand out? Did he ever make you look stupid? What was your tactic with him - just kick him as early as possible?
Louis Harrison, New Orleans
Well, the odd knock might happen, from time to time! [Chuckles] He was dangerous, he used to score against us often. We had to be very well organised; put pressure on him, doubling up, tripling up even to limit his talents. Because if it was one-on-one, you'd lose.
One World Cup, three European cups, six Italian titles and one European Player of the Year. Which one of these honours ranks highest?
Nick England, Edinburgh
The one I cherish most will always be the first European Cup, in '89. There were 82,000 Milanisti there. That year we were lucky because our opponents Steaua didn't bring any supporters. It was an extraordinary time; the year before we'd won the Scudetto, then came that European Cup, then the Intercontinental, then the Supercup, so, it was really an incredible run of trophies. [FFT: The decade had started disastrously for Milan, with the calcio-scommesse scandal and relegation, but you ended on an amazing high.] Yes, we used to look around us sometimes and marvel. With the arrival of Berlusconi, things really changed at the club; I remember when he told us we were going to be the best team in the world, we were all a bit sceptical. But within a couple of years we'd won everybody over with an amazing style of football.
Football became your family at an early age. How tough was it to retire?
Steve Walsh, via e-mail
It was tough to retire, but that last season I had a lot of injuries and I couldn't train properly, so the desire to quit began to build. Then, after 27 years playing, it was time.
You coached Milan's U20s and U19s before retiring from coaching altogether. What happened? Do you envisage yourself getting back into coaching again in the future?
Andrea Marsh, Birmingham
I coached the primavera, which is 18-19, and the beretti, 17-18. I did six years managing them, and I felt that for youth football that's enough. If I got offered the right project with senior players, I'd be interested.
You had a controversial two-month spell as Fulham's director of football in 2002, with rumours of a rift with manager Jean Tigana and the players not taking kindly to your arrival. What happened?
Darren Underhill, Leicester
That was nothing. They said come along, we want you involved in this, so I went along to start work, but I never got the chance. I was supposed to be taking Tigana's place as manager. Then things changed because they decided they wanted to keep him, so I said, I can't stay here; if I can't start what am I doing here? [FFT: Were you surprised when they first called you?] Well, the Arabs are an unpredictable bunch. It was the nephew, he was behind it all.
Gentile, Cannavaro, Maldini, Baresi, Nesta... Italy has produced so many great defenders; why is that?
Terry Biggs, via e-mail
I think there'll always be good defenders in Italy, because knowing how to defend is part of our culture. Currently I like Chiellini, Bonera, Gamberini, although clearly they all have to grow as players. It's a struggle, because there are so many foreign players in those positions so it's hard for the Italians to find the space to develop. Plus this is the age of the forward.
Paolo Maldini says Milan can no longer compete for the Champions League without Kaka. What's the mood like now at the club?
Malcolm Bush, via e-mail
Well, I think clearly, Kaka's departure is a big blow. But I believe Milan has a good enough squad to still be competitive. Obviously, if Real Madrid buy up everyone else they are going to be a pretty tough opponent, but otherwise Milan will still be competitive, still up to the challenge. [FFT: How has the sale affected the atmosphere at Milan?] The fans are disappointed. [FFT: And the team?] They're not. We have to trust in Berlusconi; there's no one who wants to see a strong competitive Milan more than him, so we should give him the benefit of the doubt. [FFT: Maldini also says that with Kaka gone and Leonardo in charge, Milan are gambling too much. What do you think?] It was time for a change. Let's wait and see what the new manager can do. Leonardo knows football and he knows Milan and he's an intelligent guy, so I think he could be a real success although of course he'll need a strong team to work with.
How do you think Ancelotti will fare at Chelsea? Will his experience in dealing with Silvio Berlusconi help him with Roman Abramovich?
Daniel Hobbs, Suffolk
[Laughs] Yes, I think so! I think Carlo will become a much-loved figure in England. He's calm, he transmits serenity to his players so I'm sure he'll have a good relationship both with them and with his president. Silvio Berlusconi and Roman Abramovich have something in common; they're both men who want to win by playing good football. And Carlo's already got plenty of experience of that.
Apart from Milan, no Italian side has really threatened in Europe for more than five years. What does Italian football need to compete again with La Liga and Premier League?
Paul Richardson, Belfast
This is because at Milan we've got a different footballing philosophy, and a different level of players to base it all on. Our game is all about technical quality and skilled feet. The other clubs haven't managed to follow us, so that's why they struggle. [FFT: But Inter, for example, have had plenty of star players... Baresi looks at FFT as if we haven't understood the concept] No quality players. Name me one, no, two quality players at Inter. [FFT Maicon, Julio Cesar. Previously Ibrahimovic, now Eto'o...] But you see? No one from the midfield. It's all strength there, there's no speed or skill. What I'm talking about here is technique, the kind of players that Manchester have, that Barcelona have, that Milan have. That's what's missing. Still, I think this year Mourinho may have realised that.
David Beckham had a successful loan spell at Milan last season. Would they like to sign him permanently, or at least bring him back on loan again?
Angela Werner, Swindon
Yes he's done very well. He's back in the States now of course, and I don't know if he'll be back. But if he's fit after what he did this year I'd want to keep him. He's a true professional.
What's it like working alongside Silvio Berlusconi?
William Myers, via e-mail
We don't see him much these days, he's so busy with the politics. But he was the architect of everything about Milan today, the man who pushed us to a higher level. I remember when he first arrived, we didn't know what to make of him; that team presentation he made the first year, we were picked up from the training ground in a helicopter, then flown to the Arena [a former Roman arena converted into a miniature sports ground] in the centre of Milan. In a helicopter! [FFT: The music accompanying this was from Apocalypse Now... Baresi laughs] Yes. Flying us in like that really left us speechless; but then he was always ahead of his time. For example, he always knew the importance of having a big squad, of diet, of signing players with a certain kind of character. They said he was just full of fantasies, but he was proved right in everything. And he got everything he wanted.
Interview: James Richardson. Portrait: Richard Cannon. From the November 2009 issue of FourFourTwo.
Thank you for reading 5 articles this month* Join now for unlimited access
Enjoy your first month for just £1 / $1 / €1
*Read 5 free articles per month without a subscription
Join now for unlimited access
Try first month for just £1 / $1 / €1