Frank Lampard becomes joint-manager of Rangers
Lampard has controversially been appointed to the same managerial position as Steven Gerrard, report Back of the Net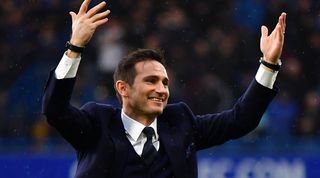 Former England central midfielder Frank Lampard is to take his first steps in management at Rangers, alongside former England central midfielder Steven Gerrard.
Lampard today joined Gerrard in the Ibrox manager's office, despite it only strictly being set up for use by one person.
"It's been awkward from the word go," a club insider told FourFourTwo. "Frank [Lampard] brought in a kitten, for company, but Steven [Gerrard]'s brought in his parrot for the same reason, and I can't see that ending well.
"Then Stevie [Gerrard] made a space on the desk for his MBE, but Frankie [Lampard] put his OBE there instead. I'm sure it was an accident, but everything's been a little tense ever since."
Each armed with a remote control, the pair immediately got down to work reviewing videos of last season's matches. However, they soon found that they were both attempting to freeze the action at the same moment, resulting in the game continuing while each pressed their pause buttons harder and harder with mounting frustration.
Things took a turn for the worse when both men made a dart for the stationery cupboard at the same moment, getting in each other's way and letting first-team coach Jonatan Johansson slip between them to take all of the remaining pens.
"Credit to Stevie G[errard] and Lamps[ard], they're really putting a shift in," our source continued. "But they're both trying to do everything at once, when really they should just sit back for a while and accept that Celtic are going to win the league by 20 points."
At press time, Rangers had just announced that Gerrard and Lampard would henceforth be sharing managerial duties with Paul Scholes.
Please note: This satirical news story is not real. We actually have to say this.
Quizzes, features and footballing fun
Get the best features, fun and footballing frolics straight to your inbox every week.
Thank you for signing up to Four Four Two. You will receive a verification email shortly.
There was a problem. Please refresh the page and try again.