Gary Lineker on his England career
"I could have been dropped for the Poland game at the 1986 World Cup. I might never have played for England again."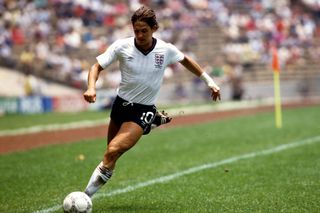 What do you attribute your success in an England shirt to?
I was lucky. In international football, you've got to get the breaks at the right time. Luck is always a factor. I could have been dropped for the Poland game at the 1986 World Cup. A few players were dropped for that, and it could easily have been me. I might never have played for England again. But I got a reprieve and I went on to score that hat-trick. Suddenly I was a contender for the Golden Boot. That's how quickly things change in football.
Tell us about your England debut.
I came off the bench as a substitute against Scotland in 1984, which isn't as nerve-wracking as making a full debut. You don't get the same time to think and worry about it. And you can't do too much damage coming on with just ten minutes to go! I had a couple of chances and didn't take them, but I'd eased myself in. But I knew I could score goals. My game was all about gambling, finding space. A little bit like Michael Owen, once I'd played in a few games and scored, I could keep my calm and knock them in.
Did you believe you could win the Golden Boot before the 1986 World Cup?
Any goalscorer will tell you that they always think about being top scorer in any competition they go into. So it was the same approaching the World Cup, but it was always going to be a long shot. And after the first two games, losing to Portugal and drawing with Morocco, I was more concerned about keeping my place in the side. But all of a sudden it was Poland and I had a hat-trick. After I got that, I knew I had a chance at the Golden Boot.
You were helped by a "lucky" pair of boots…
They were falling to bits! I had to send them off to get fixed, but I'd been extremely prolific in them. With three games to go in the league in 1986, I'd forgotten the boots and we lost a game against Oxford United. It ended up costing us the title, so I was always a bit superstitious. I wore them for the whole World Cup.
Did that summer prove the "making" of you as a player?
It was a massive boost for my confidence and self-belief, to prove that I could score at the very highest level. Strikers thrive on that. I got the move to Barcelona, and things went from there. My dad was also happy with me – he'd put a few quid on me at 16-1 to be Golden Boot!
Why do you think England never did as well in the Euros as we did in the World Cup?
It's weird, but we've never done as well in the Euros as we do in World Cups. I'm not sure why that is, although the World Cup does tend to have weaker teams in it. Every team in the Euros is strong. But we had a really good side for Germany '88. The Irish were a bit lucky against us, then we met a great Dutch team who went on to win the thing. We played OK, but we lost, and were out after two games.
Was 1990 the best side you ever played in?
1990 was a really good side. I think outside of 1966, it was probably the best England have had. We had a strong defence, a great goalkeeper and a lot of creativity in midfield and wide areas, and could score goals as well. It was very balanced. To be honest, I think great players do make a great team. Over half of that side were world-class players. I think you need that to have a real chance in the World Cup. We had a good blend of players, an excellent manager, we were well organised and had a lot of self-belief. Also, it was a side that could dig deep when it mattered. There's a lot of fear in football, and that side didn't have much fear, which is rare.
And of course the Gazza moment provided one of the defining images of English sport.
People still ask me about what I was saying during the Gazza moment more than anything else, even my favourite flavour of crisps! Obviously Gazza was blubbing, and Bobby was just telling me keep an eye on him. I was just repeating that back. Gazza rallied and was great in extra time, but we were unlucky. The Germans were really strong and everyone thought they were a certainty to win the World Cup that year – which they went on to do. They steamrollered lots of sides, but we gave as good as we got and really could have won that match.
Would England have beaten Argentina in the Final – or is it a "what if" question you can't bear to think about?
I think we'd have won. They'd pretty much shot it, hadn't they? They had players missing, Diego Maradona was having problems. We'll never know, but we'd have been favourites. I certainly thought so, because I thought we'd win every game. But I think the Semi with Germany was always likely to produce the winner.
We you aware of the World Cup mania unfolding back home?
People would tell you on the phone, but really you're enveloped in a blanket of security. You're cocooned. We didn't even bother with the papers much. The madness only shows itself when you get back.
1992 was a disappointment after all that…
In 1992 we weren't a very good side. Chris Waddle and Peter Beardsley were eased out, we lost Bryan Robson. Gazza was injured, John Barnes was injured – all of a sudden we had no creativity. I was subbed in the final group match. But I'm happy with how I did overall. If someone had told me at the start of my career that I would have been one off (Bobby Charlton's goal) record, I'd have thought they were stark raving mad.
Do you think Michael Owen will beat the record? Is there a likeness between you as players?
The way he moves and the way he finishes are extremely similar to me. As long as Michael stays fit, he will beat the record. Time is on his side. We're quick to knock in this country. People say Michael has lost it, or he's lost a yard, and it's all nonsense. They don't understand how difficult it is to be a really top class player at this level, so when you've got someone like that, you should stick with them. They used to say similar things about me that they say about Michael now – that he does nothing apart from score goals. They forget about the 155 runs you make during the game that nobody notices. I hope Michael smashes the record. It'll stop me feeling so bad about missing that penalty!
LINEKER ON…

…his all-time England hero
Peter Shilton and Frank Worthington, because they both played for Leicester City. I loved them as a kid. The funny thing was, I ended up rooming with Shilts!
…his favourite England team-mate
Peter Beardsley. We had this great understanding: he played outside the box, I was a box man. A big thing for me as a striker was to have the area uncluttered, with room to make runs into. Peter was unselfish, creative and we knew each other's games. When we played together, I was getting almost a goal a game.
…the hardest defender he ever faced
Pietro Vierchowod, who played for Italy and Sampdoria. He was absolutely brutal and lightning quick. He gave me one or two digs.
…the nearest he came to getting a yellow card
I almost got booked for grinning at a ref in Spain. He actually warned me, "stop smiling" and started to go for his pocket.
A version of this interview first appeared in the the Official FA England Programme. 
Quizzes, features and footballing fun
Get the best features, fun and footballing frolics straight to your inbox every week.
Thank you for signing up to Four Four Two. You will receive a verification email shortly.
There was a problem. Please refresh the page and try again.