Glenn Hoddle: One-on-One
"I don't mean this in a big-headed way, because I wasn't a great goalscorer, but I scored great goals"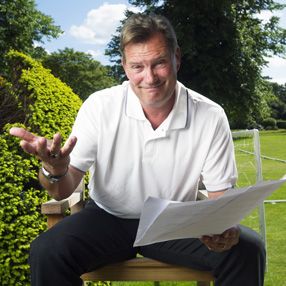 "I don't mean this in a big headed way…" says Glenn Hoddle in response to a question during FourFourTwo's inquisition, but in truth, it would be difficult to be anything but when you have had his talent as a footballer. Though no mean record, two FA Cups, a UEFA Cup, 53 England caps and a French title were scant reward for the most naturally gifted English player of his generation.
As a manager, Hoddle experienced mixed results – relative success at Swindon, Chelsea and Southampton and ultimately frustration for England, Spurs and Wolves.
Since leaving Molineux two years ago he says he has had several offers to return to management, but has turned them all down to concentrate on his recently launched project: the Glenn Hoddle Academy. Based in Spain and hailed as the first independent professional football academy, its aim is to give young players released by clubs a second chance by coaching them and helping to rebuild their careers so they can return to the pro game.
"Clubs decide on players far too early, 18 is just too young to know whether they will make it or not," says Hoddle. "At the Academy we plan to take about 40 players ditched by the clubs and develop a large percentage of them into professionals within two years. This is all about giving lads another chance."
From a distance, Hoddle has often appeared to be an uptight and humourless character, but today, sitting on the sun-drenched terrace of a hotel in Berkshire, he proves to be warm, friendly and relaxed. And he laughs an awful lot as he answers your questions...

As one of England's only truly two-footed players, don't you find it ridiculous that players who earn so much can't use both?
James Bridge, Hillingdon
I can't believe he has asked this question! That is strange, really spooky, because I've been thinking a lot about two-footed players. It is amazing so many talented players are one-footed. Even Maradona was incredibly one-footed. The options that open up for you, all those angles, as a two-footed player are incredible, and I can speak from experience. I was lucky, I was naturally two-footed, but I also put in a lot of practice. If I run at someone I have always felt more natural on my left side, but if I had to take a penalty or free-kick I would take it with my right foot. Stevie Perryman said in his book that it was like I had a set of golf clubs where my feet should be, and I could hit a two iron, or a seven iron, or a nine iron.

Is it true that after Spurs' 6-2 trouncing of Feyenoord in the second round of the 1983 UEFA Cup, Johan Cruyff came into the dressing room to offer you his shirt?
Matthew Rice, Leeds
Those European nights at White Hart Lane were very special. The crowd came with
a different attitude, and we responded to that. That game, beating them 4-2 in the home leg, was one of my best games for Spurs. After the game Cruyff said he had heard a lot about me, but until he played against me he didn't
realise how good I was. That was lovely to hear. He didn't come in to the dressing room, I think we swapped shirts on the pitch.

You famously never tucked your shirt into your shorts. Chris Waddle never pulled his socks up. Who was the scruffiest on the pitch? And who had the best mullet?
Jim Mottingham, Isleworth
[Laughs] Other people can judge the mullets, but Chris was certainly the scruffiest! When I got in to the side at 17 I kept my shirt tucked in, I thought it would have been a bit bold to let it out, because it can be a sign of confidence. Later on, it just never felt right to have it tucked in, and I played better with it out. When I played for England, however, the manager Ron Greenwood told me to tuck it in, and that felt strange.

Which was your best goal? Your amazing run against Oxford, your volley against Man United or your chip against Watford?
James Motley, London
My volley against Man United. I don't mean this in a big-headed way, because I wasn't a great goalscorer, but I scored great goals. My top 20 would be pretty interesting. Those two goals would be in it, but my all-time favourite has always been that United goal. I had my back to goal, did a one-two with Ossie [Ardiles] and hit a volley.

I heard you used to carry around a card reading 'lord of the manor' in your wallet to reassure yourself of your ability? Is this true?
Ben Jared, Keele
Where has that come from? That is completely random. I have never heard that before. No, not true.

You played for a Spurs side that were great to watch but never really challenged for the league title. How frustrating was that?
John Baron, Woolwich?
I disagree that we never challenged for the title, we had the chance in 1981-82. We were going for four trophies; we won the FA Cup, lost to Liverpool in the final of the League Cup, got to the semi-finals of the Cup-Winners' Cup, and we were flying in the League. But then the fixtures piled up and we had to play something like eight games in 15 days, which killed us.

Do you feel uncomfortable when Spurs fans call you 'God'?
Dave Allen, Amsterdam
It is just a term of endearment; I don't think it is anything serious!

Did you ever have the chance to move to another English club?
Heath Norris, Doncaster
I came close a few times. When I was 21 I even brought my first marriage forward and I was going to Cologne in Germany, but I decided it wasn't right for me. I was very close to going to Napoli in 1984, but I had an Achilles problem and it didn't happen. In England I spoke to Ron Atkinson about going to Man United, and Brian Clough about Forest. There was even interest from Arsenal when Terry Neill was manager, but I don't think I could've ever worn an Arsenal shirt. God bless my brother, who we lost recently – I don't think he'd have ever spoken to me again.

You left England to play abroad, but why did you move to Monaco when surely you would have had offers to play at far more exciting clubs in Italy?
Stingo Jones, Godstone
Stingo?! What a great name, what rock group did he play in? I always wanted to play abroad, and at first it was going to be Italy, but the Achilles problem stopped the move to Napoli. In the summer of 1987, I was determined to move, and at first it looked like it was going to be Paris Saint Germain, where Gerard Houllier was in charge. We even looked at schools in Paris, but at the last minute Arsene Wenger at Monaco came in for me. No one knew Arsene then and I had to look up where Monaco was on the map, but my gut instinct told me it was the right place.

What did Arsene Wenger teach you?
Neil Durden, Edinburgh
It was enthralling playing for him, I enjoyed every single second. He wanted me to play just behind the striker, which was Mark Hateley. I always felt that was my best position, but I never really played there for England or even during my hey-day at Spurs when I played the right side of a diamond with Ricky Villa behind me. We played as a replica of Arsene's first Arsenal side; there were two holding midfielders like Petit and Vieira, a flying winger like Overmars and I played in the 'Bergkamp role' behind the striker. He introduced so many new things to me, his training methods, the warm ups and the warm downs. In all my years at Tottenham, we had never done a warm down! We had vitamin injections, all legal of course, all the thinking was way ahead. The physio, Michel Franco, opened my eyes to so many things, he really was a miracle worker. Years later, I know Spurs fans don't like it, but when I was England manager, [Arsenal vice-chairman] David Dein asked me about Arsene, and I just said, "Go and get him. He will be successful".

Arsene Wenger said that you were "A star, years ahead of his time", while Michel Platini claimed that "if you'd been born French you would have won 150 caps". Do you feel that you were underappreciated by England?
Matilda Kiley, Croydon
I was proud to win 53 England caps as the type of player I was in English football, considering how the game was played back then. Remember I played when teams got success by squeezing the game on muddy pitches and the ball being up in the air most of the time. I felt, as a skilful and creative player, very proud to play so many times for England, especially when great players like Alan Hudson and Tony Currie only got a few caps between them. I felt like I was fighting against the tide a lot of the time. Ossie Ardiles said to me, "Glenn, I can't understand how you haven't got over 100 caps, and they should build the team [around you]". I think if Brian Clough had been England manager it would have been a different story. I was out wide right, so I can understand Steven Gerrard's frustration at being shoved out there. I only played off the front man once for England, and I scored two goals.

Did you ever share a pitch with a player who was more skilful than you?
Philip Burn, Swansea
Without a doubt! Maradona, I played against him and with him at Ossie's testimonial. For Maradona to win a World Cup on his own, and let's face it, that's what he did as the rest of the team were ordinary, was an amazing achievement. He was the best player I've seen, except for those volleyball skills.

Glenn, I love you, but admit it, you forced Chris Waddle into performing Diamond Lights didn't you? I've never seen anyone look so uncomfortable on the Tops of the Pops stage. You, however, looked like a natural. Are you a bit of
a 'karaoke king'?
Alastair Meade, Plymouth
[Laughs]. I have always loved music, and always sung at home and driven my kids and family absolutely mad. It is true on that night I put on a good act, but Chris was petrified. I remember looking across and seeing him clinging on to the microphone. As we were waiting to go on stage, and do it live, it was one of those surreal moments when I thought to myself, 'What are we doing here?'. I haven't seen the video for ages, but my kids always threaten to get it out and have a laugh.

Last season the top six were managed by former players with modest careers. Why do you think that it's rare for a great player to become a great manager?
Gareth Mackey, Denbury
It's interesting, I remember Keith Burkinshaw, another great manager who wasn't a top player, told me he was desperate to have his team play how he knew in a million years he could never play himself. That was important to him. You have to respect that everyone is at a different level. I was never good at heading the ball, and that always kept me grounded, I knew I couldn't judge people who weren't two-footed like me because they were better at heading or something else. As a creative player, and a player that goes to higher levels, maybe it's difficult to get that across to players.

Tony Cascarino claimed that at Chelsea your ability made other players feel inadequate. How frustrating is it to manage players with less talent than you?
Dean Ashworth, Chester
I would disagree with that. At Chelsea I was playing with one leg at the time because my knee just wasn't right. I wanted to try and play good football, in that first year I tried to get across to the team how I wanted them to play until we got better quality players in and could take it to the next level. Perhaps Tony means the transition, and maybe we tried to change it too quickly, but you have to try and mould them, and if you are on the pitch as well, the old saying is a picture paints a thousand words. You can paint pictures [for them]. It is interesting that he has said that, but I wasn't there to intimidate anyone,
I wanted to open their minds.

You first brought the glamorous foreign stars to Chelsea. To what extent do you look at the club now and feel responsible for its stature as a European superpower?
Bradley Fagan, Liverpool
We helped to change the philosophy of that club. Just in my first year we got to the FA Cup final against Man United. Although we didn't win it, it gave the club the belief we were on to something after having 24 years in the wilderness. It was a slow change, in many ways.

There have been a number of conflicting stories about Gazza's reaction to being omitted from the squad for France 1998. What happened exactly?
Frankie Seal, Hoddesdon
He has said it himself, he went to The Sun, which was disappointing. That is why we had to say our side of things. He wasn't happy, and didn't take it in the professional way of some of the other players. The saddest thing I've ever had to do was tell Gazza he wasn't in the squad, but he was injured. He wasn't fit enough to last a major tournament. His reaction wasn't the best, but I understood his disappointment, he just needed to channel it differently.

Did David Beckham's sending off against Argentina at the 1998 World Cup vindicate your belief that he wasn't focused for the tournament?
Ollie Albury, Guildford
I think that hits the nail on the head. I knew David was going to play [later in the tournament]. I looked him in the eye before Tunisia and told him he would play, and probably in the next game against Colombia. I didn't feel he was focused enough [for the first game], I really didn't. There were lots of things happening. When someone does something like that [the kick that brought the red card against Argentina] it shows you're not focused, you just don't do that, what are you going to gain? So there is a good possibility there is a link between the two situations. However, I still say it was a diabolical decision to send David off. It was a booking, not a sending off. The referee crucified us there.

Do you regret your book on the 1998 World Cup? It seemed to break the code of not revealing what happens in the dressing room?
Jude Flett, South London
I don't regret it, no, because I don't believe it broke that code. Some people in the press tried to make it that way, because they were on a little bit of a hunt for me at the time. The book was done with David Davies from the Football Association, and it was done under control, and to be honest, there was a multitude of things that went on that didn't go in the book. There was no breaking of any code, it was just me giving opinions. Read the book and then make a judgement. There were people who wanted to use it to get me out of a job, and eventually they did it a different way.

You got a lot of stick about employing Eileen Drewery. Do you regret employing her? How annoyed were you when Ray Parlour asked her for a "short back and sides"?
Julian Sheldon, London
Ray Parlour asked for what? What's that mean? [FourFourTwo explains he had mistaken her for a hairdresser]. That's quite funny, isn't it? [Hearty laugh] All I can say is I had used Eileen myself as a player in France and had success with injuries, I had used her at Chelsea on many occasions with players, so I think I would have been letting the country down if I had not used that option to get players fit. Darren Anderton wouldn't have been at the World Cup if it wasn't for the alternative side of things. It just goes to show how closed- minded this country can be. It was all about me, as England manager, giving us the best possible chance to win a trophy. A lot of the players went and had no problem with it. There was always going to be ridicule, but I don't regret it. I had to do everything I could, I even sent them all to the dentist before the World Cup as I nearly missed a game at Mexico 86 with a tooth problem.

The disabled rights campaigner Lord Ashley said the campaign against you was a "witchhunt" and considered your dismissal as England manager as "a sad day for British tolerance and freedom of speech". What do you make of the media's reaction? Were you surprised when even Tony Blair called for you to be sacked?
Susan Alwowitch, Buntingford
I was surprised at him, because he didn't know the facts, that is what saddened me. It is difficult, because I know what was said, and I know that wasn't said, 100 percent. It was pretty evident that I was working for an association that wasn't strong enough or perhaps wanted to use it to get me out. The interview, strangely enough, was actually set up by the FA. I know what I said, and I didn't say that, it is not my belief. I believe we do actually come back, but that you get a choice to come back. He [Times journalist Matt Dickinson] chose to put that it was a punishment, I believe he said, that was the reason why people come back disabled. That hurt me, because it hurt anyone who is disabled that they really believe that I thought that.
One day I will put it right, publicly. But I can live with myself, my conscience is clear. Reincarnation is a lot deeper, and you would need more than five minutes on a phone to explain it, why the soul comes back, and the choice that the individual gets, not a punishment. I've had disabled people come up to me, and I love the opportunity to actually explain that to them. There was a little set of journalists at that time who wanted to get me out, as there was with Sven and as there will be for the next England manager. I was very disappointed in the FA's weakness in not backing me.

On reflection, did you get the England job too soon? Do you have any ambitions to manage again?
Gavin Brett, Watford
No, I don't [think the England job came too soon], and it is one I am young enough to have again. If this Academy takes off how I want it to then I will probably not go back in to management. I think this will really fulfil me. My record stands up as good as anyone at international level, my win percentage is just behind Sir Alf Ramsey, so no one can take that away from me.

As one of greatest players to ever grace the Lane, how disappointed were you with how your managerial stint at Tottenham turned out?
Michael Dennis, Luton
Being a Spurs man, my feelings for the club, I was very disappointed. It is different when you work with your heart and mind. We got to the final of the Worthington Cup, and we could have won that, and maybe that would have set a different tone. It was a very political club at the time, there were too many obstacles to actually run the club compared to what I had had at Chelsea and Southampton. Some of the players I wanted to bring to the club were blocked. The finances weren't quite there and that has changed since then.

If you could have your time again, what one thing would you change?
Rajesh Shad, Harrow
People might be surprised at this, and I've learned it over the years. If you can take fear out of your life, you will be able to achieve far, far more. Fear blocks so much. If I had my time again, I would like to live without fear.

Who or what do you think you'll come back as in your next life?
David Robinson, Glasgow
[Laughs] Well, on a serious note, whatever I do, it will be my choice as an individual. I'll tell you what, it will be a lot easier to choose from the other side than here now. Tongue in cheek, maybe I'll be a pop star!
From the August 2008 issue ofFourFourTwo. Interview: Sam Pilger Portrait: Steve Orino
Thank you for reading 5 articles this month* Join now for unlimited access
Enjoy your first month for just £1 / $1 / €1
*Read 5 free articles per month without a subscription
Join now for unlimited access
Try first month for just £1 / $1 / €1