Greatest individual seasons: Marcus Stewart defies expectations to fire Ipswich into Europe (2000/01)
By Nick Ames published
Nick Ames continues FFT's look back at the best personal campaigns in Premier League history with Stewart's unexpectedly superb 2000/01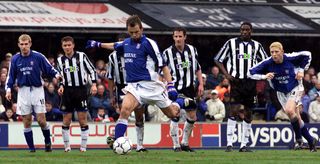 Sometimes, a season's work can be summed up in one goal. Ipswich had faced a storm at Anfield in December 2000, but as half-time neared George Burley's team had started to show the orderly, incisive football that had taken them into the European places.
There was time for more: Mark Venus sent an accurate ball to Marcus Stewart, who laid it sideways to Jamie Clapham – three left-footers creating one of the triangles that this team worked so effectively. Stewart ran on; Clapham drew Markus Babbel and slipped him in on the left of the area. Stewart rarely had the pace to hare straight for goal in these situations, but there was something else he could try. Checking sharply, he left Stephane Henchoz on his backside.
He faced Sander Westerveld now, but the angle was tight and, to his right, Jermaine Wright screamed for a tap-in. Knocking the ball away from goal as Westerveld dived towards his feet, Stewart's options were narrowing. Jamie Carragher had backed his keeper up, and space was limited – the near post, at least, seemed to be covered. Stewart clipped coolly with his right foot and, as Carragher moved one way, the ball glided into a part of the goal that looked for all the world to have been off limits. The striker hadn't glanced towards the net throughout the exercise: the goal had come as if in slow motion, but the speed of thought behind it had been extraordinary.
That was Stewart's 10th goal of the 2000/01 season. They had arrived in the space of 13 games: he hadn't scored in the relegation favourites' first four outings and the goal that got him off the mark, a nondescript consolation against Aston Villa after being dropped from the starting line-up, had appeared little use.
His signing from promotion rivals Huddersfield that March had yielded mixed results: an explosive start tailed off sharply before an outrageous brace at Bolton (his second goal set much of the template for his work at Anfield) rescued Ipswich from disaster in the play-offs. A goal in the final at Wembley followed, and the £2.5 million investment on a 27-year-old with no top-flight experience had paid off – but few observers were sure whether he could cut it at the top table.
Unexpected success
They weren't alone. "I never realised I was a good player," Stewart said years later. "I just did my job every day. I suppose I was a bit insecure and always thought I wasn't good enough and that's why I worked hard."
Stewart may not have realised it, but with an extra yard of pace he'd have had it all. A peerless instinct for goal – the no-look finish was a trademark – had prevailed well over 100 times in the Football League. As he moved up the divisions, extra space and better pitches revealed that he was just as effective linking play, too – and on top of all that, despite being three inches short of six foot, his timing in the air was phenomenal.
It was the work ethic that brought it all together – best encapsulated when, four months after the Liverpool game, he won the ball deep inside his own half at The Dell and, 15 seconds later, had evaded everyone at the back post to tap in Clapham's centre. Thirty-eight minutes after that, he completed his hat-trick with a far-from-bashful Panenka from the spot. If there was a way to win, Stewart would locate and finesse it.
That strike against Villa may have unleashed the genie, but it was a week in late September that really got him noticed. By now, Stewart had replaced fans' favourite David Johnson in the side, with boss Burley shying away from fielding them both with James Scowcroft.
First, Arsenal were outplayed at Portman Road as Stewart looped a header – with a sizeable helping of shoulder – over David Seaman before seeing his side pegged back. A week later, he seized on two defensive errors to score a brace in a 3-0 win at Goodison Park – for his second goal he outfoxed a bemused Paul Gerrard twice, as if for sport, and you knew everything was going to be OK.
Stewart gets the opener against Spurs
Ipswich's start to the season had already bettered expectations, but they exploded into life now. Stewart scored three in the next six matches, four of which were won, before grabbing another brace at Manchester City – Nicky Weaver being the latest net-minder to be rounded at something barely above walking pace. In December, that winner at Anfield was followed by a late leveller against Chelsea and a deadlock-breaker against Spurs (in the video above).
Stewart was everywhere; Ipswich, third at the turn of the year, were going somewhere.
The goals kept coming – here a sharp turn and finish, there an instinctive flicked header. Ipswich's biggest frustration that season might have been the number of occasions on which they gave up a lead, and early Stewart goals at Stamford Bridge and the Stadium of Light were both responded to four times without reply. When an egregious piece of play-acting by Ian Harte saw Stewart red-carded in a February defeat to Leeds – and suspended for three games during Ipswich's one sticky patch of the season – it seemed as if the fun and games were drawing to a close.
Not so. Stewart would only score four more times that season – a treble at Southampton among them, in a stunning all-round display – but Ipswich never went away. They finished just three points off a Champions League spot, and Stewart's 19 league goals had made him the second-highest scorer in the Premier League. Just one more, and Ipswich's story might have become yet more implausible.
A change in fortune
A year, and a UEFA Cup campaign, later, the light had gone out. "If I'd sat here 12 months ago, never would I have thought that I'd be staring relegation in the face," said Stewart ahead of a demise that was sealed grimly at Anfield.
Had a fractured jaw not laid him low for a chunk of a season in which he scored just six league goals, Ipswich would have stayed up. Things would never be as good again for either party: Stewart, who had done more than enough in that first season to earn an England cap that never arrived, soon drifted out of the similarly doomed Burley's favour and was sold to Sunderland. Ipswich are now the Championship's longest-serving club.
It might be doing this Tractor Boys side a disservice to call Stewart its star. Decent, unassuming characters to a man, all had bought entirely into the club and, just as importantly, the town. Money was still washing around England's provincial outposts back then - the stadium was full and, of an evening, the bars were too. The players were approachable and the football team's success felt zeitgeisty; a common cause, a tremendous buoyancy aid.
Stewart's feats, though, had helped propel that confidence to inconceivable levels while making his and Ipswich's names common currency on a much wider scale.
In today's harsher light, Stewart and Ipswich might both wonder whether they were dreaming. "I've never seen it since I scored it, so I have no idea how good it was," came his remarkable reply in 2013 when asked about the goal at Anfield, which became more difficult to find online. "I've just never seen it. I have looked for it to show my kids but I can't find it." (It's available here (opens in new tab) now.)
Greatness proved just as elusive for Stewart and his colleagues – but someone, surely, will have been able to convince his offspring that dad made for one of the best goalscoring stories of any Premier League season.
Thank you for reading 5 articles this month* Join now for unlimited access
Enjoy your first month for just £1 / $1 / €1
*Read 5 free articles per month without a subscription
Join now for unlimited access
Try first month for just £1 / $1 / €1
Quizzes, features and footballing fun
Get the best features, fun and footballing frolics straight to your inbox every week.
Thank you for signing up to Four Four Two. You will receive a verification email shortly.
There was a problem. Please refresh the page and try again.