Hassan Kachloul: What Happened Next?
By Leo Moynihan
"I buy property to rent out, or develop and sell on – it's not quite the same as playing a one-two with Matt Le Tissier!"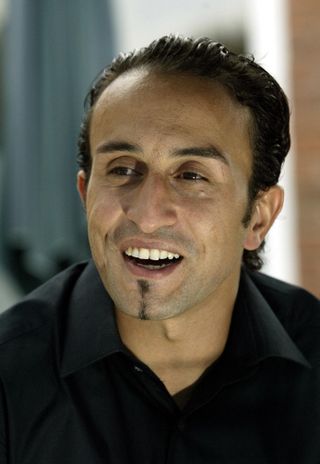 "When people think of footballers and property in this country they think of distastefully decorated mansions or Robbie Fowler, who has invested in a number of properties. He's very successful and proud, I bet, of what he's done away from the penalty box. After retiring, that's what I got involved with and I'm also doing OK.
The key for me is doing something I enjoy. I loved playing football and if I do something I don't really like, I'm in trouble! Property gives me a lot of pleasure, so for now I'll give it my all. My hard work has so far paid dividends. I have around 13 places – mostly in France, and some in England and Morocco. I've bought properties in places I know and in which I played the game.
I was in France for seven years, England for six, and Livingstone for just a few months, but what a few months! They were bottom when I joined in March 2005 but we went on a great run and stayed up on the last day of the season. They love me up there and the feeling is mutual. Scotland is wicked!
When you're a young footballer, you get the older guys telling you to enjoy the game while you can, because it goes very quickly – all of that. The problem is, it goes in one ear and comes out the other. You think you'll be a footballer all your life and when the end comes it's really hard. It had been my life since I was six or seven: you're living your dream, then suddenly you have to get a normal job. That is very difficult and can be very depressing.
Nothing matched the buzz of playing but my dad's been a builder all his life and I guess I'm going back to my roots. When I was a player I always liked looking at interior design and architecture, so I got involved in a couple of properties. That helped with the transition when I quit. I recommend that a player at least starts to think about his future. It may come earlier than you think, so to have something on the side is a good idea.
As I moved clubs quite a bit, I was always in new homes. I took great pleasure in designing them and decorating them. I love making a new place look great. It started in France, where there's some beautiful architecture.
I was very lucky to earn good money, but it's much nicer to spend it on a lovely house rather than having it sit in the bank. You can see and enjoy your achievements and I love that. I buy property to rent out, but mainly I develop them and sell them on – hopefully for a profit!
I have many influences, but obviously some of my properties have a slight Moroccan influence. It can be fashionable, but I'd only advise one room, a peaceful place to retreat after a hard day – any more can be too much, a little colourful for English tastes maybe. It's nice to design a house that reflects the owner's life experiences. If you've travelled, take things from those trips and make them your own.
I'm still a novice but I'm very passionate, do a lot of research, and look everywhere for opportunities. France is a brilliant place to buy: great value for money and beautiful – I recommend you look there. England is good, too, especially for a developer. People's priority here is to own a home as soon as they have a job and that makes for an interesting market.
For now I'm very happy building a portfolio but who knows what the future holds? Football was my life and it's difficult to find an equivalent that creates the same level of excitement. I can see myself coming back one day – that's why I'm doing my coaching badges. If the opportunity came up I'd love to coach in England. But life doesn't have to be about just one vocation – why not have a few? And while property development isn't quite the same as playing a one-two with Matt le Tissier, I love it!"
Interview: Leo Moynihan. From the March 2007 issue of FourFourTwo.
Quizzes, features and footballing fun
Get the best features, fun and footballing frolics straight to your inbox every week.