How Antoine Griezmann became this season's most important player in Europe
The little Frenchman from Mâcon has helped drag Atlético Madrid to the La Liga summit with a string of match-winners. Lee Roden analyses the Atlético hero...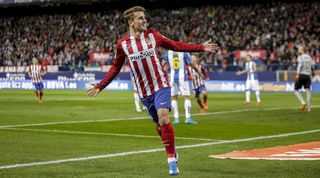 Lionel Messi, Cristiano Ronaldo and Neymar may have made it a La Liga 1-2-3 at the Ballon d'Or, but the most important player in the Spanish league title race this season didn't make the podium. Real Madrid and Barcelona's depth of attacking talent means they can continue to win while even the best of their forwards are out of service – but the current La Liga leaders would be nowhere near top spot if it wasn't for one man.
That man is Antoine Griezmann. Over the last year-and-a-half, the Frenchman has been transformed from a talented but unpolished wide forward into a ruthless, consistent winning machine – the embodiment of Atlético Madrid under Diego Simeone. The No.7's latest match-changing contribution came only last weekend, when he struck in the 49th minute to break the deadlock away to Celta Vigo. It was a turning point that helped ensure Atleti stayed top of La Liga for a second week running.
Quality across the pitch
The Celta trip coaxed a performance of two contrasting yet equally impressive halves from Griezmann, demonstrating his formidable all-round quality. In the first period he attempted to construct a Colchonero win from the ground up, dropping deep and fighting with the vigour of a defender, then beating opponents in tight spaces like a seasoned midfielder.
As someone who has fully absorbed Simeone's doctrine of favouring the team over the individual, Griezmann is one of only a handful of forwards in world football who can be relied upon to deliver in any area of the pitch. His opening 45 minutes demonstrated that brilliantly.
STATS ZONE Free on iOS (opens in new tab) • Free on Android (opens in new tab)
In the second half it wasn't his collective play that shone, however, but another valuable trait: a ruthlessness in front of goal reserved for only the finest of strikers. Before the break, the attacker had sent his first attempt to score just over the bar. That should have worried Celta: he rarely requires more than one tester.
And so it was that in the 49th minute he arrived at the far post with perfect timing to slide an accurate first-time finish into the net from a Luciano Vietto cross. The move was made possible in the first place by Griezmann's own one-touch pass on the turn into space, which allowed his team-mate to get to the byline and square. It was a perfect example of the total footballer he has become.
Atlético's difference maker
Atleti's defence has only conceded eight goals in 19 league games, the best in any major European league, but to top a league table with half the season gone you also need to score goals.
Without Griezmann, Atlético's attack would fall well short of the margin required for first place. With 14 strikes in all competitions he is their leading scorer by a nine-goal margin.
It's not just the number of strikes, but the nature of them that suggest he deserves to be considered among the elite these days. Griezmann has scored the winning goal (or goals) for Atleti on seven occasions this season (twice in Europe, five times in the league) and has also opened the scoring eight times.
As if being the man who wins the points or breaks the deadlock isn't enough, the majority of his four assists have also been decisive; in August he created both the opening and final goals in a 3-0 away win against Sevilla (who have beaten both Real Madrid and Barcelona at the Ramón Sánchez Pizjuán this season), while in October he teed up the equaliser in a 1-1 Madrid derby draw.
The turning point
This is a forward in the best form of his career, but also someone who has had to work hard to get there. Of his 38 goals in the league and Champions League since signing for Atlético, only five were scored before December 2014. Before that he averaged a goal every 3.6 games for the Atlético in the league and Europe. Since then, he has averaged a goal every 1.6 matches in the same competitions.
There was a key turning point around the winter of last year, and he hasn't looked back since.
Simeone had the foresight to push Griezmann to make the step up from unpolished potential to a truly lethal striker. Even when the Frenchman was playing relatively well in his earlier days at the Vicente Calderón, his manager insisted in public that he could give Atlético more. In training, the coach told him to focus on his work with his back to goal, as well as increasing his endurance.
It paid off: Griezmann claimed earlier this season that he now finishes games "feeling like I could play 10 or 20 minutes more".
The future
With his current numbers of a goal every 1.6 matches, it isn't a stretch to suggest that in a team that creates more chances than cautious Atlético, Griezmann could become a goal-per-game striker. That kind of killer instinct, combined with an all-round ability across multiple lines of the pitch and a Simeone-induced work rate, means he is an inevitable target for clubs with financial muscle. Both Chelsea and Arsenal have been linked with interest in the past, and it's hard to see why that would have changed.
Atleti have managed to resist so far, but if their history tells us anything, a sale is inevitable somewhere down the line – particularly if he manages to fire them to another major trophy.
When they eventually sell, Atlético should comfortably take in at least three times the €30m it cost for them to sign Griezmann from Real Sociedad. Before that happens, they will look to extract maximum value from him on the pitch, and use his unique talent to upset the balance of power at home and in Europe once again.
At the moment, with Griezmann in exceptional form, Simeone's side are on course to do that. Keep it up, and the 24-year-old may even find the Ballon d'Or podium offers greater recognition at this time next year.
RECOMMENDED
More features every day on FFT.com • More La Liga
STATS ZONE Free on iOS (opens in new tab) • Free on Android (opens in new tab)
Thank you for reading 5 articles this month* Join now for unlimited access
Enjoy your first month for just £1 / $1 / €1
*Read 5 free articles per month without a subscription
Join now for unlimited access
Try first month for just £1 / $1 / €1
Get FourFourTwo Newsletter
The best features, fun and footballing quizzes, straight to your inbox every week.