The evolution of Lionel Messi: how Barça's king adapted his game – and toppled Ronaldo
The brilliant Barcelona star is back on top of FFT's Best 100 Football Players in the World. Thore Haugstad evaluates what's changed for the Argentine in 2015...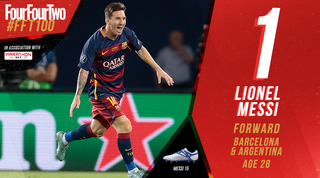 Barcelona no longer depend on Lionel Messi, but the Argentine has never been more influential. That is the contradiction that underlines how formidable the Catalans have become. If Barça have been unstoppable since January thanks to their forward trio, their interplay has been facilitated by Messi's evolution into a more classic playmaker.
The change has been gradual. After Pep Guardiola left in 2012, Messi retained his false nine role for two seasons. Barça won La Liga under Tito Vilanova, but a 7-0 aggregate loss to Bayern Munich in the Champions League semi-finals triggered fears of an over-dependency on the frontman. Those sentiments were confirmed under Gerardo Martino, whose side lost its ability to surprise.
With Messi featuring as a playmaker at the 2014 World Cup, many thought he would retain that role at club level. But while the function stayed the same, the position did not. As Barça hit top gear in January, a fitter Messi shone on the right to inspire a Treble triumph. Since then, his game has varied between his early days out wide under Frank Rijkaard, his false-nine role under Guardiola and his playmaker role for Argentina.
From back to front
The structural change under Luis Enrique set the context. In the old days, as noted on this site before, Xavi and Andrés Iniesta would drop down between the centre-backs and the full-backs to dictate play, breaking a raft of passing records in the process. The wingers merely pushed up as support players for Messi; creators of space and partners for quick one-twos. Under Enrique, the busiest passers are the defenders. The midfielders push up, while the wingers drop deep to assume responsibility as playmakers. This has brought a change of pace to Barça's play: they can keep the ball patiently in the backline, before a succession of quick combinations pierce the opposition. This has made the defenders and wingers more involved.
Indeed, Barça's top five passers in La Liga last season were two full-backs, two centre-backs and one defensive midfielder: Jordi Alba (69.6 per game), Sergio Busquets (67.2), Javier Mascherano (66.3), Dani Alves (64.7) and Gerard Piqué (64.1). Under Martino, the top passer was Xavi, with 86. The change has also been underlined by Iniesta, who recorded seven league assists under Martino; last season, it was just one.
#FFT100 Find out where Messi's Barcelona team-mates rank in the FFT100
Give me the ball
This means that more responsibility has been heaped on the forwards. For Messi, the wide role has made him harder to mark and more influential. While injury has interrupted his start to the season, the figures for the previous campaign tell the tale: the Argentine made 23 assists across La Liga and the Champions League – a personal best – and played 2.5 key passes per league game, more than any other Barça player.
Even more revealing are his passing statistics. Under Martino he completed 44.4 passes per league game; last term it was 61.4.
That average put him above Iniesta, Xavi and Ivan Rakitic, as well as all but seven of the players in the whole of La Liga. For all this, he still struck 43 league goals. The fact that Messi has assumed more creative responsibility without his goalscoring rate decreasing is a remarkable achievement.
Analysing his displays since January, we can trace his evolution. The journey begins with the 3-1 win at home to Atlético Madrid on January 11 – the first game after the crisis defeat at Real Sociedad and the starting gun for the eventual Treble triumph. Receiving the ball mostly on the right, Messi pulled off 12 dribbles, scored one and assisted another, although his passing did not particularly stand out.
STATS ZONE Free on iOS • Free on Android
In February, in a 5-1 home win over Levante, Messi scored a hat-trick and bagged an assist. He attempted more passes into the box, although most still came from a wide-right position and few succeeded.
In March, he delivered a masterclass in the 1-0 win at home to Manchester City, creating the winner and four other chances from open play. There were also 10 dribbles, including a nutmeg on James Milner. He still spent more time on the right, but his movement was more varied and his passes were spread across a larger area. There would be many similar performances in April and May, in which Messi seemed unplayable.
Elusive sorcerer
This season, Messi the playmaker has been even more visible. At Atletico he decided the game almost exclusively in front of the defence, scoring the winner, completing eight dribbles and creating two chances.
In a 1-0 win against Levante, he started as an attacking midfielder. The role was something of a mixture between the new and the old: he received more passes on the right but crosses over to the left.
In that game, the dribbles could also be broken into two sections: those attempted in his wide role, and those tried centrally. All of his shots on goal came from similar, central positions.
Yet the most conspicuous performance so far came in this term's 4-1 defeat at Celta Vigo, his last full game before injury. Staying clear of the touchline, he released a slew of killer passes from No.10 positions.
Sceptics may devalue this evolution because Messi did something similar as a false nine. But the positional change matters, enabling Enrique to incorporate another dimension in the shape of Luis Suarez. Essentially, the switch has established the dynamics behind the South American trio's relationship.
As for pre-injury Messi this season, he has never exerted more influence in so many phases of play. Instead of focusing on the final third, he now bosses the entire half. There is a lovely variety between short and long passes, coming deep and rushing forward, assisting and scoring, playmaking and individualism. Among the various dimensions within his skill set, the balance between them has never been finer.
#FFT100 The Best 100 Football Players in the World 2015: list and features here
Thank you for reading 5 articles this month* Join now for unlimited access
Enjoy your first month for just £1 / $1 / €1
*Read 5 free articles per month without a subscription
Join now for unlimited access
Try first month for just £1 / $1 / €1
Get FourFourTwo Newsletter
The best features, fun and footballing quizzes, straight to your inbox every week.