How Bayern Munich's rejection of Jurgen Klopp changed the course of football history
Liverpool's gaffer missed out on the Bayern Munich job in 2008 – and in the long term that decision might have propelled the dominant German side to further greatness, reveals Richard Jolly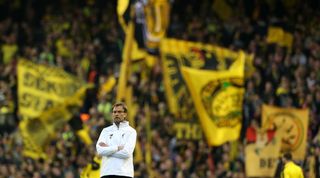 At the height of the rivalry, FC Hollywood were the James Bond villain. If that made Jurgen Klopp 007, this was a rare instance when there was no happy ending for the intrepid hero. It was the 2013 Champions League Final and Bayern Munich, having discovered Klopp's capacity to produce compelling teams and conjure memorable phrases, exacted revenge. Perhaps aided by what Klopp deemed underhand methods, they beat his Borussia Dortmund 2-1.
Now the most successful German club ever, and the most significant German club manager of his generation, reconvene for the first time in the Champions League since then. Long before Sergio Ramos dislocated Mohamed Salah's shoulder, Bayern denied Klopp the ultimate vindication for his methods and management. Yet if there is the sense that the evil empire put the eccentric upstart in his place, their history is more complicated.
Anti-Bayern
Each has denied the other silverware; each taken on the role of the other's nemesis. Klopp may be both the great lost Bayern manager, forever linked with the job, and the anti-Bayern manager.
He is the man who changed Bayern without managing them; their style of play was updated to include gegenpressing, their recruitment policy altered to encompass a systematic attempt to eliminate challengers, their budget increased and their horizons expanded. By the time Klopp left Dortmund as a broken manager, they were limping in 33 points behind a Bayern team with a superstar coach, in Pep Guardiola, and an expanding cast of BVB alumni.
Yet before then, Klopp mustered the sort of achievement that is standing the test of time. In the last 35 years, only two managers have won back-to-back Bundesliga titles for any club that isn't Bayern: Klopp and Ottmar Hitzfeld. Bayern responded by hiring Hitzfeld (for the first time) in 1998. They could have had Klopp long before his 2011 and 2012 triumphs.
The wrong Jurgen K
A club that tends to prioritise pedigree and trophies considered the promising Mainz manager in 2008. To judge by Klopp's words, he was simply informed that he was a candidate, regardless of whether he was interested, but Bayern appointed the wrong Jurgen K. "Uli [Hoeness] told me that they had decided to go for the other Jurgen," Klopp said. "I congratulated him, saying that Klinsmann was a good choice and it would work." He wasn't and it didn't.
Klopp, though, was an inspired choice by Dortmund. He brought an outsider attitude which, despite Liverpool's five European Cups, also suits their supporters' anti-establishment mentality. Bayern, like Manchester United, have been the economic superpower. Klopp brought a different ethos. He took on Bayern with force of personality, pitting his charisma against their money, his team's relentless running against their greater reputations.
If Graeme Souness, not Sir Alex Ferguson, knocked Liverpool off their perch, perhaps Louis van Gaal dislodged Bayern from theirs; when the Dutchman was sacked, Bayern had just 52 points from 29 games and were on course for their second lowest return in the era of three for a win.
But if a vacuum was created, Klopp and Dortmund filled it impressively in 2011; in 2012, they set a Bundesliga record of 81 points. In both seasons, beating Bayern proved the pivotal result. In 2011, a side with an average age of 22 won 3-1. As he would do later at Liverpool, Klopp lost his glasses in exuberant celebrations. In 2012, it was a 1-0 victory, courtesy of Robert Lewandowski's goal and Roman Weidenfeller's penalty save. It was allied with a 5-2 win in the German Cup final. Bayern were humiliated: "an embarrassment, every goal was like a slap in the face," according to Karl-Heinz Rummenigge, quoted in Raphael Honigstein's Klopp biography, Bring The Noise.
Die Bayern strike back
Bayern responded by hitting back harder, using their financial force and pulling power. The club transfer record was broken to spend €40 million on Javi Martinez in 2012. They pursued Guardiola, agreeing to jettison Jupp Heynckes before he completed a historic treble. They unsettled and undermined Dortmund. They broke up their greatest team of the 21st century.
Bayern had always raided rivals but it became more of a concerted strategy. As Dortmund prepared for a Champions League semi-final against Real Madrid, news was seemingly leaked that Bayern were activating a release clause in Mario Gotze's contract. Lewandowski still scored four times in victory but he, too, was wanted in Bavaria. The news of Gotze's defection was "like a heart attack," Klopp later told the Guardian.
Gotze came to regret his decision, but his importance stretched far beyond the 36 goals he scored for Bayern; he shifted the balance of power decisively in their favour. Lewandowski joined him in Munich a year later, while Mats Hummels made the same journey in 2016. Bayern were cemented as a buying club, Dortmund as a selling one.
Beginning of the end
The hamstrung Gotze was a symbolic absentee from the only all-German Champions League final. Klopp won the PR battle in the build-up, suggesting Bayern were the footballing equivalents of Blofeld, Goldfinger and Bond's other adversaries. Bayern won the footballing war, with a little official assistance. Perhaps it would have been different if Dante had been picked up a second booking at Wembley. "Out of 100 referees, 99 would probably have sent him off," Klopp said. Nicola Rizzoli was that 100th.
It was, though he lasted another two years, the beginning of the end at Dortmund for Klopp; the first of his run of six consecutive final defeats, the start of his transformation from winner to nearly man. It was surely scant consolation that he had made Bayern better, spurring them to create a team that won six successive Bundesliga titles in a time when they took 134 more points than Dortmund. Perhaps Klopp's unwanted legacy was to help turn Germany into a one-team league.
Which underlines how remarkably he did to deny Bayern two Bundesliga titles. "It would have been crazy if we had won the Champions League," a man who savours underdog tales told UEFA. "I would have loved to see that story if it was a movie. A story like the Cleveland Indians in [the 1989 film] Major League, the Dortmund Indians."
But it was the Indians – even Dortmund ones – who suffered when Hollywood got involved; even FC Hollywood. And that was Klopp's fate when he last met Bayern in the Champions League.
NOW READ… How the world fell back in love with Borussia Dortmund
More features you'd love on FourFourTwo.com
Quizzes, features and footballing fun
Get the best features, fun and footballing frolics straight to your inbox every week.
Thank you for signing up to Four Four Two. You will receive a verification email shortly.
There was a problem. Please refresh the page and try again.