How the world fell back in love with Borussia Dortmund – and what awaits Tottenham
The Bundesliga leaders have thrilled the continent this season under Lucien Favre, and now meet Spurs in a standout last-16 tussle. Michael Yokhin charts the mighty comeback of BVB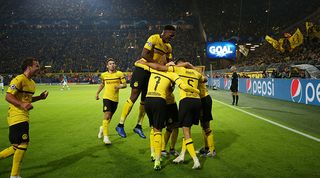 Some clubs are constantly searching for big names. Borussia Dortmund have never done that. They have always looked for the right characters who fit their philosophy.
Lucien Favre had been a managerial target for a long time, so the club's hierarchy were particularly thrilled when they finally landed their man to replace stopgap Peter Stöger last summer.
That happiness is growing with every passing day. The Swiss is different to Jurgen Klopp, and it would be foolish to compare them, but his impact has been similarly sensational. It took Klopp two years to build a team in his shape and make it tick. Favre has accomplished the feat in a matter of months, albeit having taken on Dortmund from a higher level.
Horse power
But that's hardly surprising if you're familiar with Favre's career.
In February 2011, he took over at Borussia Monchengladbach when their situation at the bottom of the Bundesliga table seemed hopeless. The Foals' defence was a disaster, confidence at rock bottom, and relegation looked like a certainty. But Favre managed to save them nevertheless, and by the end of 2011/12 they had qualified for the Champions League play-offs, with Marco Reus scoring 18 goals – still his personal record.
Reus mostly has Favre to thank for becoming a major star. His manager – famed for paying attention to minor details – taught him how to position himself better and improved his shooting. Favre's directions were precise, but at the same time he gave his young protege the freedom to express himself. That's a rare combination – a strict coach who is not a disciplinarian; a tactical mind who admires improvisation more than anything else.
Favre didn't only trust Reus at Gladbach: he also promoted a 19-year-old goalkeeper by the name of Marc-Andre ter Stegen, who eventually developed into one of the best custodians in the world. In short, the Swiss is phenomenal for young players.
Add all of that together, and you get the dream coach for Borussia Dortmund.
Persistence pays
"We tried to get Favre before but failed every time," CEO Hans-Christian Watzke confessed at the press conference unveiling their new coach last summer.
It's well known that Dortmund wanted Favre to take over in the summer of 2017, after Thomas Tuchel was fired, but the club was unable to negotiate his release from Nice. The admission that numerous attempts were made leaves no doubt that Favre was the preferred candidate to succeed Klopp in 2015.
He was still under contract at Gladbach back then, though, having led them to the Champions League – and was unwilling to leave the project. Favre eventually resigned in September after Gladbach hit a bad patch, but it was too late for Dortmund, who had Tuchel in charge. And while the energetic PSG coach is an outstanding tactical mind, his stubborn approach eventually proved to be counter-productive; the team played magnificent football at times, but Tuchel didn't suit Dortmund's DNA. Favre does.
One step at a time
Sporting director Michael Zorc has made life easier for the new boss, lowering expectations and setting Champions League qualification as the primary target.
Bayern Munich are so rich and powerful that it seemed illogical to try to topple them after a season of disarray under Peter Bosz and his temporary replacement Stöger. Dortmund's transfer market activity was rather modest and the best-known arrival was Axel Witsel, whose purchase didn't exactly set pulses racing.
Once hailed as one of Europe's top prospects, the Belgian midfielder wasted the best seasons of his career in Russia at Zenit, and then went on to spend another year-and-a-half in China. Fans frequently criticised his performances for the national team, especially after pundits showed that he hid from the ball during Euro 2016. Coach Marc Wilmots was accused of relying too heavily on Witsel, and Roberto Martinez experienced similar outrage when Radja Nainggolan was left out of the latest World Cup squad.
However, Witsel had a decent tournament in Russia, and Dortmund decided that he was the right man to add quality and stability to central midfield. They were proved absolutely correct: Witsel – who recently celebrated his 30th birthday – has recognised that this is his last chance with a top club, and his performances have been suitably magnificent so far.
Great Dane
In Thomas Delaney, Witsel has found an outstanding partner. The Denmark international is another example of a magnificent addition to a club that searches for the right people, rather than the big names. Eyebrows were raised by those who didn't follow Delaney's performances for Werder Bremen when Dortmund chose to pay €20 million for his services, but they have since marvelled at a dedicated and extremely hard-working warrior who is capable of providing good through-balls as well.
Witsel, Delaney, French defender Abdou Diallo (who cost €28 million from Mainz) and Spanish-Moroccan full-back Ashraf Hachimi (a two-year loanee from Real Madrid) have all settled quickly in a friendly and tension-free dressing room.
Favre is capable of finding a common language with anyone – after all, he tamed Mario Balotelli at Nice. His task has been simpler by a lack of oversized egos, and Reus – chosen as his new captain – is the perfect example of a top player who always thinks about his team first. Unfortunately for him, however, he will be unavailable for the first leg against Tottenham at Wembley through injury.
When coach and team-mates do everything in their power to help, young players are bound to flourish. That's how Jadon Sancho has turned into a real star this season – first providing assists as a supersub, then cementing his place in the starting lineup. The 18-year-old Englishman chose to leave Manchester City in order to get frequent playing time, and that's exactly what he has found at Dortmund on his way to superstardom.
In addition, Paco Alcacer, who initially arrived on loan from Barcelona, scored at will as a substitute earlier in the season and has been signed on a permanent basis. Even Mario Gotze has found his feet again after years of underachievement that threatened to ruin his self-confidence completely.
IN THE MAG Jadon Sancho's first major interview!
They're back
Put together, this is how Borussia Dortmund became darlings among the neutrals once again.
They are playing exciting football, but are extremely flexible. They are capable of keeping possession and dominating the midfield, but are also extremely dangerous in transition, using the speed of Reus and Sancho to get the ball forward as quickly as possible. "A great team must be able to counter-attack, so that opponents fear us," Favre says.
The results have been stunning. Die Schwarzgelben lead the Bundesliga table by five points ahead of Bayern Munich, having beaten the champions 3-2 in a thrilling game in November – and that's after capitulating to draw 3-3 from a 3-0 lead against Hoffenheim on Saturday. In the Champions League, they managed to thrash Atletico Madrid 4-0 with a performance that highlighted their attacking potential.
At the moment, it's difficult to find a more entertaining and charismatic team in Europe, and their duel with Tottenham in the last 16 promises to be a cracker. Not having Reus is a bitter blow, but Spurs have been warned.
SEE ALSO 11 players we can't wait to watch in the Champions League last 16
Thank you for reading 5 articles this month* Join now for unlimited access
Enjoy your first month for just £1 / $1 / €1
*Read 5 free articles per month without a subscription
Join now for unlimited access
Try first month for just £1 / $1 / €1