How Danny Rose became the courageous, honest soul Tottenham needed
Direct, spiky, and unpredictable, there are rumours that the Champions League final could be Rose's last at Tottenham. Kieron Monks examines the career so far of one of the most interesting footballers around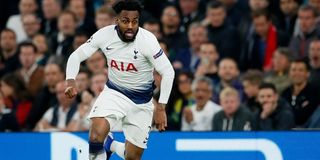 The reactions of Tottenham players at full-time in the Johan Cruyff Arena showed some revealing contrasts.
Lucas Moura lay prostrate and sobbing on the turf, in awe at the benevolence of the Almighty and his own left foot. Toby Alderweireld took a moment to comfort his stricken former comrades. Harry Kane buzzed about like an ecstatic raver at 6am hugging anything that moved.
Danny Rose necked a beer he must have stashed somewhere handy and then dispatched Ruud Gullit to the boundary.
"Hopefully we shut him up," said Rose of the decorated Dutchman, who had been critical of Spurs' first-leg performance against Ajax. "He was bang out of order... I hope he eats his words after tonight."
That Rose chose the greatest moment of his career - a pinnacle most players never reach - to settle scores with a pundit would have surprised few Tottenham fans.
In the autumn of his career, Spurs' longest-serving player and most irreducibly complex character has become a forthright and fearless public speaker.
Rose is the man who defends the club's honour against all assailants, even the club itself. He rarely lets a slight pass and can harbour a grudge.
"The cherry on the top was silencing them," said the left-back after Tottenham beat Arsenal in December, just a few weeks after a loss to their rivals. "They were celebrating like they won the league...We'll see where they are come the end of the season."
Those comments were catnip to Tottenham supporters. Finally a footballer who got it.
Fans also enjoyed it when Rose broke ranks to admit that playing at Wembley was actually a drag. Until then, Spurs players had felt obliged to pretend it was a great honour and a blessing.
But Rose has also demonstrated there can be such a thing as too much honesty. In a 2017 interview with The Sun (of all papers) on the eve of a new season, Rose excoriated his employers for a lack of ambition, implicitly criticised his team-mates, and explicitly attacked Spurs supporters.
"I'll never forget how some fans treated me," he said, midway through a clumsily disguised 'come-and-get-me-plea' to a suitable club "back up north," or possibly Chelsea.
That move failed to materialise and a fragile truce ensued. But Rose has not been deterred from voicing his opinions and has maintained a running commentary on the club's business ever since. There is a convention of footballers saying that they don't read the papers. Rose comes across like he clicks every link.
"We probably won't sign anyone in January," he informed the press before the last winter window opened. In April, he warned the board not to lose Christian Eriksen: "The lads in the changing room trust the people upstairs to hopefully get him to sign." Ahead of the Champions League final, Rose revealed that he had discussed a transfer with another club.
Rose's path to the top has been a slow grind.
Despite one of the Premier League's more spectacular debuts, he spent four years on loan from Spurs and then struggled to displace Ben Davies. Only with arrival of Pochettino did Rose begin to fulfil his potential and reach the level that earned him a place in the PFA team of the year twice in succession.
But towards the end of the 2016/17 season, as Spurs mounted their most convincing title challenge in a generation, Rose suffered a knee injury that kept him sidelined into the following season. Setbacks have been a recurring feature of Rose's career. He has never played more than 28 league games in a season.
Rose would later reveal that he suffered with depression during that lay-off in 2017 - also the time of that Sun interview - which he described as "one of the most difficult periods of my life."
Within the often macho, weakness-scenting, hyper-partisan culture of British football, the left back was taking a risk by speaking openly about his mental health. We know that honesty has been thrown back in his face. By sharing pain that many hide, Rose showed leadership on an issue that is awkward, embarrassing, and vitally important.
He didn't stop there either. On the eve of the 2018 World Cup, Rose went deeper into the traumas he experienced. He spoke about his uncle committing suicide and his mother being racially abused during the long months he spent injured and on medication. "I would come home and go straight to bed," Rose told the travelling press corps.
The Yorkshireman has continued to speak his mind about his mind ever since, often unprompted, including on a primetime documentary with Prince William aimed at helping others to communicate their suffering. Other footballers have reportedly thanked Rose for speaking about mental health. Perhaps openness is a little easier for his contribution.
Rose has also been a leader on calling out racism, as football struggles through another bout of soul-searching on its prevalence within the game. After Raheem Sterling's intervention this season, Rose went in hard after him, professing admiration for his England colleague and detailing his own experiences.
After suffering abuse in Montenegro, Rose said that racism and the failure to punish it made him look forward to retirement. He was scathing ahead of the authorities' predictably feeble response. "When countries get fined what I probably spend on a night out in London what do you expect?" he said, adding that abuse was so common he had learned to prepare for it.
Rose went on to attack institutional prejudice within the British game. The lack of opportunities for black managers meant it would be a "waste of time" to train as a coach, he lamented.
At 29, Rose may never get the blockbuster move he craved, and might have secured in summer 2017. The prospect of either of the Manchester clubs handing over a Levy-price fee and silly money wages appears remote. Rose is not quite the player he was for those two glorious seasons before his injury and he is unlikely to be again.
But if Danny Rose 2.0 has lost a little pace and makes a few more errors, he is almost pissed-off enough to compensate. It is as though he channels all the accumulated frustration of the wasted years before Pochettino, the dream move that failed to materialise, the physical and mental suffering, and the abuse into his performances, powered by an outsized chip on his shoulder with lashings of vinegar.
Rose plays like he talks: direct, spiky, and unpredictable. He brings the devil, what the Spanish call mala leche and Lady Macbeth called "the illness," that a talented but sometimes too-nice squad lacks.
Those attributes were never clearer or more vital than on that night in Amsterdam. The contemptuous nutmeg of golden boy Matthijs de Ligt that started the move for Spurs' first goal, and the cross that led to their second. The gloriously needless yellow card for spiking the ball into the turf when a call went against him. Strutting around the pitch at full time with a bottle of Heineken as he composed the words to shove it up the haters.
There's a strong chance that Madrid will be his final curtain. Rose suspects the club is keen to move him on. His departure has been an open question for the past two years and this summer will be no different. If so, Spurs will lose one of the foundations of the Pochettino era and the most interesting character. Rose has been to hell and back many times on his journey from squad filler to elite talent, depression victim and civil rights campaigner. He deserves a happy ending.
While you're here, why not take advantage of our brilliant subscribers' offer? Get 5 copies of the world's greatest football magazine for just £5 – the game's greatest stories and finest journalism direct to your door for less than the cost of a London pint. Cheers!
NOW READ...
Why Liverpool vs Tottenham is a two-fingered salute to football's era of the individual
Quiz! Can you name all 40 teams to appear in a European Cup or Champions League final?
Quizzes, features and footballing fun
Get the best features, fun and footballing frolics straight to your inbox every week.
Thank you for signing up to Four Four Two. You will receive a verification email shortly.
There was a problem. Please refresh the page and try again.