How English clubs can improve in the Champions League
Only one of the Premier League's four representatives had sealed their place in the last 16 before this week's group deciders. John Robertson looks at what can be done to help...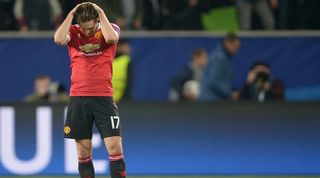 Somehow, the Premier League has managed to squeeze three clubs into the knockout stages of the Champions League. While Manchester City had guaranteed their progress prior to the final set of group matches, Arsenal, Chelsea and Manchester United all left it to the last minute to try and book their place. Arsenal and Chelsea shone with backs against the wall in crunch games against Olympiakos and Porto respectively, but Manchester United's topsy-turvy defeat at Wolfsburg means they will drop into the Europa League, forcing their fans to wade through the Thursday night televisions listings.
Collectively, the four English representatives won 13 and lost eight of the 24 group games they were involved in this season. Last term only six games were lost, the season before just five.
The downward trend is not too hard to spot. Unless something spectacular happens in the knockout rounds, it's looking very much like another season of Champions League mediocrity for Premier League sides, with teams from Spain, Germany, Italy and even France this time left to compete for the silverware. It's a far cry from the glory period of 2005 to 2012, when English football failed to provide a Champions League finalist on only one occasion. What can be done to stop the rot?
Forget the 'Premier League style'
There's a tired cliché that some fans of Premier League clubs like to throw about whenever a player fails at their club: "he can't hack it in this league". The idea being that the English top flight is the ultimate test of players' ability, that somehow Juan Sebastian Veron, Diego Forlan and Andriy Shevchenko were not great players because they didn't produce the goods on these shores.
Another way of looking at it is that the English style is simply not technically advanced enough, relying on speed and strength over intelligence and adaptability. Bring in a player whose greatest asset is his brain and, frequently, they struggle to succeed.
It's a superiority complex that Premier League clubs (and fans) must abandon if they're going to succeed in Europe again. The likes of Barcelona and Bayern Munich want nothing more than to play against a team intent on flying into tackles and running aimlessly up and down the pitch for 90 minutes.
Top European teams, who are used to formulating game plans to counter the stubborn defensive setups employed against them in their domestic leagues, are more than capable of overcoming an all-action style. Good boxers don't fly in with random punches from all angles as it leaves them open to getting hit.
English supporters and their insistence on screaming for instant attack whenever their team's goalkeeper has the ball do not help to instil the requisite sense of calm among the players, either.
Start playing academy graduates
There's not a manager in Premier League history who hasn't moaned about match scheduling and the volume of games that teams in European competition must play in quick succession.
The players are too tired to compete, goes the oft-aired complaint. Simply, the solution is to put more faith in the academy schemes that top clubs like to spend so much time singing the praises of. That doesn't just mean rolling out the 17 year-olds for League Cup games, but playing them semi-regularly in the Premier League in order to save the hamstrings of more established stars.
Such an approach is beneficial on multiple fronts: it helps to develop the young players whom the club hope to become the stars of tomorrow, while also ensuring that the members of the first team who can make an impact in the Champions League are not worn out by the latter stages.
Of course, many believe that established stars will lash out at their manager if left on the bench for a league game. If Jurgen Klopp has taught the division anything in his short time in charge of Liverpool, however, it's that treating players as humans first and footballers second yields great results.
If your expensive striker, perhaps named Diego Costa, can't accept sitting on the bench after the reasons have been calmly explained to him, then he's probably not a man to be relied on in the first place.
Stop wasting money
Related to the lack of playing time for the league's youngsters is, of course, the issue of money. Premier League sides from Chelsea to Stoke, Manchester City to Newcastle, can afford to all but ignore those not yet old enough to (legally) drink and instead rely on money to solve their problems in the short term.
This dependence on spending cash to provide short-term solutions to ingrained cultural problems is impacting English performance in Europe. This reliance on writing cheques to try and solve underlying issues regarding recruitment policy, training regimes and the hiring and firing of managers is wholly unhealthy.
Greater emphasis on defining a coherent, long-term identity through a stable unit of coaches - from the earliest age groups to the senior team - would provide a stronger foundation upon which the current manager can more easily take advantage of. Just ask Barcelona, or almost any club in the Bundesliga. Premier League teams must invest in the staff as well as the transient stars they all seem to crave.
Make the league less fair
The most controversial tactic for improving the Premier League's Champions League performance would be to make the league less fair by severely limiting the amount of cash that flows to the traditionally weaker sides.
If the Premier League was less competitive and Chelsea could rely on winning 5-0 every week, Champions League participants would find it easier to compete on multiple fronts. Not only would Louis van Gaal be able to rest half of his team when playing a relegation candidate, he would also able to instruct the starters to take it easy and not risk hurting themselves.
It's a structure that has reaped huge rewards for Barcelona and Real Madrid in La Liga, although implementing such a model would invariably destroy a huge part of what makes the Premier League so attractive, in turn undermining the competition's ability to sell itself around the world for vast profit.
In the same way it's difficult to have both the world's richest league and the world's best national team belong to a single country (homegrown players are likely to be sacrificed for imported stars when a club can afford to sign virtually anyone on the planet) it could well be the case that it's almost impossible to simultaneously have the most competitive division and the strongest Champions League contenders. As with so much in life, it seems that the Premier League can't have its cake and eat it too.
Quizzes, features and footballing fun
Get the best features, fun and footballing frolics straight to your inbox every week.
Thank you for signing up to Four Four Two. You will receive a verification email shortly.
There was a problem. Please refresh the page and try again.