How Jose Mourinho lost his touch
This weekend, the Portuguese could be watching on as his side's closest rivals win the title against them with six matches to spare. After another campaign of disappointment for Manchester United, Dec Warrington wonders where Jose lost his way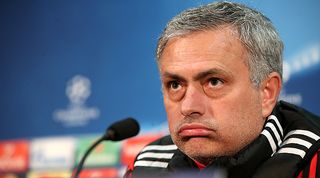 When Jose Mourinho's present ambitions extend merely to delaying Manchester City securing the Premier League title, and the consolation of winning the FA Cup, his reputation as the so-called "serial winner" who guarantees success will inevitably be questioned.
Mourinho succeeded Louis van Gaal, of course, whose own FA Cup victory didn't save him after an expensively-assembled team's failure to challenge on other major fronts. Upon the Portuguese's arrival, those with concerns questioned not whether he could deliver, but whether he would respect Manchester United's traditions.
Almost two years on and around £300m spent on players, the Reds' 2016/17 Europa League and League Cup double has not been followed by the progress that was expected this season.
That Manchester City could overcome their nearest rivals and be crowned champions against them with six matches to spare demonstrates as much, but also the extent to which a once-masterful manager has lost his way.
A way out?
Listening to Mourinho describe Nemanja Matic as "an island of personality and desire and control" while brutally accusing the Serbian's team-mates of lacking "personality, class and desire" recently, it was tempting to conclude that he was attempting to talk his way out of a job.
Little over 24 hours earlier, he had also said that those same players needed to "grow up", and remarkably questioned United's "football heritage". A cynic may have eyed a pay rise at PSG, and the notion that City's intimidating success under Guardiola had even driven Mourinho's desire to leave before it could be said he'd failed.
When there is little sign of City's extraordinary levels dropping, and while both Paul Pogba and Alexis Sanchez struggle to improve United in the way they supposedly guaranteed, their hopes of challenging appear minimal. Mourinho is at risk of truly failing for the very first time.
Even for an individual known to shamelessly prioritise self-preservation, such an approach would seem extreme, but is possible that the irrepressible fight and drive that made him are simply gone?
While Mourinho was at Real Madrid and Guardiola at Barcelona, his success in dethroning such an outstanding team came with both a successful transfer policy and relentless, ruthless attempts to unsettle his greatest rival.
When the Portuguese was then unveiled at Chelsea in 2013, he described himself, almost apologetically, as the "Happy One" – in stark contrast to the mischievous "special one" line upon his arrival there nine years previous.
Since his success with, and subsequent dismissal by Madrid, Mourinho has never been the same. Where once was a force of nature, it seems the energy such a role demanded has taken something that, even after almost five years back in England, has been left behind for good in Spain.
Success, the state of mind
It was Mourinho's contagious confidence, energy and desire that drove his greatest triumphs; when winning the Champions League with Porto in 2004 and Inter Milan six years later; in between, building his greatest team – the Chelsea of 2004-06.
The Portuguese lifted and drew the maximum from his players – and those around him – in a continuous cycle of success. Players fought for him... loved him, even.
"He would be the first in, 8am... he'd be the one setting the cones out," John Terry recalled in late 2017. "You'd come in as players and he'd be out there, if it was pouring with rain, getting his session organised. He 100 per cent changed the way I thought about football. In his first session, the lads came in and thought: 'Wow, that's a proper session'."
After establishing himself by inspiring a team of underdogs to unimaginable success at Porto, he moved on to Chelsea, where those with untapped potential had such faith in him to deliver that they responded to his methods with relish.
It's often overlooked what a remarkable achievement that breaking the Manchester United-Arsenal duopoly was. Granted, he had huge financial backing, but Mourinho succeeded in forever consigning such a memorable rivalry to the past. He made the title race a procession in 2004/05 that ended with Chelsea accumulating a record 95 points, having lost only one league game and conceded a paltry 15 league goals.
He identified specific qualities in Ricardo Carvalho, Paulo Ferreira and Didier Drogba that the squad he'd inherited had lacked, and improved– with his man-management and coaching – John Terry, Frank Lampard and Petr Cech. Mourinho and Chelsea continued to thrive until, after two successive league titles and glory in the League Cup, Roman Abramovich's interference proved damaging.
By compromising in selection to accommodate Andriy Shevchenko, the Portuguese's team lacked their previous cohesion and eventually conceded the title to United before he left, unwilling to compromise further, in September 2007.
It was a lesson learned: when Mourinho returned to management with Inter nine months later, he succeeded because his team was built in his image alone. Even when he lost Zlatan Ibrahimovic to Guardiola's Barça, he improved the Nerazzurri by unexpectedly recruiting Thiago Motta and Diego Milito to join Wesley Sneijder and Samuel Eto'o.
Similarly to Chelsea and as with Inter, who before his influence struggled to build on their domestic dominance in Europe, Mourinho found at Real Madrid a hungry squad struggling in Barça's shadow. It was a team that needed the solutions he delivered.
Kaka, who a year earlier had briefly become the world's most expensive player, was soon marginalised, and the iconic Raul left swiftly. As at Chelsea and Inter, Mourinho identified the qualities he required, and ruthlessly and efficiently discarded those he felt would get in his way.
At the end of his first season at the Bernabeu, Barcelona were widely considered the finest club team in history, but 12 months later he inspired Real Madrid to end their rivals' run of three successive titles by securing La Liga with a record 100 points.
Beginning of the end?
That triumph was followed by the most difficult season Mourinho has ever endured, and which exposed his appointment as a compromise of Real Madrid's values.
His pernickety politics and brashness made for a explosive combination at one of the world's most volatile clubs, and a squad packed with decorated megastars didn't offer nearly the same devotion as those he'd previously led to their greatest triumphs.
Pressure from club president Florentino Perez was compounded by arguments – and the eventual breakdown of relationships with – Pepe, Cristiano Ronaldo, plus the influential Sergio Ramos and Iker Casillas. Barcelona regrouped and regained the title with 100 points, matching Madrid's tally from the season before. Los Blancos limped in 15 points behind.
With his sacking – in contrast to Porto and Inter, whom he had left on major highs, and even at Chelsea where he'd established himself as the Blues' finest ever manager – Mourinho had suffered his most bitter and chastening experience.
A similarly painful summer was to follow when Manchester United, the club he'd long wished to manage, appointed David Moyes to succeed Sir Alex Ferguson instead. Since those successive rejections, he has pursued unconvincing compromises.
Returning to Chelsea and a wide open Premier League, he was unable to inspire a talented and experienced squad to the title in his first season back – as he'd done so nine years before, and as he surely would have if he'd retained those same abilities.
Even with glory a year later following the shrewd recruitment of Matic, Cesc Fabregas and Diego Costa, subsequent failures with Baba Rahman, Radamel Falcao and, quite inexplicably, Papy Djilobodji, contributed to the meltdown that led to an unavoidable sacking in December 2016. At that time, with Chelsea 16th in the Premier League after as many matches, the atmosphere at Stamford Bridge felt close to poisonous.
An absent feeling
It's at Old Trafford, and perhaps largely because of the traditions that are so at odds with his own, where Mourinho has most regularly abandoned the principles with which he previously succeeded.
United are good defensively without being uncompromising, and yet are far from clinical in the final third; Mourinho regular selects players out of position and his team lacks balance, conviction and personality. After almost two years it still feels as though he is yet to discover his strongest XI.
The tactical ingenuity and big-match manager they required before being embarrassingly knocked out of the Champions League by Sevilla has often been absent. So too has the mischievous and often-inspiring persona that truly made him special, replaced by a joyless figure apparently frustrated by life at the Lowry Hotel.
At his peak, the 55-year-old would not have switched Marcus Rashford's position after he inspired victory over Liverpool; would have identified a system that brought the best out of Pogba and Sanchez – expensive signings he demanded; and regardless of their traditions, would have selected a matchday squad minus a United trainee without hesitation.
Within the job he has always wanted, his conviction has abandoned him. In an evolving game where Mourinho was once master, the manager that Manchester United expected to guide them back to the top simply doesn't seem to exist anymore.
Thank you for reading 5 articles this month* Join now for unlimited access
Enjoy your first month for just £1 / $1 / €1
*Read 5 free articles per month without a subscription
Join now for unlimited access
Try first month for just £1 / $1 / €1
Quizzes, features and footballing fun
Get daily World Cup 2022 news, updates and other football frolics to your inbox
Quizzes, features and footballing fun
Get daily World Cup 2022 news, updates and other football frolics to your inbox
Thank you for signing up to Four Four Two. You will receive a verification email shortly.
There was a problem. Please refresh the page and try again.