How new-look Barcelona pose an entirely different threat to Man City this time around
Thore Haugstad evaluates the big changes Luis Enrique has made to maximise the havoc caused by his blistering Barcelona frontline...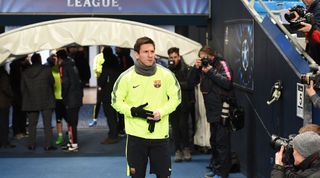 Since Pep Guardiola departed in 2012, Barcelona have searched for a system that preserves the principles of possession football and retains an element of unpredictability. It turned out that nobody could copy the master. Under the late Tito Vilanova, Barça went stale in Europe, before Gerardo Martino implemented a more direct style without success.
With Luis Enrique taking charge last summer, the stylistic debate has rumbled on. At first, the former Barça B coach appeared to lack a clear vision for how the team should play. Since the turn of the year, however, more defined patterns have emerged.
The turning point was a 1-0 defeat at Real Sociedad in early January, which kick-started a run of 11 consecutive wins. Since that debacle at Anoeta, the forward line of Lionel Messi, Neymar and Luis Suárez have been unstoppable, and although the winning run ended with a 1-0 slip-up at home to Málaga on Saturday, Enrique's new formula seems auspicious.
The displays of the Latin American trio seem to underline the common perception of what has changed: before, Barça played through their midfield; now they are bypassing it. The statistics confirm this view. Analysing the patterns of Barça's possession play from 12 months ago, at which time they beat Manchester City 2-0 in England, the nature of Enrique's tweaks quickly becomes apparent.
Fading force
Ostensibly, reducing the importance of midfielders may indicate a reduction in possession volumes. For Barça the opposite is true. In La Liga last season, they had the ball 63.7% of the time; this season, the figure is 70.6%. The relationship between long and short passes is similar. What is different is the kind of players tasked with dictating the rhythm.
The chief conductor has always been Xavi, and last season he topped Barça's passing stats with 86.2 per league game. Second was Sergio Busquets, with 76.7. Since the summer, things have changed. Top of the current list is Jordi Alba, with 73.4, followed by centre-back Javier Mascherano, who has 72.3. Xavi is down to fifth, with 66.1, while Andrés Iniesta and Ivan Rakitić are placed even lower.
Such numbers suggest that the playmaking duties have shifted from midfield to defence. To investigate this, it makes sense to analyse two comparable games played at roughly the same stage of the season. Last year, Barça beat Almería 4-1 in early March, having enjoyed 74.9% possession. A similar victory took place this February, when the Catalans hammered Levante 5-0 and clocked up 77.3% possession.
In those games, Busquets retained a similar impact. However, Xavi, who played 90 minutes on both occasions, has had his role marginalised.
Control at the back
Xavi's declining influence reflects a system in which the two most advanced midfielders now spend less time dropping deep to collect the ball.
Positioned higher, Xavi, Iniesta and Rakitić are more often squeezed in tight spaces between the lines. Further back, the ball is circulated across the defence and out wide until a player picks out the forward trio.
This explains the proactive role of Mascherano. Against Almería in 2014, Xavi was the top passer; against Levante, it was the combative Argentine.
This has not happened just with Mascherano. The ball generally spends more time with the backline, as indicated by the passing statistics of the other centre-back.
During build-up play, the full-backs are also used more often.
Wing wizards
What does this mean for the forward trio? Well, not too much. Their roles remain roughly the same regardless of who controls the ball from deep; it matters less who supplies the passes, as long as someone does. Compared to last season, Neymar's movement has largely stayed unchanged.
The obvious anomaly is Messi, who has switched to a right-wing position. The tweak has made him more involved: he has made an average of 61.5 passes per La Liga game this season, compared to 45.3 during the last campaign. Cutting in from the right, he also seems more inclined to loft diagonal passes into the area, one example being his assist for Neymar's sliced opener against Levante.
Direct and dangerous
Such developments mean City will face a somewhat different system from last year. Earlier it seemed crucial to shut off the midfield trio; now, more attention might be dedicated to the frontline.
For City's right-back, against whom Iniesta played last year (Pablo Zabaleta), Neymar will pose a more direct challenge. When Iniesta played, Alba stretched play to find him in the zone on the centre-left, from where the Spanish playmaker would drive at the opposition.
However, Neymar's wider positioning makes Alba a deeper support player. When Neymar does move inside, he sneaks in between the lines and attacks directly. One applicable away day example is Barça's most recent encounter on the road, at Athletic Club.
All in all, the Barça system has been modified significantly in the last 12 months. On the evidence of the last six weeks, the changes have worked. The ball moves quicker to an increasingly fine-tuned forward trio, who in turn have more space to wreck havoc. Indeed, Enrique may well opt to counter-attack against City, like he did so successfully in the 3-2 win at Atlético Madrid in the Copa del Rey last month. Should the Catalans fire on all cylinders, City's defence may have a busy evening in store.
Man City vs Barcelona LIVE ANALYSIS with Stats Zone
Thank you for reading 5 articles this month* Join now for unlimited access
Enjoy your first month for just £1 / $1 / €1
*Read 5 free articles per month without a subscription
Join now for unlimited access
Try first month for just £1 / $1 / €1
Get FourFourTwo Newsletter
The best features, fun and footballing quizzes, straight to your inbox every week.