How Sweden built a team to believe in – and why it spells trouble for England
On the bones of Zlatan Ibrahimovic's international retirement and a glorious 2015 under-21 triumph, Sweden have built a side to shock the world – and counteract England, writes Lee Roden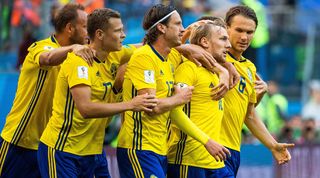 This is not the way things were supposed to go. Sweden were drawn in a qualifying group containing previous semi-finalists and a team that just reached the Euro 2016 final. Worse still, it happened after losing their all-time record goalscorer who the entire system was built around.
What could Sweden reasonably expect? Just don't embarrass yourself at least, lads.
Swedes certainly didn't expect to get to the play-offs, less still to get the better of the mighty Italy, qualify at their expense, and deny them a place at international football's top table for the first time since 1958. Then the draw for the tournament came in, and it's the reigning champions. Of course it's the reigning champions. Plus Mexico for good measure.
Well done guys, the game is up, but good job getting there in the first place. Enjoy three matches on the biggest stage of them all, then when the inevitable elimination comes, kick back at your summer house somewhere in the Swedish countryside and enjoy the rest of the show.
Except elimination didn't come. It still hasn't.
No Zlatan, no problem
Italy are at home, the Dutch are at home, Argentina are out, Spain are out, even Germany are out. Yet there they are, tiny little Zlatan-less Sweden, getting ready to face England with a chance to get to the semi-finals for the first time since 1994. How on earth did this happen?
"There have been so many times I've gone: 'Right, so that's that then' during Sweden's World Cup qualification and play-offs," Oskar, a Sweden fan from Gothenburg explains, dumbfounded.
"When we got France and the Netherlands in the qualification group. When we got Italy in the play-offs. When we lost to Germany in added time. But this team always come through, which is just unbelievable."
Dig beneath the surface and it's perhaps less of a surprise than it seems. To really understand the success of this Sweden team we have to go back to June 30, 2015, when a group of young Swedes beat a Portugal side packed with individual quality to win the Under-21 European Championship. On penalties, by the way. More about those later.
Nobody in Sweden expected their youngsters to get out of a group of death containing Portugal, Italy and England that year. But get out they did, before hammering an over-confident Denmark team 4-1 in the semi-finals, then doing the unthinkable by lifting the trophy.
Fantastic four
Six of the players who won that tournament are in the current Sweden World Cup squad. Five of them have played in Russia so far, and two of them – Victor Lindelof and Ludwig Augustinsson – are undisputed starters in the rock-solid, all-important back four that this senior Sweden side's unlikely success has been built upon.
The 4-4-2 from 2015, with everyone shuttling and working tirelessly across every line for their team-mates, is also a fixture this summer. So too are the two strikers who may not score many goals, but break their backs trying to win aerial battles and chasing down opponents.
John Guidetti and Isaac Kiese Thelin got a combined total of three goals at the 2015 U21 Euros, but Sweden still won it. Current starters Marcus Berg and Ola Toivonen have one between them at this World Cup so far. Sweden are in the last eight nonetheless.
Two years ago, it was a different story. Out in the group stage with one measly point, a Zlatan-led Sweden's snooze-fest at Euro 2016 was the perfect precursor for the public to accept the more back-to-basics approach deployed today. Why can't they just be more like our U21 side and work hard for the group, rather than the individual? That question was common late in the summer of 2016.
New coach Janne Andersson had the foresight to sense a change in the air, and to trust some of the kids that Swedes were dying to see in the senior team. He had already reaped the rewards of a similar, group before individual, game-by-game approach with club side Norrkoping, who he led to a first Swedish title since 1989 in 2015. He won there without any stars, getting the better of a Malmo side that had a huge financial advantage thanks to qualifying for the Champions League.
Fast-forward to 2018, and it's not just Norrkoping fans but all of Sweden chanting Andersson's name. Not the hero Sweden deserved, but the one they needed.
Janne Andersson finally comes out to bask in the love of his fans... July 3, 2018
As for England, it may come as a surprise to learn that many Swedes are happy about who they are facing in the quarter-final. TV4 pundit Alexander Axen pragmatically pointed out that the Sweden team and staff already have a deep knowledge of the England squad, which should make preparation more straightforward. Elsewhere, Swedish coach Hasse Backe has assessed: "It feels like all matches are played on Sweden's terms. It'll be just as difficult as before to open up the Swedish defence."
Summing up the feelings of local supporters, Oskar says: "The understanding among Sweden fans is that England are a much better game for us [than Colombia], and if you consider the history, that makes sense. I can't understand why some England fans are so happy about facing Sweden."
He has a point. Both World Cup meetings between England and Sweden to date have ended in draws. The same results would mean penalties on Saturday and, while England may have taken a positive step in that regard, Sweden have plenty of happy shootout memories of their own. Not only did they seal the U21 Euro win in 2015 via spot-kicks, they also took them to the semi-finals in their last great senior achievement at the 1994 World Cup.
England certainly can't afford to underestimate this no-frills, highly functional, highly Swedish Sweden side. Italy did. Mexico did. Even the Germans didn't have the last laugh. How often does that happen?
Quizzes, features and footballing fun
Get the best features, fun and footballing frolics straight to your inbox every week.