8 big questions that will be answered in the World Cup quarter-finals
England's breakdown bother, Antoine Griezmann's ultimate challenge and Brazil's missing man – Michael Yokhin outlines a key query hanging over every team still at Russia 2018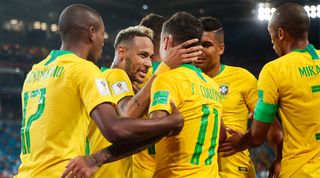 France
Can Antoine Griezmann outfox his best friend?
When Cristiano Ronaldo plays against Diego Godin and Jose Gimenez, he never scores and usually loses – as has been the case in three of his four meetings against the duo with Real Madrid. That's what happened in the last 16 of this World Cup too, as Uruguay prevailed over Portugal. But now an Atletico Madrid striker – rather than a Real superstar – is about to face his own team-mates.
For Griezmann, Godin is a role model and a friend. He joined Atletico thanks to the Uruguayan skipper, who later became godfather to the Frenchman's daughter. They have trained together for four years now, and nobody knows how to stop Griezmann better. Yet if Godin has any weaknesses, Griezmann must have noticed them out by now. Could the Euro 2016 top scorer find a way past him?
Uruguay
Can they replace Edinson Cavani?
Cavani is expected to miss the game against France with injury – unfortunate timing after he scored a majestic brace against Portugal. His partnership with Luis Suarez will thus be broken, but manager Oscar Tabarez actually has two very dangerous potential replacements for the PSG man in his squad.
One is 31-year-old striker Christian Stuani, the former Middlesbrough man who enjoyed an exceptional 21-goal season in 2017/18 with Girona. The other is a youngster, Celta Vigo's 21-year-old Maxi Gomez; a typical burly centre-forward who is magnificent in the air, knows how to position himself in the penalty area and only scored four fewer goals than Stuani in La Liga.
This could be the chance of a lifetime for the pair, and each of them is capable of delivering. The question is whether they're up to the task at this crucial moment.
Brazil
Can Brazil defend without Casemiro?
Casemiro, Zinedine Zidane's very own Claude Makelele at Real Madrid, has also become crucial to Brazil under his international manager Tite. Elegant yet tough-tackling at the same time, the midfielder protects his back four and allows Paulinho and the full-backs to roam forward at will.
The 26-year-old is especially effective in breaking down counters, so he could hardly have found a worse time to get suspended than ahead of the clash with Belgium – arguably the best counter-attacking team at the tournament. Fernandinho is supposed to step in, and he is definitely better at distributing the ball, but is the Manchester City favourite able to stop his friend and club-mate Kevin De Bruyne?
Belgium
Will Roberto Martinez miss Radja Nainggolan?
Arguably the most sensational and controversial decision by any coach ahead of the World Cup was Roberto Martinez's call to leave Radja Nainggolan out of his squad. The dynamic and versatile box-to-box midfielder, who has recently moved from Roma to Inter, is one of the best in the world in his position and specialises in closing space, tackling and distributing possession.
Belgium managed to beat Panama, Tunisia and Japan without him, but the last-16 fixture showed vulnerability in central midfield – the Red Devils were nearly knocked out by opponents who found a lot of space to explore. Brazil naturally have much more quality than Japan, and the main question remains whether Belgium can survive against a really top team without their Ninja.
Sweden
Can Emil Forsberg finally find his form?
The most remarkable aspect of Sweden's success is that their only top-class star has been in poor form throughout the tournament. RB Leipzig's Forsberg was the Bundesliga's top assist provider in 2016/17 with an incredible 20 – and Liverpool were keen on signing him – but last season was much more disappointing following injury.
'Mini-Foppa', as he is known, hasn't provided any breathtaking moments in Russia either but – contrary to Zlatan Ibrahimovic – he is a hard worker and contributes a lot to the team even in his current state. But could that change? Could Forsberg find inspiration from the deflected winner he scored against Switzerland in the last 16 to turn on the magic now? Sweden could well need it to overcome England.
England
Can England score against Sweden from open play?
Of the Three Lions' nine goals, three have been penalties, while four more were scored from dead-ball situations. That's impressive, but now Gareth Southgate's team face opponents who are extremely good in the air and are unlikely to commit needless fouls in the penalty area like Colombia's Carlos Sanchez.
Sweden's pair of centre-backs, Andreas Granqvist and Victor Lindelof, are enjoying a superb tournament, and the Scandinavians managed to keep clean sheets against South Korea, Mexico and Switzerland. They made life extremely difficult for Germany too: eventually, Toni Kroos scored a terrific winner from a free-kick, but England would have a better chance to find the net if they're imaginative and unpredictable from open play.
That hasn't really been evident in their games so far, but Raheem Sterling is capable of improving his form. He could bring the magic that England need.
NOW READ Ranked! Every England player based on their displays at the 2018 World Cup
Russia
Is another ultra-defensive performance necessary?
Russia barely attempt to play attacking football in the last-16 fixture against Spain, letting the opponents have all the possession (indeed, centre-back Vladimir Granat didn't even complete a pass). Eventually that worked, but only because the favourites were foolish enough to aimlessly pass the ball in midfield.
Croatia are a different type of a team – they're much more direct and use the wings more effectively. Giving the ball to them all the time would be extremely dangerous, so Russia should try to take the initiative themselves. It's unknown, though, whether coach Stanislav Cherchesov will take a risk and field a more adventurous line-up by including Denis Cheryshev, like he did against Egypt. The hosts have exceeded expectations already. Now it's time to entertain a bit too.
Croatia
Is a defensive midfielder needed?
With Russia expected to defend deep, Croatia coach Zlatko Dalic must ask himself whether a holding midfielder is really necessary in his line-up. The Croats could push Luka Modric back into central midfield alongside Ivan Rakitic, and add an offensive player like Andrej Kramaric to the mix.
That was the plan against Nigeria in the opening fixture, and it worked. Croatia were more cautious later on against Argentina and Denmark, but a switch back to a more offensive strategy could be a good idea when facing the hosts.
Quizzes, features and footballing fun
Get the best features, fun and footballing frolics straight to your inbox every week.
Thank you for signing up to Four Four Two. You will receive a verification email shortly.
There was a problem. Please refresh the page and try again.