Introducing Liverpool's free-scoring Swiss opponents who (probably) inspired Barcelona
Matthew Walthert chats to new boss Paulo Sousa ahead of Basel's Champions League visit of Liverpool on Wednesday...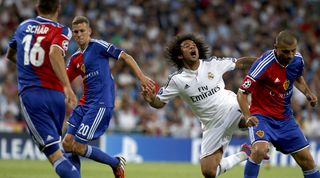 Who are they?
FC Basel were embarrassed 5-1 by Real Madrid in their Group B opener two weeks ago, but Liverpool will not be taking their Swiss opponents lightly.
In last year's Champions League group stage, the Rotblau demonstrated their ability to keep pace with a top-flight Premier League side, beating Chelsea at Stamford Bridge and then also winning the return fixture.
Basel have won five straight Swiss league championships, and nine of the last 13. This season they welcomed a new coach, Paulo Sousa, with the Portuguese boss fresh off an Israeli league title with Maccabi Tel Aviv (while British fans may recognise him from short stints at QPR, Swansea and Leicester).
So far he has picked up where his predecessor Murat Yakin left off – Basel have seven victories and one draw from their first 10 league games and are top of the table by two points over rivals FC Zurich.
"It is important that our work is a process of evolution not revolution," Sousa (not Alan Partridge) tells FFT, when asked what changes he is making. "The club has been very successful in recent years under Murat Yakin, and I want to build on that success while implementing my own style of play and my own methods.
"I believe in playing football the correct way, with good quality passing and intensity. I always try to build a team in my own image. Here at Basel we already have a good team, but we can always improve."
Strengths
Basel have been playing at a high level for a long time, and there is no substitute for experience in pressure-packed games against high-level competition.
They have plenty of that on the European stage, losing in the semi and quarter-finals of the Europa League in the last two years, and the round of 16 in the Champions League the year before.
Although they lost some key offensive pieces this year, including midfielder Valentin Stocker, the leading scorer from last season, and winger Mohamed Salah, who scored in both of the Chelsea wins, goals have not been an issue under Sousa.
Striker Marco Streller already has five goals, and Basel have scored 23 times in their 10 league games. The transfer of Albanian midfielder Shkëlzen Gashi from Grasshoppers has also helped – he led the league with 19 goals in 2013/14 and has four for Basel so far this year.
"We have great character in the team and it is clear that my players have a lot of heart and passion, which is important in all matches we face," says Sousa. "In the Swiss league and cup games we are expected to win, but in the Champions League we are often the underdogs, so their character and spirit is essential to our success."

Weaknesses
You don't win five straight championships in any league with a bunch of weak spots. But while the Swiss league is good, it is not at the calibre of the top division in England, Germany or Spain. Man for man, Basel don't have the talent of the the best clubs in Europe, as proven by their performance at the Bernabéu a fortnight ago.
In particular, Basel are slightly suspect defensively. Yann Sommer, the first-choice keeper since 2011, joined Borussia Mönchengladbach of the Bundesliga in the summer. He has been replaced by Czech Republic international Tomáš Vaclík.
Meanwhile, Walter Samuel transferred from Inter Milan over the summer and provides good experience to the backline, but he turns 37 next March. The other two defensive starters from the Madrid fiasco, Fabian Schär and Marek Suchý, are solid players as well, but there is no sugarcoating a game where you concede five times.
And that big loss is becoming a disturbing annual tradition for Basel in Europe. Last season they were eliminated from the Europa League with a 5-0 loss to Valencia in the second leg of a tie they took a 3-0 lead in. In the 2011/12 Champions League, it was a 7-0 defeat to Bayern Munich after Basel took the first leg 1-0.
The gameplan
Sousa favours the 3-4-2-1 formation seen against Real Madrid. Recently, the coach explained to Basler Zeitung that he prefers not to use two strikers because there may not be room for both of them to attack effectively.
Instead he uses one striker, usually Streller, with two wingers who have the freedom to attack when they see an opening. Paraguay international Derlis González provided a perfect demonstration of the tactic in scoring Basel's only goal against Real Madrid.
The Swiss side also have offensive skill in their backline. Centre-back Schär has scored 15 times in 84 appearances in all competitions for Basel since he joined the club in 2012, and the 22-year-old is deadly with the long ball, possessing superb vision and accuracy.

Key player
Streller wears the captain's armband and is the key to the Basel attack. He has a strong supporting cast, but Streller must perform well for his team to have a chance against opponents like Madrid and Liverpool.
Last year he scored just once in six Champions League games, and Basel will need more production from him if they are going to upset one of the group favourites and make it through to the knockout phase this year.
A Basel native, Streller has the height – 6ft 5in – to get to most balls. He is also a deft passer, distributing the ball well to allow some of Basel's other scorers to find the net.
Famous for…
Do Basel's red and blue jerseys remind you of any other European teams? Barcelona? Hans Gamper, a former Basel player, was a founding member of FC Barcelona in 1899. While there is no documented evidence that he chose Barca's colours to match Basel, the resemblance and circumstances seem too strong to be just a coincidence. Manual Tomas, a historian for the Spanish club, even admitted to news site swissinfo: "There are many theories about the Barcelona colours but that of Gamper appears to be the most credible."

Club legend
In their 121 years of existence, Basel have had their share of storied players. Josef Hügi scored 244 goals from 1948-62. René Bader coached and played on their first league championship team in 1953.
Recently retired Swiss national team manager Ottmar Hitzeld scored 66 goals for Basel between 1971-75, winning two league titles. And more recently, Alex Frei ended his career with four straight championships at Basel, scoring 72 times in those four seasons.
If you want a real legend, though, only Massimo Ceccaroni will do. He was born in Basel, played 10 years for their junior teams and then 15 seasons with the senior side, from 1987 to 2002.
The defender played nearly 400 times for Basel in the Swiss league and he never scored. Never. Then-manager Christian Gross even let him take a spot-kick in 2000... which was duly saved. Of course, after Ceccaroni's career ended, the team retired his number.
Basel vs Liverpool LIVE ANALYSIS with Stats Zone
Quizzes, features and footballing fun
Get the best features, fun and footballing frolics straight to your inbox every week.
Thank you for signing up to Four Four Two. You will receive a verification email shortly.
There was a problem. Please refresh the page and try again.