Islands, gardens and power stations: 8 stadiums that never were
By Ryan Herman published
They are monuments to what might have been – the stadiums that failed to get beyond an architect's vision or a glossy promotional video. Ryan Herman rounds up some of the futuristic, controversial and outlandish venues which never saw a kick-off...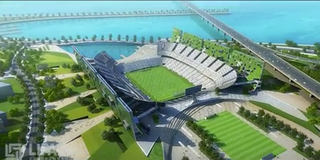 1. The King's Waterfront Stadium
For all the old-fashioned grandeur of Goodison, Evertonians had every right to be excited when the club unveiled plans to move to King's Dock back in 2000. At around 55,000 seats, it would have given them a stadium with a significantly larger capacity than either Goodison or Anfield, in a fantastic location near to the city centre.
The retractable roof and movable pitch would allow the stadium to stage other live events, including concerts, to keep the revenue streams nicely diverse. And the development would also feature 650 new apartments – cashing in nicely on the property boom.
Unusually for such plans, King's Dock had the backing of local government and private investors. All the club needed to do was raise £30m. Chairman Bill Kenwright famously said that "the money is ring-fenced" – words that would come back to haunt him when Everton (opens in new tab) failed to find the necessary funding: by 2003 the King's Dock project was shelved.
Live events are now staged at the same location in the Echo Arena and King's Dock is, to use estate-agent parlance, "One of the most sought-after locations in the city".
2. The Garden Stadium
This Titchmarsh-titillating 2009 proposal was intended to be the last word in sustainable stadia and the new home for Chinese Super League team Dalian Shide. The concept was a bowl-shaped stadium with garden walls at either side, to reduce energy use and greenhouse gases.
With plants on the outside and LED displays on the inside, those garden walls wouldn't just be for show – they were to contain vital structures like roof supports, toilets, concessions stands and VIP suites.
The main concourse would be open to the field of play – the idea being that you wouldn't miss the action even if you weren't in your seat, although that might have raised questions about the effect on the atmosphere (the crowd rather than the planet).
However, a far bigger problem arose in 2012 when Dalian Shide was bought out to by Aerbin Group – a privately owned construction company. The club was dissolved and the new team now plays in a 60,000-capacity multi-purpose venue under the name of Dalian Aerbin.
3. The Dockland Stadium
A hark back to a very different time, 2007, when money appeared to be no object – especially at Portsmouth (opens in new tab). This stunning 36,000-capacity venue was designed by Swiss architects Herzog & De Meuron – the people who brought you Bayern Munich's Allianz Arena and the Bird's Nest in Beijing, and intend to revamp Stamford Bridge.
It prompted Pompey chief executive Peter Storrie to proclaim that the development was "proof of where we want Pompey to be – playing at the highest level and in a stadium that is reflective of a top Premiership side".
However, the council listed 40 concerns with the idea, while building a stadium close to a naval shipyard raised security concerns. The plan was rejected after the Royal Navy stated its intention to locate to super aircraft carriers nearby. Storrie's response? "The club is delighted that the Royal Navy here in Portsmouth is to be the home for the new carriers and destroyers."
Even if planning permission had been secured, the finances were highly suspect. The projected cost of the Dockland Stadium – announced the year before a global financial crisis partly caused by overlending on a speculative construction industry – was £600m, intended to be mainly funded by 1,500 luxury apartments on the site and development at the old Fratton Park. Given Pompey's subsequent financial meltdown, perhaps it's a good thing the project failed.
4. Nou Mestalla
Most of the grand plans in this feature fell through before spade struck soil. Not the Nou Mestalla. It was meant to be another symbol of a city whose global status was on the rise: Valencia had become home to an F1 Grand Prix and the futuristic regeneration landmarks of the City of Arts and Science were lauded as among the great feats of modern architecture.
Meanwhile, Valencia (opens in new tab) were rapidly becoming a major force in Spanish and European football: between 1999 and 2004, they won two La Liga titles, a UEFA Cup, a Copa del Rey and a UEFA Super Cup, also reaching successive Champions League finals in 2000 and 2001.
So in 2007 they set about building a new 75,000-capacity stadium with a futuristic exterior, made of glass and titanium with 22,500 aluminium segments. This outer façade would also act as a ventilation system.
However, Valencia's results turned for the worse – on the field, but more notably on the balance sheet. In 2009, with the global financial crisis badly affecting lenders' confidence, the club was haemorrhaging money and work on the new stadium ground to a halt – its stands a mere concrete skeleton.
With the debt said to be around half a billion Euros, Singaporean businessman Peter Lim's takeover in summer 2014 has given the club hope – but work has not restarted on the Nou Mestalla. The current building site is another symbol of a city whose spending got out of control. It no longer stages an F1 race, while in 2013 the City of Arts and Science began to literally fall apart.
5. The Blue Volcano
Officially known as the Stadion Kajzerica, this 2008 project – intended to home both Croatia and Dinamo Zagreb – earned its nickname because its cone-like blue exterior was to be topped by a white 'cloud' suspended above the stadium. That cloud would be covered in photovoltaic solar panels to generate power for the stadium, as the focal point of a groundbreaking eco-friendly venue.
Architect Hrvoje Nijiric claimed it would be the cheapest new stadium in that part of Europe, but the proposal needed the approval of a public referendum. That vote was repeatedly postponed and finally, in 2012, cancelled. Instead, Croatia and Dinamo continue to play at the rather dull and functional Stadion Maksimir. Final score: Blue Cloud 0, Red Tape 1.
6. The Kohlerdome
To fans of a certain vintage, few words so effectively conjure up boardroom hubris as "Kohlerdome". David Kohler took joint ownership of Luton Town in May 1990, when the club had just completed its eighth successive top-flight season. Two summers later, relegation cost the club a slot in the new Premier League and they started to sell their best players, to vocal condemnation from the terraces.
Kohler sought a buyer for the club but the former property developer realised that leaving Kenilworth Road for a new stadium by the M1 might be a lucrative move. In October 1994, enthused by the USA World Cup, Kohler proudly unveiled plans for a £30m "Kohlerdome", with 20,000 seats, retractable roof and a pitch that could be installed or removed using hovercraft technology.
By 1996 Luton had outline planning consent – but the club dropped into the third tier. And two years later tiers became tears as Kohler cried on local radio when the Department of the Environment finally rejected the plans. Rumour had it that the plans were rejected by a government mandarin angry at Luton's five-year ban on away fans – a restriction Kohler had overturned soon after coming to power.
In 1999, having been sent a petrol bomb and a box of matches, he finally sold out; two years later Luton dropped into the fourth tier, and would later dip into non-league. Sixty years after then-chairman Percy Mitchell first mooted the idea of a move, they're still looking to relocate.
7. Stadium in the Sea
Back in 2007, having decided to redesign Camp Nou, Barcelona (opens in new tab) commissioned Baron (Norman) Foster of Thames Bank – the architect behind New Wembley, The Gherkin and, erm, the Stansted Airport terminal building.
Foster cited Gaudí but got gaudy, with a "second skin" of multicoloured mosaic. Critics said it failed to tackle the issue of access and 'only' raised the capacity from 98,000 to 105,000 at a cost of €250m.
In response to this, in 2009 a Catalan architect called Emili Vidal had a brainstorm: why not build a 150,000-seat stadium on artificial island off the coast of Barcelona, accessible via a footbridge?
You may have your own answers to Vidal's question. The club certainly remained unconvinced, and in February 2014 the club's socios approved a €600m plan to renovate and roof the existing stadium by 2021.
8. Battersea Power Station
Since its closure in 1983, nobody has known quite what to do with Battersea Power Station – or rather, several parties have had unfulfilled ideas: theme park, shopping mall, apartments, biomass power station, urban park. In 2012, with the owners in administration, the site was put up for open sale – and Chelsea (opens in new tab) threw their ushanka into the ring.
Although the Blues were not the preferred bidder and their bid lost out, the club released imagery produced by architects Kohn Pedersen Fox showing how their plans for a 60,000-seat stadium would incorporate the power station's beloved brick-cathedral exterior, overseen by Sir Giles Gilbert Scott (who also designed the classic red telephone box), "in a sensitive, unique and powerful way".
Locating a stand (but not the pitch) within the footprint of the station, the stadium would consist of four discrete sides rather than the usual bowl – with one end being a 15,000-seat single-tier stand, a Dortmund (opens in new tab)-inspired style later incorporated into Tottenham (opens in new tab)'s redevelopment.
The cost of the project was estimated to be in excess of £1bn but this, in principle, would have been funded by the sale at Stamford Bridge – and that's where Chelsea's plans to find a new home became complicated.
The Stamford Bridge freehold belongs to the Chelsea Pitch Owners – a fans' group set up in 1993 to safeguard against any club owner selling the land. The shareholders would prefer the club to stay at their current home and they are likely to get their wish, with a fascinatingly redeveloped Stamford Bridge currently earmarked to be open by 2020.
#FFT100STADIUMS The 100 Best Stadiums in the World: list and features here
Thank you for reading 5 articles this month* Join now for unlimited access
Enjoy your first month for just £1 / $1 / €1
*Read 5 free articles per month without a subscription
Join now for unlimited access
Try first month for just £1 / $1 / €1