Ivanovic: Why I call Jose 'The Perfect One' and don't care about being 'underrated'
By Vladimir Novak published
The versatile Chelsea defender tells Vladimir Novak about Suarez, England's underachieving youth system and why he calls Mourinho "The Perfect One"...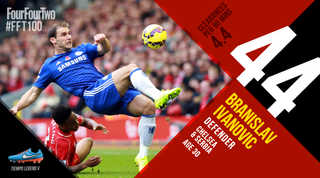 What has been your personal football highlight of 2014?
To be honest, I can't think of any particular highlight. It was a long year, with many many games; we didn't win any trophies, but I think it was a successful year with lots of positive results and with reaching the Champions League semi-finals.
When I think about highlights, I always like to think in terms of the achievements at team level, not about one particular player. Still, if I have to pick some great moments, it was my goal last spring away against Manchester City [a left-foot shot from outside the box] and winning against Liverpool when they were fighting for the title.
What about the worst moment of 2014 in football for you personally?
It was surely that night with the national team, the abandoned game against Albania. It's very difficult, actually impossible, to cope with such non-football things. You as a player cannot have any influence on it. We just wanted to play, but in the end we were powerless after the incidents that happened. It was not only the worst moment for me this year, but maybe the worst in my whole career.
Who do you think has been the best player in the world in 2014?
I always like to give advantage to the players who have won some big trophies in that year. So my vote would go to Cristiano Ronaldo, who with Real Madrid won the Champions League and also to a player from Germany who won the World Cup, like for example Bastian Schweinsteiger. My personal favourite always was and still is Lionel Messi, but he didn't win any trophies this year.
Who do you think has been the best player in the Premier League in 2014?
It's the same also with the Premier League. It would have to be a player from Manchester City who took the title: Yaya Toure, David Silva or Sergio Aguero. The best player last season was Luis Suarez, but he didn't win a title with Liverpool.
Cesc Fabregas has described Eden Hazard as Chelsea's Messi. How close do you think he is to that level?
Hazard is a quality player and he has the qualities to play even better. It's hard to say how close he is to Messi, when we know about all the records of Messi, but for us at Chelsea he is like Messi for Barcelona.
How important has the arrival of your countryman Nemanja Matic been to Chelsea? How close are the two of you off the pitch?
Nemanja is first of all a phenomenal player. We are very good friends, we and our families spend time together often, and we will surely stay friends after the end of our careers. His arrival meant a lot to me, to him and to Chelsea. He came at the right time to the right place. He is one of the leaders of our play and he means a lot to us.
Have Fabregas and Diego Costa been even better than you expected? What have they brought that was missing before?
I knew that they were top players, so I can't say that they have been better than I expected. They proved their class. They were key signings – with them, things clicked and the puzzle came together. Cesc with his pace, aggression and experience from Champions League, and Diego with his coolness in front of goal and his efficiency – they immediately made an impact.
Right-back or centre-back – which is your best position?
[Laughs] I have been asked this question so many times and I've always avoided giving a straight answer. Honestly, I like to play in both positions and I believe I have proved that I can play well in both positions. Now, it's already been quite a while since I played centre-back, but I don't withdraw from the centre-back position. I think that when I get older it will be more natural to play centre-back. But for the time being I'm super happy to play right-back.
It feels like more naturalised centre-backs play as full-backs now. What's changed?
I think that more and more coaches have realised that with a stronger defence they can achieve better results. The reasoning is that a defence with three or even four centre-backs is considered more solid than a defence with two centre-backs and two classic full-backs who play offensively.
What do you work on most in training as a full-back? What have you learned most from playing in the position?
Well, I have played full-back before too, so I didn't have to learn anything special. Obviously, a very important factor in training is the physical preparation, as you have to do much more running in comparison to playing as centre-back. Naturally, I also try to hone my skills for crosses.
How come you manage to score so many goals from a position where traditionally not many players do? Have you always done so?
Yes, I've always scored goals. I believe it's due to the fact that as a youngster I played in attack and that I apparently possess a natural instinct. In any case it's a good feeling to score goals. It's good for your self-confidence.
Despite being one of the most consistent defenders in the Premier League, you've only been named in the PFA Team of the Year once. Do you think playing in two positions means you're a little underrated?
Maybe that's the case, but that doesn't bother me. I really don't think about it. For me the biggest rewards in football are winning trophies. Individual prizes, without false modesty, are also a nice thing and I was glad when I was named in the PFA Team of the Year, but it's not a priority and I don't mind if I'm not picked.
What is Jose Mourinho like as a manager? Is he very serious all the time, or does he joke when the time is right? Any examples?
I can't think of any specific examples, but he does like to make jokes – not seldom, but very often. They call him The Special One, but I like to refer to him as The Perfect One. His results speak for him. I think that he is the most intelligent coach: he knows what he wants. He knows when to tighten up and when to loosen up. He knows what to demand from the team and from an individual player, and he knows how to deal with stress situations and to relax the atmosphere. It's a pleasure and a privilege to work with him.
Who are the jokers in the Chelsea camp?
The best was definitely David Luiz. He had such charisma and such power to imitate people and to make fun of others and himself. At this point, I think that Diego Costa has the material to be his successor. He's still new, maybe he is not yet fully relaxed, but I guess that he could be the next big joker.
You've already been in London for seven years. What's your favourite thing about living there? Is there anything that took you by surprise?
There were no special surprises. I like London very much indeed – it's definitely the best big city in Europe. There are so many various opportunities to enjoy culture, history, entertainment, so many excellent restaurants; it's a total mix and I'm really happy here. Unfortunately, I'm too busy – I have little free time to enjoy it more.
Why does Serbia produce so many technically good young players? Is there anything in particular about the culture or coaching? How is it different to England in that respect, from your experience?
My honest opinion is that in Serbia the dedication to youth work is much better than in England, although in England the financial resources and the infrastructure are on a much higher level.
We always have talented young players, and in spite of the fact that there are flaws in our clubs and that the work is not always systematic, we've always had successful results in youth football.
What are your targets for 2015? Would you rather win another Premier League title, or win the Champions League?
At this point we are in a good position in both competitions, but we are still a long way from winning them. The Champions League is a particular kind of competition: in the knockout stage a lot can depend on luck and freshness. I wouldn't like to select which one to win, but I definitely would like a season with trophies.
Did scoring the last-minute winner in the 2013 Europa League Final go any way to making up for being banned in Munich in 2012?
No, it did not. The Champions League is the Champions League and I would always swap the winning goal in Amsterdam for being on the pitch in Munich, no matter if I was part of the team that won the Champions League. I was glad that we won the Europa League, but they are two different competitions.
Thank you for reading 5 articles this month* Join now for unlimited access
Enjoy your first month for just £1 / $1 / €1
*Read 5 free articles per month without a subscription
Join now for unlimited access
Try first month for just £1 / $1 / €1
Quizzes, features and footballing fun
Get the best features, fun and footballing frolics straight to your inbox every week.
Thank you for signing up to Four Four Two. You will receive a verification email shortly.
There was a problem. Please refresh the page and try again.