Joe Hart's West Ham medical consists almost entirely of stooping to pick ball out of net
The England goalkeeper impressed West Ham staff with his futile acts of frustration, Back of the Net reports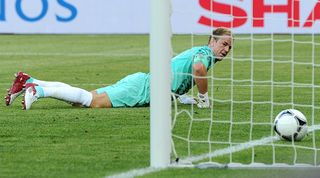 The vast majority of Joe Hart's West Ham medical was focused on the goalkeeper's ability to pick a ball out of the lower reaches of the net and to flail his arms angrily at imaginary defenders, sources inside the club have revealed.
Hart is set to complete a loan move to the Hammers after spending a season at Italian club Torino, where he wowed Serie A spectators with his graceful gestures of exasperation and smooth scooping motion to retrieve balls from his goal net.
But ahead of the touted transfer to east London, West Ham staff put Hart through his paces, repeatedly asking the custodian to locate the ball in the goal and boot it towards the halfway line while yelling impotent curses at fictional team-mates.
"Joe has incredibly well-developed upper quadriceps and thigh muscles that appear to have been built up from squatting to retrieve a ball from the net," a West Ham medic told FourFourTwo.
"He seemed comfortable with picking a ball out of any region of the net, even several times in quick succession, while his tortured torrent of expletives was one of the loudest and most cohesive we've ever seen here.
"When it comes to gesticulating wildly at defensive mishaps, Joe was again a powerhouse and he didn't seem to tire in the least when we got him to lay the blame for an imaginary goal on as many as six imaginary team-mates.
"Our only concern was that he seems to have suffered severe muscle wastage in the specific muscles used to applaud a cheering crowd or shrug off the congratulatory hair ruffles of a team-mate, but we don't envisage that being much of a problem here."
Back of the Net
However, just as the deal seemed done, Hart caused concern for the medical team when he strained his jaw muscle by attempting a proud smile without adequate warm-up.
"You could see that Joe was in pain," an insider told FourFourTwo.
"He was trying to impress us with a wide, toothy grin. He managed to get to a menacing scowl fairly fluidly, but then he awkwardly hyper-extended past a guarded glower and locked his jaw completely."
Fortunately, the injury is unlikely to jeopardise Hart's transfer as no West Ham player has had cause to smile since 1980.
Please note: This satirical news story is not real. Like, clearly.
Quizzes, features and footballing fun
Get the best features, fun and footballing frolics straight to your inbox every week.
Thank you for signing up to Four Four Two. You will receive a verification email shortly.
There was a problem. Please refresh the page and try again.