John Fashanu: One-on-One
"I came down to Millwall with Lincoln City once and bashed the hell out of their defence...then I signed for them."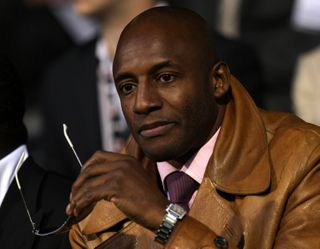 Were you party to any madness in your time at Millwall (1984-86)?
Matthew Payne, Cinderford
I came down to Millwall with Lincoln City once and bashed the hell out of their defence, so after the match I had to get a police escort to take me from the changing rooms to the coach. The Millwall fans were shouting, "Nigger, black bastard, we'll kill you", and throwing cups of urine at me. I remember seeing the hate and the venom in their faces as we drove off. Then I signed for them shortly afterwards and the fans loved me. I think they respected me because I played football the way some of them lived their lives. It was the Millwall fans who christened me 'Fash The Bash'.
How did you feel when you fell off that wall during an interview on Grandstand?
Supa John's Bigtoe, via e-mail
Even now I've got a chipped bone in my elbow. I used to think it was from elbowing people, but I realised I did it falling off that wall. On my left and right I could see the wall, but what I didn't know was that five bricks were missing behind me, so when I stepped back there was no wall to put my foot on so I got my leg trapped and over I went. It was a long way down, but I went into a roll so the only thing I really bruised was my ego. At the time it wasn't very funny, because I was shocked and embarrassed. There I was, Wimbledon hard man, on the floor. But in retrospect it was very funny because it was spontaneous. It brought me down to earth. They've shown it a million times on TV, but I never got bored of seeing it.
Did you really kick the crap out of Lawrie Sanchez in a training ground incident?
Djh68, via e-mail
I don't like Sanch and he doesn't like me. Hate is a strong word, but we tend to disagree. Anyway, Sanch and I had a disagreement in training. I told the boys, "I'm taking training this morning – everybody start jogging." Sanch saw it in his wisdom not to comply and when I pointed my finger at him he went to slap me. Mistake, Sanch. So I said, "Listen, this has been going on too long. We're two men, let's sort it out, let's take a walk. Lads, you carry on jogging." So we walked, and for Sanch this was the walk of death because we were walking round the back of the bushes and I was gonna pummel him. I was thinking, what style should I use on him? Sanch was thinking, am I gonna get battered? Or maybe he was thinking, I'm gonna batter Fash. It was like something out of a film: two people who don't like each other, and now they're going to fight. Anyway, Sanch gave me a shot and, give him credit, it wasn't a bad shot. But I thought, don't hit Sanch, don't mark his face, and my mind went back to when Muhammed Ali fought against the martial artist in New York, and the martial artist just kicked the back of his legs until it broke the tissues in his calves and he submitted. So I thought I'd teach Sanch a lesson and gave a sweep of the legs, but Sanch has calves like most people have thighs and he didn't move. So I gave him another couple, but Sanch came back at me. So I thought, I'm gonna take this guy out, and I hit him with one of the best shots I'd been training with – BAM! Take that, Sanch! – right in the solar plexus, a shot that would supposedly knock a horse down. And still he stood there. Then Terry Burton came over to break us up.
Why did things not work out for you at Aston Villa?
Alex Rickus, London
When I started playing football, I believed it would never end. And one day I woke up, I sat on the edge of my bed and I thought, I don't want to do this anymore, I've had enough. Two weeks later, we were playing Manchester United at Old Trafford. I remember it very clearly. It was a corner and Paul Ince was marking me. I thought, why the hell is Incey marking? What an insult. So I said to the big man, "Pallister, get yourself over here and mark me, son." But Incey's still pushing me and this time he grabs my shirt and my chest, and for the first time it actually hurts, so I knock Incey's hand off and he knocks me back. As the ball comes across, Incey goes up and catches me with his elbow. And I think, Jesus, that hurt – I'm getting older, these boys are starting to hurt me. Then I had a flashback to when I was playing for Millwall against Southampton at The Dell. I did the same thing to Joe Jordan that Incey did to me because I knew I would carve a reputation for myself. The ball came in and I went WALLOP! BOSH! I headed the ball and Joe ended up on the floor. That's how I got my reputation. After that, I only had to blow on a player and he'd be scared. This was the same situation in reverse and I'm thinking, I don't fancy this much. Anyway, just after that, the ball bounced away from a corner and Incey gave Dwight Yorke eight studs down his shin. So I went over to give Incey some to deal with him and he just pushed me away. The referee says "drop ball" and it's me and Incey. So we went in – BOOM! – and the ball ricochets up the pitch. As I'm running after it, I see little Giggsy coming. I think, okay, Giggsy, I'm gonna put you in row 15. You boys aren't scared anymore, huh? Let's see. But as I went running in to tackle, Giggsy put his foot up to protect himself and it hit my knee and snapped the ligaments. I remember Giggsy's face – he didn't look hurt, just shocked. He couldn't believe he was still alive! And I remember Incey coming over from about 50 yards away saying, "I'm gonna do ya, Fash" and then seeing my face. Then he said, "Fash is not playing," because I never used to go down. "Go and see the physio." And that was that.
Who was the sexiest Gladiator?
Hairypie, via e-mail
Lightning or Vogue. When I reminisce about old times, I think, how the bloody hell did I get that job for seven years? What a job! These were the most beautiful women, basically doing gymnastics – absolutely fantastic! They were so sexy and so nice, and Ulrika wasn't bad either.
Did you put in any 'special overtime' with Ulrika?
Toonfish, via e-mail
Ully's a great girl. I just wish she'd find Mr Right. She's looking for a nice, genuine man who can look after her. I'll put my hand up: I was the bastard who introduced her to Stan Collymore. I was going out of town, so I rang up Yorkie, Ugo and Bozzie and said, "Listen guys, there's a big Gladiators party and the girls want some good-looking guys to go down and have a good time." Of course, they took big Stan along and the rest is history.
What was your relationship really like with your late brother, Justin?
Jenny Shaw, via e-mail
I had a great relationship with my brother. It would be lovely if we could turn the clock back, but we can't, and what happened happened. If you believe there is a God, we should celebrate, because he's going to heaven before us and heaven is a better place, so I've no remorse. I'm sad, because he was my brother and I miss him, but I'm happy, because he's in heaven. The reasons were a bit obscure – the wrong reasons – but he's there before me and I hope he's saved me a place. In life, you don't choose your family and we were different. Justin had instant success. By the age of 17, he was the first black million-pound footballer. That's a lot of stress. I remember being in a penthouse in Norwich when all of these managers were calling, promising to make him a millionaire. I was the sucker taking all the calls, while he was hiding in the cupboard. The advantage I had was I watched and listened to everything that was going on; he didn't. Not that Justin was reckless – just very impulsive, very spontaneous, so our thinking was very different.
What affect did being implicated in a match-fixing scandal have on your life?
Mad Mick, via e-mail
Every footballer has a period where they think they're untouchable. Your face becomes a passport and I think it was a lesson. It showed me how many people have been convicted of crimes they haven't committed. I understand that even more now when I visit prisons up and down the country, doing talks. One minute you're walking down the street, the next you're in prison. It's the same with these matrimonial cases. You've been married to your wife for 10 years, you come home and find her in bed with another guy. You've lost it completely and picked up a mallet, gone to swing it, unfortunately hit the wife and, next thing you know, you're in prison. It's strengthened me a lot and made me appreciate life, but it damaged my bank balance - £1m in legal fees. But it wasn't about money, it was about being able to get on with your life, knowing you've been through the mill and come out clean.
Your view on Wimbledon's move to Milton Keynes?
Matt Sandy, via e-mail
If you cut me in the middle, you'll see Wimbledon FC tattooed there. Nobody wants to move. Why should Wimbledon be in Milton Keynes, for heaven's sake? At the same time, I don't want Wimbledon to die and they just can't sustain what they're doing at Selhurst Park on crowds of two or three thousand a week. Financially, it's a nightmare. Charles Koppel's not an enemy of Wimbledon, he's actually a very nice guy. His dream was to build a new stadium in Wimbledon, but they've tried and they can't do that, so he said, "Okay, I want to keep Wimbledon going. I don't want to go into administration." He knows it's going to be hard to regenerate a football club in a new area, he knows it's going to be unpopular, but the positives outweigh the negatives. Okay, he's going to lose 2,000 fans, but he'll gain 6,000 just from the surrounding area. It's nobody's fault that this has happened, but people are thinking with their hearts. Somebody needs to think with their head. But I applaud what AFC Wimbledon have done and I hope they can sustain the crowds they've started off with. Tell them I'll come down and have a game for them.
Is it true that a trip with the Nigeria national team in 1985 put you off playing for them and made you choose England instead?
Gary Miles, via e-mail
It wasn't that it put me off, but the football was different. Wimbledon were blatantly playing kick and rush. All of a sudden, out in Africa, they were giving me the football at my feet. My game was all about aggression, the British Bulldog. When I got to Africa, all of a sudden people were doing skills I'd never even seen. I thought, why should I go to Nigeria and try to play in a way I've never played before?
Thank you for reading 5 articles this month* Join now for unlimited access
Enjoy your first month for just £1 / $1 / €1
*Read 5 free articles per month without a subscription
Join now for unlimited access
Try first month for just £1 / $1 / €1
Get FourFourTwo Newsletter
The best features, fun and footballing quizzes, straight to your inbox every week.
Gary Parkinson is a freelance writer, editor, trainer, muso, singer, actor and coach. He spent 14 years at FourFourTwo as the Global Digital Editor and continues to regularly contribute to the magazine and website, including major features on Euro 96, Subbuteo, Robert Maxwell and the inside story of Liverpool's 1990 title win. He is also a Bolton Wanderers fan.