Jurgen Klopp: What it's really like working for him by those who've done it
Glenn Price speaks to a pair of former players and an ex-backroom staffer to get the lowdown on Liverpool's new head honcho...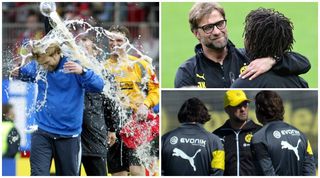 "As we say in Germany, you could steal apples and horses with him."
So says former Borussia Dortmund defender Patrick Owomoyela on his old manager Jurgen Klopp. Loosely translated in English, the expression means one could go for a pint or two with someone and have a jolly good time.
Liverpool players might not be sharing jars with their new man in the dugout, but they can certainly expect an affable figure to work under when the 48-year-old is officially confirmed as Brendan Rodgers' successor on Friday morning.
"It was more like being around a friend who would teach you something and tell you something you might want to know," Owomoyela – who played for Dortmund from 2008-13, and joined in Klopp's first summer at the Westfalenstadion – tells FFT.
"It was a different atmosphere. I've had some coaches before who didn't talk much or didn't like to talk individually. He's totally different, he has a nice approach to the team. He would talk to everyone, whenever they needed it or wanted it. He has an open ear for everybody and their problems.
"We would be sitting outside the training camp just talking about private stuff, and then it would be 10 o'clock when we would go on the pitch and it would be different. He was the coach then. He could turn it on and off but he wasn't two-faced."
Run!
Defender Tim Hoogland, who Klopp signed for Mainz back in 2007, remembers the fundamental rule of working for Klopp.
"You have to run. That's it," he says. "I think this is one of the important things you have to know about him. The whole team has to run 120 km (74.5 miles) collectively every game. 120km minimum [laughs]."
It was the same target Klopp set his Borussia Dortmund side when he joined them in the summer of 2008.
"In his first year he said he wouldn't guarantee anything apart from that when we reached 120km per game then it would be much harder for us to lose," recalls Owomoyela, who now works as a football analyst for Sky Germany.
"He actually offered us a day off when we reached that target. He thought that if we reached that then we would win the game. And from then on it became easy because we understood that his plan would work."
Though the German was insistent on his players clocking up kilometres on the pitch, his training sessions relayed the importance of running with purpose. Hoogland, the ex-Fulham stopper now of VfL Bochum in Germany's second tier, says: "Winning the ball is one of the main parts of his training sessions."
Owomoyela concurs. "Every practice was with the ball," the former Germany international recalls. "There would be one day where you would shoot a lot, putting in crosses and such. Then other days you had a mini tournament in the second training session of the day; five vs five. On another day there would be 11 vs 11, so you would use everything that you learnt from the video study so you can put that into a real game.
"There was something different every day of the week. You never just ran through the regular season. Just running was never an option; you had to run with or for the ball.
"He has a good eye for what the team needs too. Over the years it changed a little: if you work together for so long, there's a routine in everything and that flattens out the bumps."
All about us
The manager only looks to control what he can – his football team. A lot of the work that went on in these training sessions concentrated on what Klopp's 11 could do, and not the opposition's.
"I think he looks into his own players," says British former soldier-turned-Borussia Dortmund youth coach Gary Gordon. "Talking to his players, working his players and driving them to their limits.
"He wants to see where the pain starts with each player. Does he have the full trust of them? That's going to be a key point as well. He can get that extra per cent out of a player."
FACT FILE
Full name: Jurgen Norbert Klopp
Date of birth: June 16, 1967
Place of birth: Stuttgart, West Germany
Playing career:Mainz 05 (340 apps, 56 goals)
Managerial career:Mainz 05, 2001-08 (268 matches), Borussia Dortmund, 2008-15 (318 matches)
"Of course we talked about different teams and the way they played but he only gave the match plan on the stuff we could do best against those teams," Owomoyela says. "He always had a new plan but, basically, the first few years were about creating our own plan and philosophy for the club. That was his main focus.
"He's always open for learning. He watches a lot of football and he's interested in other coaches' approaches to the games. He will always add something to his master plan. I think he's adaptable and he will find the right thing for the next team."
Mr. Motivator
Klopp's famed motivational skill is his favoured tool for getting his players to play the effective high-octane football he has become synonymous with. (TV personality Johannes B. Kerner once asked him: "Everybody says you can really fire up people. If I were one of your players, what would you do now to get my adrenaline pumping?" Klopp looked at him, then slapped him in the face.)
As former Fulham defender Hoogland says: "His speeches are really good and they make you want to go out and play. He's one of the best managers I've had for motivation.
"You've seen it in the past when he's standing in the technical area, he can go really crazy. But on the other hand, I think it can give extra motivation. He pushes you to a really, really high level."
Ex-Germany defender Owomoyela, who was capped 11 times, vividly remembers Klopp's famous monologues.
"When it comes to words, he will find the right ones for the situation," he says. "I don't know where he got that, if he reads a lot or whatever, but he creates pictures in your heads when he talks. He will find the right picture to put in your head to make you feel or see what he wants you to understand. Then it's easy for you to believe, understand, and to do it. That's something special.
"He brought the winning mentality back to Dortmund. He gave the whole team hope of doing better than the last year, and he just showed us that if we followed and believed in him then there will be success at the end.
"It didn't take long for him to prove it to us. Even in his first year, the team was doing much better than the year before. From then on it was only forwards. There was progression and it was always in the right direction. We just believed him and followed him."
Doing it for the kids
Klopp received credit during those successful times at Dortmund for blooding local talent – the likes of Marcel Schmelzer and Kevin Grosskreutz came through the club's academy, while Mats Hummels (19) and Ilkay Gundogan (21) arrived from Bayern Munich and Nuremberg respectively at young ages.
Naturally, it's something the German takes great pride in – which could be music to the ears for Liverpool's young hopefuls like Joe Gomez, Jordon Ibe and Jordan Rossiter.
"He likes to make his own stamp and say 'I brought him through from the academy didn't I?'" says Gary Gordon. "That gives the whole club a kick. If you just keep buying, then what does that say to the rest of the youth crews? There's no point in trying because nobody is coming through.
"He wanted fast players – they had to be fast. It wasn't worth picking up anyone who was slow. It doesn't matter how technically gifted they were, he didn't want a slow player.
"He also wanted hungry players, who didn't have to be pushed. He doesn't need stars, he needs hungry players. Stars are going to be difficult to deal with. Young players in their early 20s and taking them to the next level is his thing. That's what he's good at."
"He loves them," Owomoyela agrees. "He will make jokes with them, put them right in the middle, take all the nervousness out and treat them as if they were there from the beginning.
"It was easy for young players to feel welcome and needed, the same way the older players felt. He will find a way to use them in a way they can give their best. But he needs a lot of different players. Of course, he wants youngsters to be prepared. He loves physically strong players who will run a lot, run fast and have an eye for the game.


Handing a younger Mats Hummels a TV gong in 2011
"For him, it's hard to teach somebody the basic plan of football and understanding it. If you can't read the game, you will never make it. That's something you can't really teach. He will find this special something in you and make you even better with it."
Backroom instruction
Liverpool first-team coaches Sean O'Driscoll, Gary McAllister, Glen Driscoll and Chris Davies have already left Melwood, with Klopp expected to bring trusted assistant Zeljko Buvac and analyst Peter Krawietz with him to Anfield. But the new Reds boss isn't interested in pressuring his coaches to satisfy his specific demands.
"His vision was very clear, but relaxed," says Gordon. "I didn't feel like there was attention or anybody told me that I had to go a different direction because it was Jurgen Klopp.
"But you would see what type of players he had, what system he was playing, and you would try it with your own philosophy and build in that direction. He trusted the coaches and their qualities.
"He didn't really tell anybody how or what they should be doing. We didn't have to follow his approach. But we saw that it was working with him, so we thought it would work for us.
"Anything that would be good for the development of players, we would do it. It would be silly not to. In my years of experience working with professional players and with their experiences of coming through the youth ranks, they feel they need that trust.
"I don't think he'll want to change the Liverpool academy setup right away, he'll have enough on his hands with the first team.
"He might have somebody telling him who is coming up through the youth ranks who can be potential professional players, and might invite the odd one or two youth players to training sessions. Some young players may need some more inspiration and that's what he's good at.
"I think he'll bring two or three coaches with him who will be analysing for him and giving him feedback. He'll say 'That's your opinion and I'll make mine', go sit down and make his own decision. If he's there long enough then he's going to get to know how the system is run."
Klopp the rulemaker
While Klopp can be a friend to his players, they know where they stand.
"He can be a really nice guy, but if it doesn't work then he can be really hard," says Hoogland. "It's not always fun with him, especially in the training sessions. But afterwards he's a really kind guy. He can switch very well between training and then talking to the team off the pitch. If you fight in the game and give 100% for the club then he's really open to you."
"There were a lot of rules," Owomoyela points out. "If you weren't on time then you would be fined, and the second time he'd talk to you. He will make sure it's not happening for a third time.
"If you don't dedicate yourself to the team, he won't let you get away with it and will tell you. But the way he works with the players, it mostly works out well for everybody and that means they are following his rules.
RECOMMENDED
FEATURE The making of Jurgen Klopp
FEATURE 8 pieces of Jurgen Klopp managerial genius for Liverpool fans to drink in
FEATURE Training time, tactics tweaks and enduring love: How Klopp averted a crisis
GALLERY Klopp's Kop top shop: What the new gaffer might wear
"If things are working out, then maybe he will let things slip, like turning up late or eating a hamburger instead of a proper meal before the game. If it works then everything is fine, but if he notices that there are a lot distractions around you and you can't bring 100% to the table, he'll let you know and change something about it.
"He put me on a diet during the summer once because I was a guy who always liked to eat. He said 'If you're not losing a few pounds over the summer then you might have a different training plan than the rest of the team'."
March hare
Having been a one-club man during his playing days, Klopp endured a special relationship with Mainz supporters – not least when he landed the managerial job in 2001. It was something he looked to form immediately in Dortmund, operating as a statesmanlike figure for the fans.
"He was fascinated by the atmosphere of stadiums, the passion the fans showed during the games," Owomoyela says. "But he used it as his own adrenaline and fuel. He was trying to transport this feeling to us because he always told us how special it was to play in front of that crowd; to be in that position to play for them when they are cheering for you."
If those close to the Liverpool manager-in-wait are all in agreement on one thing, it's this: "Is he a bit crazy? Absolutely!" Hoogland chuckles. "He is mad. He can be in so many different moods.
"He can be a very sociable person; you can go out with him for a drink and have a laugh. And then at the same time, he will adapt to all types of situations. He's not fixed in one kind of mood, it depends who's sitting opposite – the TV cameras, or even ladies… they love him in Germany."
Owomoyela concurs. "Just watch him when the team scores a last-minute goal and see how he reacts on the sideline," he smiles. "His chin will go to one side and his eyes to the other.
"He is mad, but in a positive way. He's totally crazy for football and he doesn't hold back."
Thank you for reading 5 articles this month* Join now for unlimited access
Enjoy your first month for just £1 / $1 / €1
*Read 5 free articles per month without a subscription
Join now for unlimited access
Try first month for just £1 / $1 / €1