Kaka: The day football broke my heart? When Liverpool beat Milan...
By Kaka published
As the brilliant Brazilian playmaker retires, we go back to when he told FourFourTwo about the great loves of his life: winning cups, Milan, his family and Jesus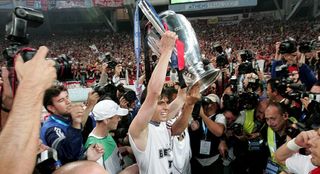 I knew I'd made it as a player when...
I signed with Milan [from Sao Paulo as a 21-year-old]. That represented a big achievement for me. Players in Brazil dream about coming to Europe and signing with a big club and Milan are one of the best, so I was very happy. When I joined I was just a boy; a 'Golden Boy', as I was deemed at the time. Now I am a veteran!
I was happiest when...
Brazil won the World Cup in 2002. I was young and only played part of one match, but it was a chance to be part of a great team – Ronaldo was the best player in the world at the time.
In general, I am happy after every big victory, like winning the Confederations Cup with Brazil or the Champions League with Milan, but winning the World Cup is the ultimate and as a Brazilian, it's the biggest thing you can achieve. It's a pressure every Brazilian player has to endure.
The day football broke my heart…
Was the 2005 Champions League final against Liverpool. When you go 3-0 up you should win the game. It should never have gone to penalties. It really was not meant to be for us that night.
I've never told anyone this before but…
I always find it an emotional experience to play in Milan. I was a part of the history of that club. The fans are incredible and always showed me a lot of love. I am still friends with players on the team and I still follow them every weekend.
If I hadn't played football I would be…
An evangelical pastor. I have always been very religious. That is why I wear my 'I belong to Jesus' shirt during games and why I point to the sky after scoring a goal. It is my way of showing everyone where my heart is.
My heroes growing up were…
My parents. They worked very hard throughout their lives so that I would get a good education and grow up in a happy home. I wouldn't be where I am today without them.
My proudest moment was…
When my former manager Carlo Ancelotti compared me to Michel Platini. That was the biggest compliment anyone has ever given me – Platini was one of the greatest midfielders ever. To be compared to him meant a lot to me.
If I could change one thing about the game…
It would be the way the 2006 World Cup ended for Brazil! We had a strong team but we were unable to win when we needed to most, against France. That hurt us. I think a Brazil-Italy final would have been grand!
For me, football is…
A game that brings joy to many people. Football allows me to be a role model, and I've been able to help many people through it.
Three words that sum me up…
Loyal, hard-working and dedicated. These qualities are essential if you want to succeed in football and in life in general. Football is a team game; you have to work with others every day, in training and during games, so it's important to show the best of yourself.
The item I cherish most…
Is my family. My wife and children are the most important people in my life.
If I could have one wish…
Actually, it would have to be two! I wish I'd won the Champions League with Real Madrid and the World Cup at the Maracana. To win the World Cup at home is the dream of every Brazilian.
This interview originally appeared in the March 2013 issue of FourFourTwo. Subscribe!
Thank you for reading 5 articles this month* Join now for unlimited access
Enjoy your first month for just £1 / $1 / €1
*Read 5 free articles per month without a subscription
Join now for unlimited access
Try first month for just £1 / $1 / €1
Quizzes, features and footballing fun
Get the best features, fun and footballing frolics straight to your inbox every week.
Thank you for signing up to Four Four Two. You will receive a verification email shortly.
There was a problem. Please refresh the page and try again.