Kevin Nolan: Talentspotter
"I loved Lee Sharpe. I wanted to be a left-footer because of him. I tried and realised I was right-footed"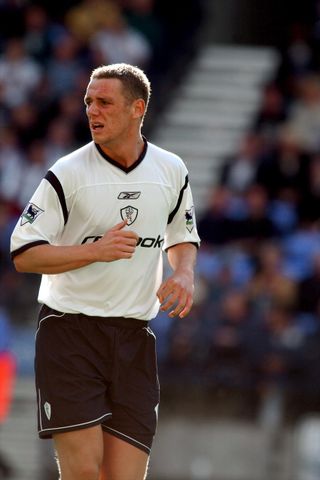 Full name 
Kevin Anthony Jance Nolan (my great-granddad was Dutch)
Date of birth
24/6/82
Place of birth
Liverpool
Nickname
Nobby. I don't know why, but we were in Denmark a couple of years ago and the gaffer just decided to start calling me Nobby, and it stuck: Nobby Nolan.
Clubs supported
Liverpool, mainly. But to be honest, as I got older I used to watch any football. It was more players than one team.
Clubs played for
Bolton. When I was a lot younger I used to be on the books at Liverpool but I signed for Bolton when I was 14.
International honours
England Under-18s and I've just been called up by the Under-20s.
Cards
One yellow so far this season.
Position
Centre-midfield. I played centre-half when I was younger but I like to be involved in the action all the time and get hold of the ball.
Strengths
I'm quite a big lad – 6ft 3in – and I've got quite a heavy build – 14 stone – so everyone thinks it's a bit weird me playing in centre-midfield, but I keep myself fit so I can play there. All the best players in the world are midfielders.
Weaknesses
I can't head the ball. I scored one with my head on the first day of the season but the gaffer's always giving me stick. And my left foot is a swinger, a proper swinger. My right makes up for my left.
Heroes
I used to watch Man United a lot because I loved Lee Sharpe. I wanted to be a left-footer because of him. I tried and realised I was right-footed! After Lee Sharpe, it was Eric Cantona and Lothar Matthaus. Everything about Matthaus was class. He could pass the ball anywhere he wanted.
Highlights
Scoring against Man United. Just playing a Premiership game at Old Trafford in front of 60,000 against the champions of England and one of the best teams in the world was fantastic. To beat them there was one of my highlights and I don't think I'm ever going to forget that goal.
Transport
I'm driving a BMW 3 Series at the moment and I've just ordered an X5 for Christmas. I like my BMWs. I've had my dream car and I'm only 19!
Tunes
I've just bought a few CDs – Alicia Keys, Mystique and Michael Jackson.
Hobbies
Relaxing at home, watching the telly, going to the cinema every now and then, going out for a meal with my girlfriend, playing on the computer. Every footballer plays Championship Manager, I think.
Are you James Bond or Austin Powers?
Probably Austin Powers because I love the film. I'm not really a big fan of James Bond but I think Austin Powers is hilarious.
Steps girls or S Club 7 girls?
I'd say S Club 7 because they are a lot younger and good-looking girls. They look like fun.
Best advice given
Just be happy in what you do, and so long as you're happy and truthful to yourself no one can change you.
On Sam Allardyce
The gaffer's been great the way he's brought me through. He's been looking after me. If he's not happy he'll tell me so, but he just tells me to go out and enjoy myself during the game.
What the gaffer says
"Kevin is going to be top quality. I'm really impressed by the way he has adapted to the Premiership."
In five years I'll be...
I'd like to be playing top-flight football and winning trophies – as long as I keep enjoying it. If you're not enjoying football it's not worth playing.
How would you like to be remembered?
As a good footballer who could score goals.
Interview: Steve Bidmead. From the January 2002 issue of FourFourTwo.
Quizzes, features and footballing fun
Get the best features, fun and footballing frolics straight to your inbox every week.
Thank you for signing up to Four Four Two. You will receive a verification email shortly.
There was a problem. Please refresh the page and try again.