The rise and fall of Kieran Trippier – and an international career that's probably over
This time last year, Tottenham's right-back was gearing up for a World Cup that would change his life. Now he can't even make the squad. What happened?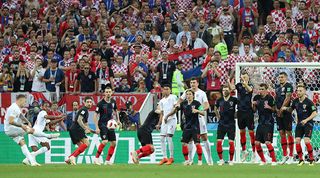 Spot the odd one out: Bobby Charlton. Gary Lineker. Kieran Trippier. From the moment a fifth-minute free-kick flew past Danijel Subasic in Moscow, there was an incongruous presence in the rather short list of England's World Cup semi-final scorers.
There are two men with a cast-iron case for greatness and one who was Tottenham's second-choice right-back 16 months earlier, who was almost 24 before he made his top-flight debut and nearly 27 when he made his international bow; who had not one but two loan spells at Barnsley.
And now, as England approach just their second semi-final in two decades, it is without a rare scorer on such a stage. Trippier was omitted from their Nations League squad. Apart from the ageing Ashley Young, he has proved the first of the semi-final starters to be discarded.
His rise and fall was a swift, credibility-defying affair. He proved a symbol of how Gareth Southgate's deserving bunch of unlikely lads achieved feats that eluded more garlanded and gifted groups. He was the antidote to the supposed superstars who were injured or ineffectual on the global stage. He was the everyman turned superman.
Trippier seemed to have made a footballing Faustian pact, becoming the best right-back in the World Cup in exchange for a chastening loss of form thereafter. By the Champions League final, it seemed as though he had been pinpointed as a weak link: certainly by outsiders, and maybe by Liverpool. After all, the penalty came when the eventual winners used their first attack to transfer the ball to Sadio Mané, to take on Trippier.
The 28-year-old's European campaign was one of improbable progress that scarcely camouflaged failings. He was abject against Manchester City at the Etihad Stadium and yet took the corner that Fernando Llorente hipped home to secure progress. He endured an awkward evening in Amsterdam but contributed to the second of Lucas Moura's seminal hat-trick against Ajax.
Tottenham and Trippier muddled on together, but he has admitted that his future is uncertain. Links with Juventus and Napoli may be flattering – but the possibility that Spurs would let him leave is rather more damning.
To his credit, Trippier has been admirably honest. Others would have invoked their past excellence to complain that they should have been selected by Southgate. Not him. "It's right that I'm not in the squad because I haven't been performing well, I know that," he said last week. He argued that Kyle Walker and Trent Alexander-Arnold were more deserving choices.
In the final reckoning, perhaps Trippier's England career was first made and then broken by systemic change. Southgate's adoption of 3-5-2 suited him; so too the use of a specialist right-back behind him in the back three, Walker, to camouflage his defensive deficiencies.
The absence of a natural set-piece taker among hard-running midfielders like Jesse Lingard, Jordan Henderson and Dele Alli rendered a dead-ball specialist on the flanks all the more significant. For all the flair players, forwards and fantasistas, Trippier emerged as the man who, aided by England's imaginative corner routines, created the most chances in the World Cup. He was the conductor of the 'love train,' as Glenn Hoddle dubbed it; the man whose set-pieces spread panic and led to penalties.
Yet the reversion to 4-3-3 came at a cost to the right-backs. There was only room for one in the team, two in a squad. Walker and Trippier could no longer dovetail. The precocious Alexander-Arnold kicked on again. He answered questions about his own defensive capabilities. He became the 20-year-old tormentor of Barcelona. The fact he is the youngest man to start consecutive Champions League finals, and has done so at an age when Trippier was at Oakwell, is a sign the truest talents are often evident early on.
He promises longevity. Unfortunately for Trippier, his skill set also includes the Spurs man's USP: should England still need their right-back to take set-pieces, Alexander-Arnold has the technical ability. Trippier may be luckless in other respects: if Glen Johnson sometimes seemed to keep his England place by default, going to successive World Cups as the only specialist right-back, now they seem to be entering a golden age.
Prodigious talents abound among the up and coming: most obviously Aaron Wan-Bissaka, but also Max Aarons, Reece James and the versatile Ainsley Maitland-Niles. Alexander-Arnold already has the look of a player who could get 100 caps.
Perhaps it's pessimistic to wonder if Trippier, 29 in September and coming off a wretched year, will get any more. If he does turn out to be a late starter and early finisher, he has had an international career unlike any other Englishman: just 16 caps, but six excelling in a successful World Cup and a semi-final scorer. And nobody will ever be able to take that away.
More Nations League...
How Holland solved their dressing room problems – and became a shining force again
What success – or failure – in the Nations League could mean for England
While you're here, why not take advantage of our brilliant subscribers' offer? Get the world's greatest football magazine for just £9.50 every quarter – the game's greatest stories and finest journalism direct to your door for less than a couple of pints. Cheers!
Thank you for reading 5 articles this month* Join now for unlimited access
Enjoy your first month for just £1 / $1 / €1
*Read 5 free articles per month without a subscription
Join now for unlimited access
Try first month for just £1 / $1 / €1