The making of Virgil van Dijk: how Liverpool's rock became the world's best defender
Many doubted he'd live up to the price tag after a record-breaking move to Liverpool – but years of knockbacks and personal struggle mean he's used to silencing the doubters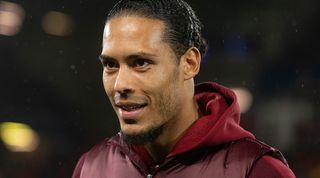 When Frank Brugel brought an end to his largely unspectacular playing career – one that took him to middling clubs like RBC Roosendaal and Willem II – he probably assumed his chances of having any influence at the top of the Dutch game had long gone.
His main footballing focus at that stage was taking young son Jordy to games at local amateur side WDS'19 on a Saturday morning. Yet it was there Brugel made a discovery that would eventually hand Dutch football a huge boost in a time of desperate need.
Jordy, a goalkeeper like his father, didn't concede many goals. The kid was talented, but so too was one of the defenders playing in front of him. That little centre-back offered untold protection for his keeper, and even strode forward to give the team attacking drive and goals. He seemed to be everywhere on the pitch.
His name? Virgil van Dijk.
Where it began
Brugel still worked in a variety of administrative roles for Willem II, and he quickly realised that this young defender could be a precious addition to their academy.
"Back then he already had an athletic body, in contrast to the other boys on the team," he tells FourFourTwo. "He had a very good touch, was skilful and also fast. He was the rock at the back, but could also decide matches. It was a joy to watch him."
Willem II's scouts were equally convinced, and in 2001 invited the 10-year-old Van Dijk for a trial. The club had an acclaimed academy, with many youth-teamers progressing to the senior side. Said first team had recently defied the odds by finishing 2nd in the Eredivisie in 1998/99 and reaching the Champions League, giving them greater appeal than would otherwise be the case in a country dominated by Ajax, Feyenoord and PSV Eindhoven.
Shortly after the promising defender's arrival in Tilburg, Jan van Loon was installed as the club's academy director. Van Loon, who also had a spell as head of player development at Arsenal's academy, vividly remembers Van Dijk's early days at Willem II.
"There was no striker who stood a chance against him," he tells FFT. "He was physically strong and had a natural talent to take balls from opponents at just the right moment. Positionally he was impressive – it was like he intuitively knew how to defend. There was still room for improvement, though.
"Now and then he could come across as a bit too easy-going," says Van Loon. "At times some youth coaches even thought of him as lazy."
In the new FourFourTwo... out Wednesday!
Under scrutiny
Van Loon had the clout to ensure that Van Dijk remained in the academy, but not enough when it came to handing the defender a professional contract at the age of 18. The club stalled on offering him a deal and the teenage Van Dijk became impatient.
"Inside the club there wasn't a unanimous opinion about him, and I think Virgil could tell the technical people were divided," he admits.
This hesitation gave other teams the chance to pounce, and when Groningen made their move before Willem II came to a final decision, Van Dijk decided to depart for pastures new.
The transfer resulted in him relocating 160 miles from his mother's house in Breda, and aside from settling into a new environment, he also needed time to adapt to a new club. This wasn't always easy: Groningen's reserve team coach Dick Lukkien was a hard taskmaster.
"Perhaps I'm pretty direct in my approach, but if I see talent I'll do everything to fulfil that potential," Lukkien explains to FFT.
Once again, that supposed laid-back attitude was under scrutiny.
"Sometimes he'd give his opponent too much space," adds Lukkien. "Often he'd recover that with his speed, but we told him, 'If you want to reach the very top, you need to get rid of that.'
"We also pointed out that he should be linking up with the midfield more once we were in possession, as it created a gap which gave the opposition too much space if they won the ball. In that respect, I think he's developed impressively."
As Van Dijk and Lukkien spent more time together on the training pitch, the pair became closer and Van Dijk grew as a player. He made his first-team debut in May 2011 – in a 4-2 win at ADO Den Haag – but it was a month later when he really made a name for himself.
"I still remember lying in that bed"
Trailing 5-1 following the first leg of their Europa League qualifying play-off against the same opponents, Groningen deployed Van Dijk as an auxiliary forward in a desperate attempt to forge a comeback. He promptly scored twice, one a direct free-kick, as his side posted their own 5-1 victory, only to then lose the penalty shootout. It was his undisputed breakthrough moment. At Groningen, Lukkien got to know Van Dijk off the field too, and was impressed with his assertive attitude.
"We spoke about his future and he had a clear idea about what he wanted," says Lukkien. Van Dijk's open-mindedness was highlighted in an interview in which he admitted his lofty ambitions. Despite having only made his Groningen debut earlier that year, he didn't shy away from revealing that a move to Barcelona was his 'eventual goal' and that he was going to 'work hard for that'. "I have confidence in myself and I know what I can do," he said, adding how he regarded Gerard Pique as his role model because he too was a 'footballing defender'.
The starlet continued to catch the eye during 2011/12 – his first full season in the senior side – but as that campaign drew to a close he faced an altogether difference challenge... and a far tougher one.
"Virgil was ill, but we didn't know the extent – at first we thought he had the flu," says Lukkien. "He was at home for a few days and in lots of pain. He went to the local hospital but they couldn't find anything, so sent him back home again. The pain got worse and when his mum travelled to see him, she realised how bad the situation was. She took him to another hospital, which turned out to be crucial."
It was at the second hospital that doctors determined Van Dijk was suffering from appendicitis, peritonitis and a kidney infection, and had to operate straight away. The surgery was a success but he wasn't out of the woods just yet.
"I still remember lying in that bed," he recalled a few months later. "The only thing I could see were tubes dangling out from me. My body was broken and I couldn't do anything. At such a moment, the worst scenarios are whizzing around your head. For the first time in my life, football was very much a side issue. My life was at risk. My mum and I prayed to God and discussed possible scenarios. At some point I had to sign some papers. It was a kind of testament. If I died, a part of my money would go to my mum. Of course, nobody wanted to talk about it, but we had to do that. It could have been over."
Van Dijk survived, but his body was weak.
"I was shocked," says Lukkien. "When he returned to the club he had changed from a big man into a shrivelled person. Luckily he managed to recover quite quickly."
Bouncing back
From then on it was plainer sailing for Van Dijk. He became stronger, on and off the pitch, and started to look like the finished article. His progress was monitored by big-spending Eastern European clubs, but Van Dijk preferred to follow a more gradual path and considered a top side in Holland as the ideal next step.
Yet firm interest from Ajax, Feyenoord or PSV wasn't forthcoming, perhaps down to his seemingly nonchalant demeanour or 'un-Dutch' defensive style. The same perceptions likely explain why Van Dijk played so rarely for the Netherlands' youth sides.
Still, when Celtic called, it looked like a good alternative. The Glasgow giants would not only afford him the chance to play in the Champions League, but also act as a springboard to the Premier League. The Bhoys soon knew they'd pulled off a major coup.
Kris Commons, who played with Van Dijk in the Dutchman's two seasons at Parkhead, remembers the first time he saw the defender in training.
"I was like, 'How have we managed to get such a good player?'" he tells FFT. "You could see how good he was straight away – he was so comfortable on the ball, physical, technically superb, a free-kick and long-ball specialist, and his reading of the game was really impressive.
"Virgil took us to another level. He had everything. He could receive the ball on his right foot, but just as easily on his left, and was aware of what was going on around him. Everyone in the team was just like, 'Wow...'"
Commons may have beaten Van Dijk to the club's player of the year award in 2013/14, but the midfielder wasn't surprised to see Van Dijk leave Celtic after only two seasons.
"He had to move on, and he left with everyone's blessings," he says. "I truly felt Southampton was just another stepping stone, and didn't think for one minute that he'd stay for four or five years."
"Now they say he could be the best in the world," Commons adds, having watched him move to Liverpool for £75 million, feature in a Champions League final and captain his country.
Next stop La Liga?
Having quickly transformed Liverpool from an attractive-yet-porous side to one boasting one of the stingiest defences in Europe, could he make yet another step up? Commons is convinced that it's possible.
"I'm thinking Real Madrid or Barcelona could be next," he enthuses. "I rate him alongside Sergio Ramos. Liverpool is a massive club, but in terms of getting players, Madrid and Barça are above them. The same happened with Luis Suarez. If Virgil carries on the way he has, I can't see why Real, Barça or Paris Saint-Germain wouldn't come in for him."
Should the club from the Camp Nou make such a swoop, Van Dijk could finally achieve the bold personal objective he set back in 2011, when he'd played just a handful of games in the Eredivisie.
Not bad for someone who's too laid back.
This feature originally appeared in the January 2019 issue of FourFourTwo.
Thank you for reading 5 articles this month* Join now for unlimited access
Enjoy your first month for just £1 / $1 / €1
*Read 5 free articles per month without a subscription
Join now for unlimited access
Try first month for just £1 / $1 / €1
Get FourFourTwo Newsletter
The best features, fun and footballing quizzes, straight to your inbox every week.
Arthur Renard has been writing for FourFourTwo since 2013, when Ronald Koeman hosted him for a Readers interview in a small room in stadium De Kuip. Two years later Arthur moved to London, where he still lives and from where he covers English football, while he has also been travelling the world to cover events like the World Cup and Copa America.